#FiveOnFriday is an original, weekly feature on NightOwlReader.com.  Each week I talk about favorite books, anticipated reads, and other bookish topics.  Enjoy!
For today's #FiveOnFriday, I have 5 recently released (within the last month or so) romances that I have read and highly recommend.  
Let me know if you have read any of these and what you thought.  Or, if you haven't read them, I hope you'll consider adding them to your TBR!
---
[ezcol_1third]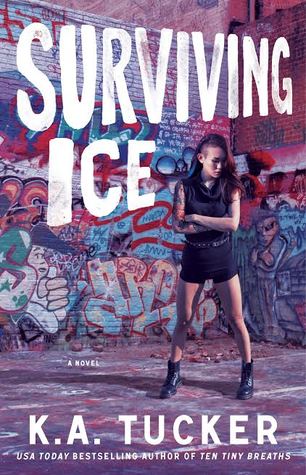 [/ezcol_1third][ezcol_2third_end]Surviving Ice by K.A. Tucker
Contemporary Romance/Suspense
My Rating: 5 stars
"Ivy, a talented tattoo artist who spent the early part of her twenties on the move, is finally looking for a place to call home. She thinks she might have found it in San Francisco, but all that changes when she witnesses a terrible crime. She's ready to pack up her things yet again, when a random encounter with a stranger keeps her in the city, giving her reason to stay after all.  That is, until Ivy discovers that their encounter wasn't random. Not at all…"
Surviving Ice is the last book of the Burying Water series (however, it can be read as a standalone).  The writing is fantastic, the story is unique, and I totally loved the heroine, Ivy.  She's feisty, sarcastic, and totally kickass.  [/ezcol_2third_end]
---
[ezcol_1third]
[/ezcol_1third][ezcol_2third_end]Licked by Brooke Blaine
Romantic Comedy
My Rating: 5 stars
"As the owner of Licked, an eclectic ice creamery and bar, Ryleigh Phillips doesn't have time for that love stuff. Serving up Nibble My Nuts sundaes and Drunken Sailor boozy shakes are as close to an orgasmic affair as she's had in months thanks to her expanding empire—until the night of her ten-year high school reunion."
This book was just released yesterday, and I can't recommend it enough.  I loved the humor, wit, and characters in Licked.  The writing is fresh, smart, and descriptive.  I liked the retro references and the names of the ice cream treats had me laughing out loud.  It's a fun read![/ezcol_2third_end]
---
[ezcol_1third]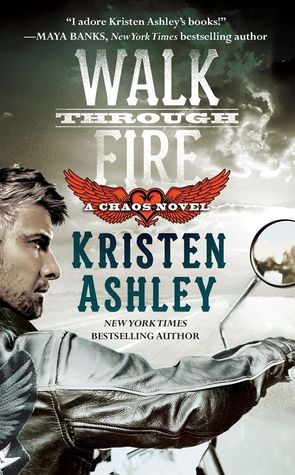 [/ezcol_1third][ezcol_2third_end]Walk Through Fire by Kristen Ashley
Contemporary Romance
My Rating: 5 stars
"Millie Cross knows what it's like to burn for someone. She was young and wild and he was fierce and even wilder-a Chaos biker who made her heart pound. They fell in love at first sight and life was good, until she learned she couldn't be the woman he needed and made it so he had no choice but to walk away. Twenty years later, Millie's chance run-in with her old flame sparks a desire she just can't ignore. And this time, she won't let him ride off . . ." 
Walk Through Fire is a continuation of the Chaos MC series.  It is full of alpha bikers, heartbreak, redemption, and second chances.  Every time I read a Kristen Ashley book, I swear that it is my favorite…and then a new one comes along to take it's place.  This series just keeps getting better and better![/ezcol_2third_end]
---
[ezcol_1third]
[/ezcol_1third][ezcol_2third_end]Pucked Up by Helena Hunting
Romantic Comedy
My Rating: 4.5 stars
"Miller "Buck" Butterson has been banging his way through life ever since a puck to the face fixed his messed up front teeth, and he was drafted into the NHL during his first year of college. After five years of deflecting goals on the ice and scoring them with puck bunnies across the Continental US and parts of Canada, Miller is ready for a girlfriend. A real girlfriend of the non-bunny variety. One he takes on dates and doesn't jump into bed with after five seconds of conversation."
I recently read Pucked, the first book in the series, followed closely by Pucked Up.  While both books had hilarious, laugh out loud moments,  Pucked Up has more angst and more 'in the wrong place at the wrong time' snafus.  It's a great series, and I am definitely looking forward to the third book, Pucked Over.[/ezcol_2third_end]
---
[ezcol_1third]
[/ezcol_1third][ezcol_2third_end]Nuts by Alice Clayton
Romantic Comedy
My Rating: 5 stars
"After losing almost all of her clients in one fell swoop following an accident involving whipped cream, private chef to Hollywood's elite Roxie Callahan gets a call from her flighty mother, saying she's needed home in upstate New York to run the family diner. Once she's back in the Hudson Valley, local organic farmer Leo delivers Roxie a lovely bunch of walnuts, and soon sparks—and clothing—begin to fly. Leo believes that everything worth doing is worth doing slowly…and how! But will Roxie stay upstate, or will the lure of West Coast redemption tempt her back to Tinseltown?"
I'm a sucker for food-related innuendos and double entendres (see Licked, above), and this book is chock full of them!  Roxie is a great heroine, but Leo is completely swoon-worthy.  The story and writing are wonderful, and the humor is fantastic.  (Did you ever watch Little House on the Prairie?  Did you have a crush on Almanzo Wilder like I did?  If so, you will love Leo and his nickname!)[/ezcol_2third_end]
---
So, there are some of my recent favorites.  What have you read and loved recently? Let me know in the comments below!