Also in this series:
Royally Screwed
,
Royally Matched
,
Royally Yours
,
Honor
,
Respect
#FiveOnFriday is an original, weekly feature on NightOwlReader.com.  Each week I talk about favorite books, anticipated reads, and other bookish topics.  Enjoy!
October is here and brings with it a HUGE list of awesome new releases!  My list this month was way too epic to limit it to five.  Instead, I have an ambitious plan to read ALL 16 of these books.  Wish me luck (I'm going to need it)!
Also, be sure to let me know what you are looking forward to reading this month.  I'm always on the hunt for recommendations!
So, in no particular order, here are my most anticipated new romances for October!
[divider]
Beard Science by Penny Reid
Series: Winston Brothers #3
Also in this series: Truth Or Beard, Grin and Beard It, Beard Science
October 18th, 2016
Number of Pages: 400




Kindle Paperback Kobo Apple Books


Make a deal with the devil and you might get what you want, but will it be what you need?

Jennifer Sylvester wants one thing, and that one thing is NOT to be Tennessee's reigning Banana Cake Queen. Ever the perpetual good girl and obedient daughter, Jennifer is buckling under the weight of her social media celebrity, her mother's ambitions, and her father's puritanical mandates. Jennifer is officially desperate.

And desperate times call for Cletus Winston.

Cletus Winston is a puzzle wrapped in a mystery covered in conundrum sauce, and now he's in a pickle. Despite being convinced of his own omniscience, extortion by the exalted Banana Cake Queen of Green Valley has taken him completely by surprise. So... what's a maniacal mastermind to do?

Likely, the last thing you expect.

'Beard Science' is the third book in the Winston Brothers series, is a full-length romantic comedy novel, and can be read as a standalone.
I love the Winston Brothers, and I think I speak for most everyone who has read this series when I say, Cletus is the man we can't wait to get our hands on!  This book guarantees shenanigans and mischief and all kinds of goodness from the loveable Winston boys.  Can. Not. Wait.
[divider]
Twisted Palace by Erin Watt
Series: The Royals #3
Also in this series: Paper Princess, Broken Prince
October 17th, 2016
Genres: Young Adult
Number of Pages: 370




Paperback Apple Books


These Royals will ruin you…

From mortal enemies to unexpected allies, two teenagers try to protect everything that matters most.

Ella Harper has met every challenge that life has thrown her way. She's tough, resilient, and willing to do whatever it takes to defend the people she loves, but the challenge of a long-lost father and a boyfriend whose life is on the line might be too much for even Ella to overcome.

Reed Royal has a quick temper and even faster fists. But his tendency to meet every obstacle with violence has finally caught up with him. If he wants to save himself and the girl he loves, he'll need to rise above his tortured past and tarnished reputation.

No one believes Ella can survive the Royals. Everyone is sure Reed will destroy them all.
They may be right.

With everything and everyone conspiring to keep them apart, Ella and Reed must find a way to beat the law, save their families, and unravel all the secrets in their Twisted Palace.
Twisted Palace is one of the most anticipated books of the YEAR, not just the month.  If you haven't read Paper Princess or the second book, Broken Prince, you need to change that immediately.  Its addictive reading crack and you'll thank me later.  😉
[divider]
The Sexy One
by
Lauren Blakely
October 17th, 2016

Paperback
Apple Books
Let me count the ways why falling into forbidden love is not my wisest move…
1. She works with me every single day.
Did I mention she's gorgeous, sweet, kind and smart?
2. She works in my home.
Playing with my five-year-old daughter. Teaching my little girl. Cooking for my princess. Which means…
3. She's the nanny.
And that makes her completely off-limits…But it doesn't stop me from wanting her. All of her.
***
The other nannies in this city don't call him the Sexy One for nothing. My boss, the amazingly wonderful single father to the girl I take care of every day is ridiculously hot, like movie star levels with those arms, and those eyes, and that body. Not to mention, the way he dotes on his little girl melts me all over. But what really makes my knees weak are the times when his gaze lingers on me. In secret. When no one else is around.

I can't risk my job for a chance at something more…can I? But I don't know how to resist him much longer either…
Lauren Blakely is on a roll with the cute, sweet, and sexy romances lately and I have to say, I am a big fan.  She guarantees a sweeter, more romantic story with single dad, Simon, falling for his nanny.  It may not be the smartest choice for him to make, but it is certainly going to be fun to read.
[divider]
Beautiful
by
Christina Lauren
Published by
Gallery Books
on October 4th, 2016
Number of Pages:
416

Kindle
Paperback
Kobo
Apple Books
The tenth work in the New York Times and #1 internationally bestselling series that started with Beautiful Bastard.

A new couple finds love, and the casts of the previous books join in to celebrate this series finale in the most Beautiful way possible.
Beautiful is one of the books I have been looking forward to most this year.  I devoured the entire series on Audible earlier this spring, so this will be the first story I have actually read in book form.  I have loved getting know these characters over the course of the books and novellas, so I know it is going to be sad to say goodbye at the end.
[divider]
The Player
by
Claire Contreras
October 10th. 2016
Genres:
Sports
Number of Pages:
320

Paperback
Kobo
Apple Books
I'm naturally gifted on the field and between the sheets. With flashy cars and enough media attention to put the Royal Family to shame, I'm the definition of Most Eligible Bachelor.

I've never met a man who doesn't want to be me or a woman who doesn't want to tame me. Until I meet Camila.

From the moment I lay eyes on her, I know I have to have her.

She wants to keep me at arm's length.
I want her naked in my bed.

She thinks our worlds are too different.
All I want her to think about is screaming my name.

She says I'm bad news.

I have three weeks to prove her wrong.
The Player might just win an award for "The Book Cover That Broke the Internet" last week.  Everyone is fanning themselves over it–and for good reason.  I love sports romances and hesitant heroines, so this might just be a perfect fit for me.
[divider]
Honor
by
Jay Crownover
Series:
The Breaking Point #1
Also in this series:
Honor
,
Respect
Published by
William Morrow
on October 18th, 2016
Genres:
Dark
Number of Pages:
368

Kindle
Paperback
Kobo
Apple Books
Don't be fooled.

Don't make excuses for me.

I am not a good man.

I've seen things no one should, done things no one should talk about. Honor and conscience have no place in my life. But I've fought and I've survived. I've had to.

The first time I saw her dancing on that seedy stage in that second rate club, I felt my heart pulse for the first time. Keelyn Foster was too young, too vibrant for this place, and I knew in an instant that I would make her mine. But first I had to climb my way to the top. I had to have something more to offer her.

I'm here now, money is no object and I have no equal. Except for her. She's disappeared. But don't worry, I will find her and claim her. She will be mine.

Like I said, don't be fooled. I am not the devil in disguise… I'm the one front and center.
I'm a huge fan of Jay Crownover and especially her Welcome to the Point series.  Honor is the start of a new trilogy based on the Point books and the first one features Nassir's story.  It promises to be dark and gritty and I can't wait to dive in.
[divider]
Keepsake
by
Sarina Bowen
Series:
True North #3
Also in this series:
Bittersweet
,
Fireworks
,
Heartland
October 25th, 2016

Apple Books
Lark Wainright, 23, has nightmares. She used to be fearless. But while overseas for her nonprofit employer, she was kidnapped and held at gunpoint in a dusty shack. Everyone has an opinion about what might have happened to here there, but she's not saying much. She's too consumed by guilt to talk about it.

When her best friend offers her a stay at the Shipley orchard in exchange for help at the farmers' markets, Lark jumps into her little car and heads to Vermont. Unfortunately, the night terrors don't stop. Desperate to keep her fragile state a secret from those who know her best, she relies on the most soft-spoken resident of Orange County, Vermont, to calm her down when her dreams prove too much.

Zachariah, 23, is a survivor of a different kind. It's been three years since he was tossed aside by the polygamist cult out west, and the only home he'd ever known. In Vermont, he's found a peaceful place in the bunkhouse at the Shipley's farm. He's good with animals, and he's good with his hands. But getting thrown away by your own people at nineteen leaves a mark on a guy. And he doesn't always know what to make of a world where apps and movie quotes are the primary means of communication. Before hitchhiking to Vermont, he'd never watched TV. He'd never spoken on the phone.

Actually, there are still a lot of things he's never done.

Zach and Lark slowly grow to trust one another. One night they become even closer than they'd planned. But Lark may still be too broken to trust anyone. When she shoves Zach away, he will have to prove to himself that he's good for more than farm labor.
I've expressed my love for Sarina Bowen and have called this summer "The Summer of Sarina".  I think I am going to have to revise that statement to "The Year of Sarina".  After reading Bittersweet and Steadfast, Zach's story in Keepsake might just be the one I have been wanting the most.  His past has been so mysterious, I just want to dive in and learn about his past.
[divider]
Four Letter Word
by
J. Daniels
Series:
Dirty Deeds #1
Published by
Forever
on October 4th, 2016
Number of Pages:
417

Kindle
Paperback
Kobo
Apple Books
Fate. Hate. Love. Lies.

Which four letter word will change their lives forever?

In an effort to avoid dealing with the shocking end of her marriage, Sydney Paige high-tails it Dogwood Beach, North Carolina to vent her anger onto the man who broke her best friend's heart. But when she unknowingly dials the wrong number, Syd's newly single world is turned upside down by a stranger who wants to keep her on the line.

Brian Savage is living a life he's quickly come to hate- until Sydney and her innocently wild voice. But Brian has secrets, ones that could destroy everything between them. And when the woman on the phone becomes the lover in his bed, shielding her from the mistakes of his past becomes harder and harder...
Four Letter Word is only my second book by J. Daniels, but after seeing the cover and blurb, I had to read it.  Throw in the fact that I have been hearing from my book friends that it is an awesome read, I knew I needed to add it to my list.
[divider]
Thief of Hearts
Series:
Hearts #1
Also in this series:
Hearts of Blue
,
Thief of Hearts
October 4th, 2016
Number of Pages:
417

Kindle
Kobo
Apple Books
Seduce the teacher.
Meet the cousin.
Make a deal.
Steal the painting.

Andrea Anderson has no clue of the thoughts churning around in the dark and dangerous ex-con's head as he enters her classroom. In fact, she's momentarily lost for words. Not in her entire teaching career has she had a student who looked quite like Stu Cross.

A widow at just twenty-eight, love is something Andie hasn't considered a part of her life for a very long time. However, when lingering touches turn to whispered words and hot, searching stares, she begins to wonder if maybe she should take a leap of faith.

But Stu is in her class for a reason, and it has nothing to do with love. He's there to burrow his way into her life and repay a debt, otherwise his family will suffer. Andie is the first person to show him true kindness since he left prison, and though he doesn't want to mislead her, he doesn't have another choice.

Before long, Stu can't tell whether or not he's acting anymore, and his feelings for Andie could throw all of his carefully crafted plans into complete and utter disarray.
LH Cosway has co-authored some fantastic books with Penny Reid, but she is an excellent author in her own right.  I have read the first four books of this series and loved them, especially Hearts of Fire and King of Hearts (If you haven't read them, you don't know what you're missing.  They are so good!)
* Note: The first book of the series, Six of Hearts, is currently free!
[divider]
This post contains affiliate links you can use to purchase the book. If you buy the book using that link, I will receive a small commission from the sale at no additional cost to you.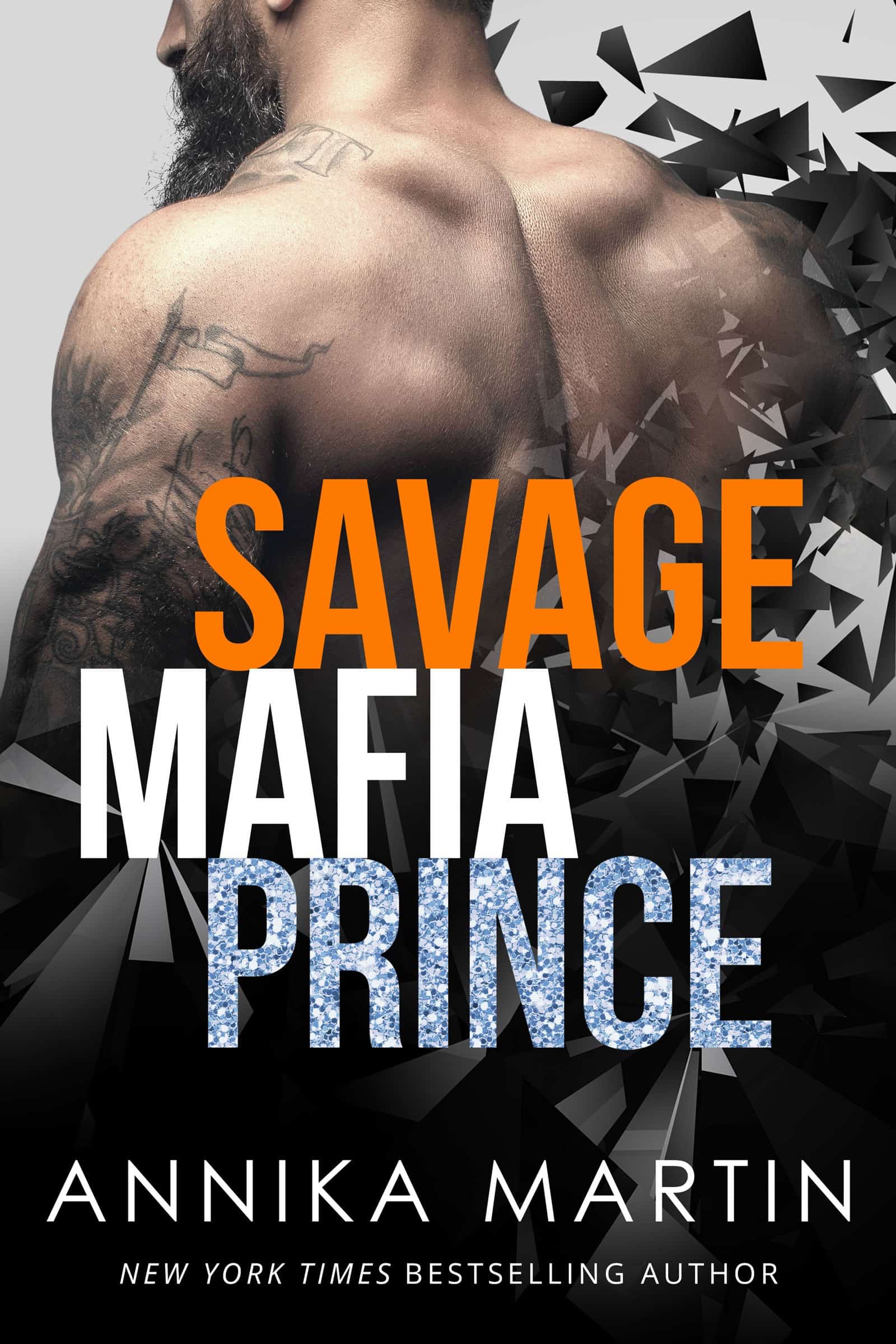 Savage Mafia Prince
by
Annika Martin
Series:
Dangerous Royals #3
Also in this series:
Dark Mafia Prince
,
Wicked Mafia Prince
Published by
Self-Published
on October 11th, 2016
Genres:
Contemporary Romance
,
Mafia
Number of Pages:
392
My rating:


Where is Kiro?
He's the lost Dragusha brother, heir to a vast mafia empire—brilliant, violent, and utterly savage…and he's been missing for years.

Ann
I'm supposed to be doing simple undercover research at the Fancher Institute for the Mentally Ill & Dangerous, but I can't keep my mind off Patient 34. He's startlingly young and gorgeous, but it's not just that. He's strapped way too tightly to that bed. And there's no name or criminal history on his chart. What are these people hiding? My reporter's instincts are screaming.

Here's the other thing: the staffers here believe he's so sedated that there's not a thought in his head, but I catch him watching me when nobody's looking. Our connection sizzles when I enter the room. When our eyes meet, I know he understands me in a way nobody else ever has.

I'm supposed to follow my editor's orders—I have secrets, too—but everything about Patient 34 is suspicious. How can I not investigate?
I received this book for free from the author in exchange for an honest review. This does not affect my opinion of the book or the content of my review.
I have been waiting for Savage Mafia Prince since I read the first book in this series, Dark Mafia Prince.  Kiro is an heir to a crime family, but he was stolen away and then abandoned.  He's a feral child who has been left in the woods for years and is now being held captive in the name of science.  It promises to be a stellar story and I can't wait to find out what happened to him for all those years.
[divider]
Royally Screwed
by
Emma Chase
Series:
Royally #1
Also in this series:
Royally Screwed
,
Royally Matched
,
Royally Yours
October 18th, 2016
Number of Pages:
276

Paperback
Apple Books
Nicholas Arthur Frederick Edward Pembrook, Crowned Prince of Wessco, aka His Royal Hotness, is wickedly charming, devastatingly handsome, and unabashedly arrogant; hard not to be when people are constantly bowing down to you.
Then, one snowy night in Manhattan, the prince meets a dark haired beauty who doesn't bow down. Instead, she throws a pie in his face.
Nicholas wants to find out if she tastes as good as her pie, and this heir apparent is used to getting what he wants.
Dating a prince isn't what waitress Olivia Hammond ever imagined it would be.
There's a disapproving queen, a wildly inappropriate spare heir, relentless paparazzi, and brutal public scrutiny. While they've traded in horse drawn carriages for Rolls Royces, and haven't chopped anyone's head off lately, the royals are far from accepting of this commoner.
But to Olivia, Nicholas is worth it.
Nicholas grew up with the whole world watching, and now Marriage Watch is in full force. In the end, Nicholas has to decide who he is and, more importantly, who he wants to be: a King... or the man who gets to love Olivia forever.
It's Emma freaking Chase.  Need I say more?  Seriously, though, I loved her Legal Briefs series.  She made lawyers fun and loveable and I can't wait to see what she does with royalty in the Royally series.
[divider]
A Place in the Sun
by
RS Grey
October 24th, 2016

When her mother's incessant matchmaking hits an all-time high, Georgie Archibald does what any sensible woman would do: she flees the country.

Seeking refuge in the picturesque seaside village of Vernazza, Italy, Georgie's only plan is to lie low, gorge herself on gelato, and let the wine and waves wash her troubles away...that is until she wakes up in a bed that belongs to the most romantic-looking man she's ever seen.

Gianluca.

After going out of his way to rescue her, the former London financier turned mysterious recluse makes it clear that despite acting as her white knight, he has no plans to co-star in her fairytale.

But Georgie isn't asking for his heart—she's merely intrigued.

After all, Gianluca isn't just gorgeous—tall and tan from days spent in the sun—his touch sets her world on fire. With him, Georgie experiences the most intoxicating passion she's ever known, and it only takes a few steamy nights for her to realize that sometimes running away from trouble is the best way to find it.
If you read Summer Games: Settling the Score, you might remember Freddie's sister, Georgie.  She was tenacious and spunky and I fell in love with her character.  I'm happy to say that she's getting her own story in A Place in the Sun.  Here's to hoping she gets her own HEA.
[divider]
Win Some, Lose Some
by
Shay Savage
October 18th, 2016
Genres:
New Adult
Number of Pages:
350

Kobo
For Matthew Rohan, every day is a struggle. Each task others complete without thinking is a challenge for him. Recently orphaned, he has to finish the last few months of high school and take care of his disabled sister on his own.

When Mayra comes into his life, his comfortable routines implode. Matthew can't handle change, but Mayra is unrelenting in her quest to understand him, to show him acceptance and maybe even love. When she breaks through his shell, Matthew's world will never be the same again.

An awkward boy with Asperger's Syndrome, a persistent girl who pulls him out of his isolated existence, and a lottery ticket that will change their lives forever.
Shay Savage writes some of the most varied and distinct stories and she does it really well.  For instance, I thought her unique storyline about a caveman who falls in love with a modern-day girl in Transcendence was absolutely fantastic.  I can't wait to see what she kind of a story she gives us about a boy with Asperger's Syndrome.  I'm sure it will be excellent.
[divider]
Pucked Under
by
Helena Hunting
Series:
Pucked #4.5
Also in this series:
Pucked Over
,
Pucked Under
,
Pucked Off
October 10th, 2016
Number of Pages:
204

Paperback
Apple Books
Randy Ballistic and Lily LeBlanc are head-over-heels, bed-breakingly, screaming orgasmically in love. But even they have their challenges, mostly outside of the bedroom.

With the off-season coming to a close and the boys gearing up for training camp, one more weekend of fun is the perfect way to welcome the new season.

The entire crew piles into vehicles and drives to Alex and Violet s Chicago cottage for a few days of relaxation and hopefully a chance for Randy to shake the anxiety that s been plaguing him.

Accidental wardrobe malfunctions, typical Violet inspired overshares, and a whole lot of private time round out the perfect weekend getaway.

But the moment they return to the city all of Randy's angst resurfaces with the arrival of a surprise houseguest.
Randy and Lily are probably my favorite characters in the Pucked series.  Pucked Under is a continuation of their story, so I am definitely ready to read more from their POV, as well as catching up with the other characters.
[divider]
The Bachelor Auction
by
Rachel Van Dyken
Series:
The Bachelors of Arizona #1
Published by
Forever
on October 4th, 2016
Number of Pages:
352

Kindle
Paperback
Kobo
Apple Books
Cinderella never had to deal with this crap.

Jane isn't entirely sure that Cinderella got such a raw deal. Sure, she had a rough start, but didn't she eventually land a prince and a happily-ever-after? Meanwhile, Jane is busy waiting on her demanding, entitled sisters, running her cleaning business, and . . . yep, not a prince in sight. Until a party and a broken shoe incident leave Jane wondering if princes---or at least, a certain deliciously hunky billionaire---maybe do exist.

Except Brock Wellington isn't anyone's dream guy. Hell, a prince would never agree to be auctioned off in marriage to the highest bidder. Or act like an arrogant jerk---even if it was just a façade. Now, as Brock is waiting for the auction chopping block, he figures it's karmic retribution that he's tempted by a sexy, sassy woman he can't have. But while they can't have a fairy-tale ending, maybe they can indulge in a little bit of fantasy...
The Bachelor Auction had me at "Cinderella never had to deal with this crap".  I love modern fairytales, so I am sure I will enjoy this one!
[divider]
Bedmates
by
Nichole Chase
Published by
William Morrow
on October 4th, 2016
Number of Pages:
384

Kindle
Paperback
Kobo
Apple Books
From the bestselling author of Suddenly Royal comes the first in a sparkling new series about America's favorite royal—the First Daughter.

Everyone makes mistakes, especially in college. But when you're the daughter of the President of the United States, any little slip up is a huge embarrassment. Maddie McGuire's latest error in judgment lands her in police custody, giving the press a field day. Agreeing to do community service as penance and to restore her tattered reputation, Maddie never dreams incredibly good looking but extremely annoying vice president's son, Jake Simmon, will be along for the ride.

Recently returning from Afghanistan with a life-altering injury, Jake is wrestling with his own demons. He doesn't have the time or patience to deal with the likes of Maddie. They're like oil and water and every time they're together, it's combustible. But there's a thin line between love and hate, and it's not long before their fiery arguments give way to infinitely sexier encounters.

When Jake receives devastating news about the last remaining member of his unit, the darkness he's resisted for so long begins to overwhelm him. Scared to let anyone close, he pushes Maddie away. But she isn't about to give up on Jake that easily. Maddie's fallen for him, and she'll do anything to keep him from the edge as they both discover that love is a battlefield and there are some fights you just can't lose.
This book wasn't on my radar until Angela at Feeding My Addiction Book Reviews read it and was telling me how much she liked it.  I have severe FOMO, so I had to put it on my TBR.  I haven't read a novel about a Presidential family before, so this should be interesting!
---
What books are you looking forward to reading in October?  Anything I need to add to my list?
Let me know in the comments below!