This post contains affiliate links. If you make a purchase using that link, I will receive a small commission from the sale at no additional cost to you.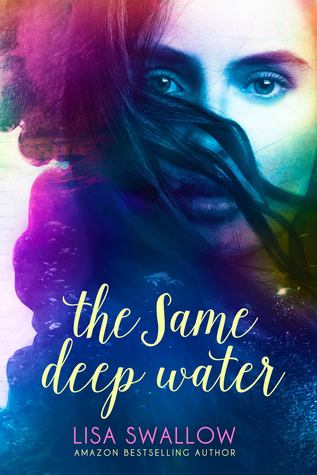 The Same Deep Water
by
Lisa Swallow
Published by
Self-Published
on August 26, 2015
Genres:
Contemporary Romance
,
New Adult
My rating:


Kindle
|
Paperback
Sometimes, believing the lies we tell ourselves is easier than dealing with the truth.

Once, I wanted to die. That was the night I met Guy.
The strange man with flowers stepped from the shadows and saved my life.

Guy. Dimpled smile. Body of a surf god. Smart and funny. Running out of time.

We became travelling companions through life, ticking off items on our bucket lists.

I'd hidden from happiness for years and kept my life under strict control. Guy showed me how to step into the world and experience more,
he brought light into the shadows and helped me through the darkness.
I became Phe again. I lived.

There's just one problem.

We fell in love and this wasn't part of our plans.

I thought we could face the future together, but Guy has a secret which changes everything.
I received this book for free from in exchange for an honest review. This does not affect my opinion of the book or the content of my review.
---
My Review of The Same Deep Water
The Same Deep Water is an intriguing, thought-provoking, realistic, and somewhat raw portrayal of mental illness. It makes you think about life and it makes you feel for the characters in the story.
The book opens with Phe, a young woman who is battling severe depression after a life-changing event in her childhood. She doesn't believe that life is worth living anymore and is on the brink of suicide.
While preparing to throw herself off a cliff, a random man appears by her side. Guy saves her life that night and gives Phe a reason to live by suggesting they complete their bucket lists together.
Whew, that's a pretty dramatic way to start a book! I was totally drawn into the story from there. I needed to know why Guy was there that night, why he had a bucket list, and why his time was running out.
Guy and Phe's relationship is a very interesting (and sometimes confusing) one. You know that they are both at a turning point in their lives (for better or for worse), but they are also growing closer to one another. I kept reading and dreading the turn of events that would reveal the truth behind Guy's illness.
However, I felt like it took a long time to learn all of the secrets, both Phe's and Guy's. On one hand, I had to know the answers and on the other, I found myself wanting to skim through the pages to get to them.
Also, this may be the first romance I have read where I wasn't necessarily rooting for a 'happily-ever-after' between the main characters.  As the graphic above suggests, creating her own happy ending instead of waiting for someone else to provide one was empowering advice.
Watching Phe heal and grow into a strong, mature, and thriving woman was the best reward for reading her story.
While the writing and the story were excellent, the pacing was a little too slow for me. There was a little angst and a little drama, but in the end, I enjoyed the book.  (And, bonus points for the beautiful cover!)
Excerpt from The Same Deep Water
"So? Can I?" he asks.
"Save my life?"
"Yeah."
"Because of your list?"
"Yep." He pushes his unruly hair from his face. "Plus, you're far too good-looking to be smashed against a load of rocks."
Why do I blush? I inspect my feet, focusing on my painted toenails. I bought the neon pink varnish on a shopping trip with my friend Erica last month. Recently I've worn the colour to pretend I'm a dazzling pink girl, not a girl in a black hole.
"Why not give blood? That would save somebody's life," I retort.
Guy's mouth curls into a smile, accentuating the dimples. "Good-looking and smart, too. That is a very good suggestion. Oh, well, I'm here now. May as well save you."