Kendall Ryan's IMPERFECT LOVE features strong alpha heroes who get knocked sideways when they suddenly begin noticing the heroine in a whole new light.
Sexy, sweet, and laugh-out-loud funny, the Imperfect Love series is all about exploring romance tropes like friends to lovers, fake fiance, arranged marriage, surprise pregnancy, budding office romances, and more, that all share one fabulous thing in common: they all end in a happily ever after.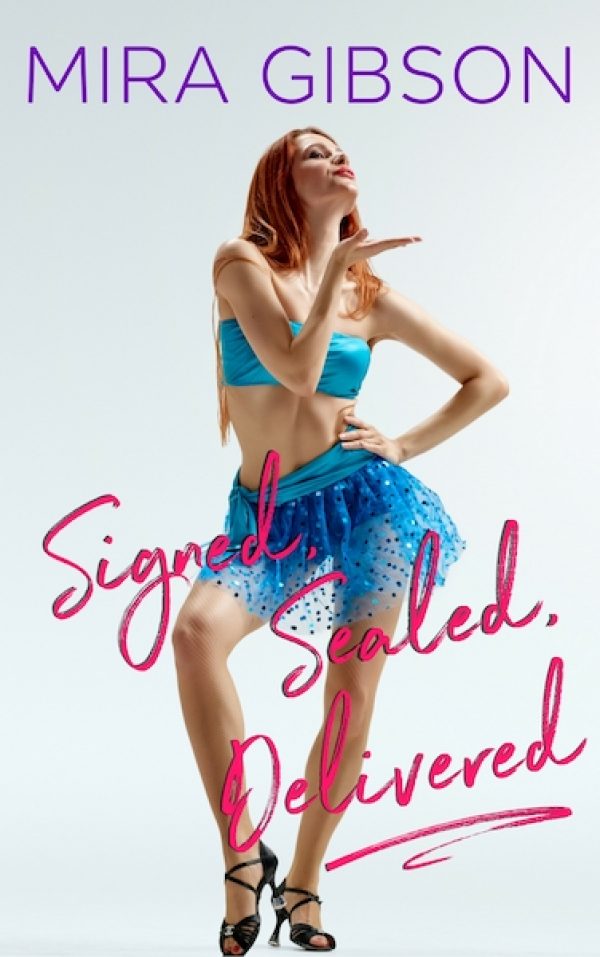 American heartthrob and notorious bad boy, Zach Canning has gone and made the error of all Hollywood errors. No, it wasn't sticking his foot in his mouth during an interview again, banging an almost underage fan, or even disappearing on another cocaine-and-booze addled bender. It was far, far worse, and now his TV show renewal contract hinges upon his ability to convince his fan base, the Christian Network, and America at large that he's just as wholesome as his #Blessed character.
Jesus Christ, how? 
Enter Abby Gallagher. As Irish-Catholic as they come, complete with flaming auburn hair and a cross dangling from her necklace, her image is perfect. She's guarding one hell of a secret, however—she's a virgin and saving herself for marriage.
When Zach's publicist approaches her with the most unbelievable proposition—to dispel rumors surrounding the famous actor one sexy date at a time—Abby is more than intrigued. She's been a fan of his show and has watched religiously… admittedly, a guilty pleasure.
What other guilty pleasures could he give her???
But the secret contract she's presented with not only states she must pose as his girlfriend in the public eye while the paparazzi follow their every move. She must also elope with Zach in two weeks! Non-negotiable, legally binding, with a corresponding gag-order in place and no guarantee of true love…
Can she go through with it? Will she choose a thrill ride instead of love? What if she could have both with the same man?
This book is currently out of print
Note: Clicking links on this site will take you to the retailer's purchase page.
Totally Bex is a participant in the Amazon Services LLC Associates Program, an affiliate advertising program designed to provide a means for us to earn fees by linking to Amazon.com and affiliated sites.
Chapter One
"This is the final straw, Zach! The absolute final straw!" exclaimed Walter Mason, the head of the Christian Network, from where he sat hunched and shaking his head behind a grand, mahogany executive desk that probably cost more than Zach had pulled in for all twenty-four episodes last season. "It's a Christian show with a Christian following on the Christian Network, for Christ's sake!"
This was not new information. Zach had been one of the dashing, supporting characters on #Blessed for the past four seasons and though the show aired on a lesser known network, the show itself was renowned with through-the-roof ratings thanks to its loyal following of 'tweens. Zach Canning was America's heartthrob. At twenty-eight, his tight green eyes and mischievous grin had graced the covers of Tiger Beat and Teen Vogue more times than he could count, and even though the demographic of both the show and his fans was majorly comprised of little girls, Zach's dangerously good looks and bad boy ways had garnered enough media attention to catapult him into full-blown stardom.
Which was why this super serious, sit-down meeting with the head of the network, the head of the production company, and Zach's agent, manager, publicist, and attorney seemed like an over-the-top waste of time.
He'd f*cked up before. He'd gone to the wrong party, snorted the wrong drug in front of the wrong girl who'd snapped a cell phone pic at the wrong time then sold the photo to the wrong tabloid. Had that little mishap gotten his character killed off the show? No, it hadn't.
He had once trashed a hotel room for some reason. He couldn't remember now. Probably drunk and f*cking around with the guys and things got out of hand. When the hotel manager's ranting article appeared in New York Magazine with photos of the destruction, had the head of the Christian Network threatened to kick Zach out of TV land? No, Walter had merely given him a call, agreed that boys will be boys, and warned him to keep his nose clean for the sake of the show, its image, and his own.
And just months ago, as production was coming to a wrap while airing episodes were only mid-season, Zach had f*cked up in what he thought had been the most unredeemable way possible—he'd admitted in an interview that he didn't believe the Christian faith, or any faith, made sense, then went on to advocate for atheism. In all fairness, this portion of the conversation had unfolded in-between the sheets while Zach had been nailing the journalist from Cosmo and he honest to God hadn't thought it'd get printed. But sure enough, it had. And sure enough, just like all the times before, Zach had been easily redeemed both with the network and in the public eye.
So, why now, after countless PR nightmares, was Walter driving the final nail in Zach's coffin with the threat of all threats, deciding against renewing his contract with #Blessed?
"Everyone thinks you're gay!" Walter shouted, pounding his fist against the five tabloids he'd collected, his bushy eyebrows having knit together so tightly Zach wondered if the man's entire face might collapse. "Look at this! Just look at it!"
"I can explain," said Zach calmly as he made a concerted effort not to look at the cover of People Magazine that Walter was attempting to thrust in his face even though a mahogany Chippendale plus two of Zach's people stood in his way. He'd seen the cover. That one in particular as well as all the others. Call him crazy, but he didn't think it looked that bad. "My cousin's gay."
"I'll tell you what's gay!" he shot back, hotly flipping through the magazine to get to the really damning photos. "This bright pink strip of cloth you call a bathing suit is gay!"
"Those weren't mine," Zach said innocently. "I didn't have a bathing suit and my cousin lent me—"
"The fact that all the other people on the yacht are handsome, young men in equally brightly colored speedos is gay! The fact that they're lotioning each other up and feeding each other strawberries and romantically entwining their arms before sipping champagne! It's all gay! The whole scene reeks of homosexuality and your pretty face is right smack dab in the middle of it all!"
"It was the French Riviera," he shrugged, glancing at his agent, Marla Dickson for a little support. She was mum and wouldn't meet his gaze, but instead nodded at Walter, her eyes rounding as she emphatically concurred. Figured. Zach's paycheck was her paycheck and if he got fired, she'd probably have to scramble to find another heartthrob. It's not like Zach was a dime a dozen. He was an asset, or he had been. Dropping his tone to a grave octave out of respect for the severity of the situation—Zach was one hell of an actor—he said, "My hand to God, I honestly didn't think my vacation with my cousin would bite me in the a$$ like this."
"Don't you 'my hand to God' me, you little atheist!" Walter fumed.
"When in Rome?" Zach offered, but the excuse was flimsy. "So, what's the real damage here? What are we talking about? Christians hate gays?"
Walter let out a long groan, pinching the bridge of his nose. After collecting himself, he met Zach's earnest gaze. "I don't care about Christians. I care about ratings. If there's one thing Hollywood will not tolerate, it's a gay actor where an American heartthrob should be."
"Good thing we're in New York?"
Walter only shook his head. He flipped the closest magazine on its head, unable to tolerate the cover image of Zach sporting a tiny speedo, beaming a smile at his flaming cousin while a cluster of oiled up young men bumped and grinded around them, for one second longer. "I don't know how to fix this," he said, sounding defeated. "If only it'd been another cocaine bender…"
"I can fix it," Zach assured him, consciously ignoring the fact that he had absolutely no clue as to how he might pull that off. "People think I'm gay, so—"
"You don't get it," Walter cut in. "With a pretty face like that, people have questioned your sexuality. These images just confirm it." He was shaking his head now. "It ruins the fantasy. Girls watch the show while in the back of their minds they're dreaming about meeting you, about the possibility of you flirting with them. Will you like them? That's what makes them adore you. If you're gay—"
"But I'm not gay."
"Then the fantasy is destroyed, they tune out, they flip the channel. You might think you're only a supporting co-star, but you add a lot to the show. Jamison Holt can't carry Hashtag Blessed, not all by himself."
Jamison Holt, another veteran heartthrob, was the star of the show, but he'd done something almost as bad as being gay last year. He'd gotten married. Ratings had suffered and though he still had a loyal following, the bulk of the fantasy-appeal of #Blessed was now resting squarely on Zach's shoulders.
"I'm not gay," Zach repeated.
"I know that and Marla and Darlene know that. We all know that, Zach. But I don't know how you're going to prove it to America."
Darlene Pinkerton, Zach's plucky publicist, a soft-spoken yet polished woman in her late forties who had righted the careers of some of Hollywood's baddest bad boys—Colin Farrell, Robert Downey, Jr., and Shia LaBeouf among them—crossed her legs with an air of inspiration and said, "I might have a solution."
All eyes cut to Darlene, and Zach felt his chest tighten with what could possibly be hope.
"It's a bit unorthodox, but it wouldn't be the first time…" she prefaced, heightening everyone's collective interest. "Tom and Katie come to mind," she went on, reeling them in. "Matthew McConaughey and Penelope Cruz. Leo and—"
"None of those people are gay and they all broke up," snapped Walter, unamused.
"They were all rumored to be gay," she coolly corrected. "And they didn't break up. Their contracts expired." Stunned silence ensued for a thick beat. "What?" she smiled, pleased to have rocked their world. "Give me forty-eight hours and I'll transform Zach Canning into the Christian Network's very own Hashtag Blessed character, Brian like—" she snapped her fingers, "that."
Zach wasn't exactly eager to become his character, but the fact of the matter was that the show was his life. As stupid and Christian and antithetical to his entire personality as it was, he would do anything to get his contract renewed. The possibility of getting kicked off the show scared the sh!t out of him and twisted his stomach in knots. This was a matter of life and death.
"I'll do it," he declared, making a point to meet the gaze of each and every individual in the room. "But I want the actress to be a bigger star than me. Smokin' hot. Down to bang. The whole nine yards."
Darlene's eyes fluttered—her way of trying like hell not to roll them—and she let out a little Lord help me snort before clarifying, "You need serious damage control not some Hollywood starlet with her own set of rumors and problems. I'm going to find you an unknown. A Christian if I can help it. Someone poor and star-struck who will easily jump at the chance to be with American heartthrob Zach Canning."
Walter told her with a wink, "Do your worst, Darlene," and then bore his steely gaze through Zach. "If you can turn this mess around within two weeks in time for the press junket to announce season five, the Christian Network will present you with a fresh contract. But if not…"
Zach feared to imagine and couldn't bear Walter finishing his threat so he blurted out, "Two weeks is all I need."
As he swallowed the hard lump in his throat, feeling sweat bead across his forehead, he hoped like hell that was true…
An 'unknown'?
What kind of good, Christian girl would dive headlong into a fake relationship with a cocky, drug-addled actor who was recently rumored to be a flaming homosexual?