SINFUL DESIRE by Lauren Blakely is the second full-length, standalone novel from her bestselling Erotic Romance Series, Sinful Nights. Enjoy this excerpt and be sure to grab your copy!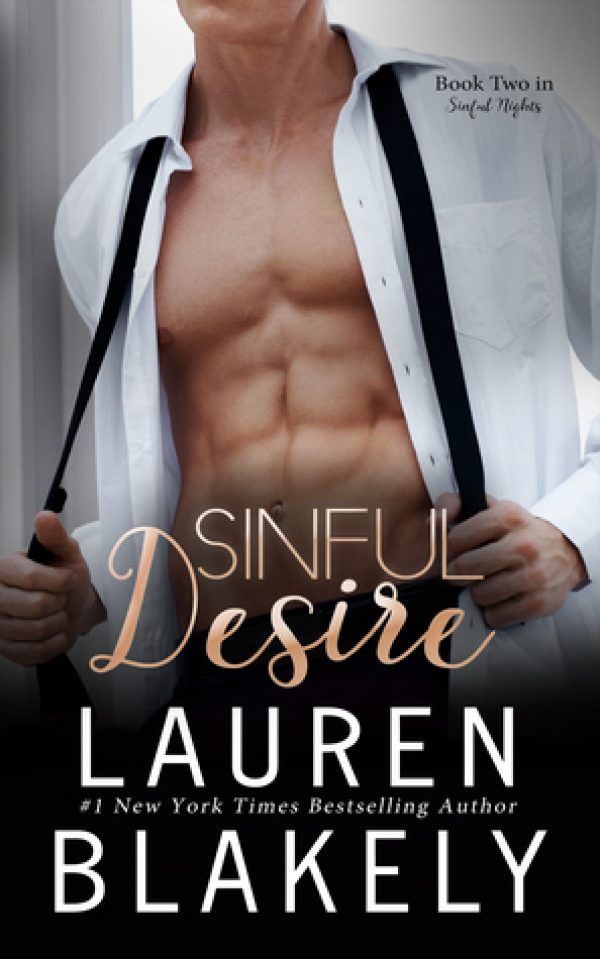 Control.
It's what Ryan Sloan values most. Control of his business, control of his secrets, control of his days and nights. With the way his life spiraled in the past, he needs to stay in charge of his present.
Giving up control.
It's what Sophie Winston craves. After a wildly successful career, she's stepped away from the business world and is now focused on her work as her city's most noted philanthropist.
When she meets Ryan Sloan, the chemistry is scorching, and utterly undeniable. Their desire for each other runs red hot. He wants everything she's willing to give him in bed, and she wants him to take her to new heights as only he can.
Soon, he has to have more. All of her — heart, mind and body.
The only trouble is, he hasn't been honest about how he met her and the dangerous connection he has to her brother.
When the truth is revealed, he'll have to give more of himself than he's bargained for or risk losing the only woman he's ever let into his heart.
Note: Clicking links on this site will take you to the retailer's purchase page.
Totally Bex is a participant in the Amazon Services LLC Associates Program, an affiliate advertising program designed to provide a means for us to earn fees by linking to Amazon.com and affiliated sites.
Other books in this series:
"From the moment I met you, I knew I'd have my hands on you. You knew it, too. Felt it, too."
She nodded as she trembled from the trace of his finger. "I did feel it."
He brought his mouth to her ear and spoke softly. "If I ever do or say something you don't like, tell me. Or smack me. I only want to bring you pleasure." His words were both sexy and earnest. The combination sent flutters through her belly. "Immense pleasure."
"You already are. So tell me something else that's true. Something else you know," she said, loving the hot, dirty way he talked to her as he touched her.
"I'm going to look into your eyes like I want to take you," he said, his eyes blazing with desire. "That look will drive you wild. And you'll swallow nervously because you don't know me, and it's odd wanting a stranger as much as you do." He was reading her like a teenage diary. On the one hand, she was nervous. She didn't know him at all. But she was also aroused beyond words. Beyond reason. Beyond any normal limits.
For that same reason—because she didn't know him.
"Then, you'll run a hand down my tie," he told her, and she reached out instantly, doing exactly as he said, loving the directions he gave. Sophie craved this kind of interaction. She wanted a man to command her. So much time was spent deciding, and doing, and planning. It drove her brain batty, and she longed for this kind of release from her days.
"Do you know why you're so fascinated with my tie?" he asked huskily, his eyes pinned on her. He practically f*cked her with his gaze. It was so intense. His confidence set her on fire. It torched a path across her body, sizzling her skin.
"Tell me," she said, eager for more of his words. "Since you seem to know me so well. Tell me."
He brushed the backs of his fingers against her cheek. Oh God, she was dying for him to kiss her. She was so eager to feel those lips. To taste him.
He grasped a wrist with one hand, yanking it up his chest and loosely wrapping the end of his tie around her hand. "You want me to tie you up."
"How do you know that?" she asked, her voice stripped to the bones. He knew her. He read her. He could sense everything she wanted. He crowded her against the wall. Heaven Leigh belted out her song on stage. The inky black of the backstage cloaked them.
"Am I wrong?" he asked, arching an eyebrow. "If I'm wrong, tell me and I'll walk away."
She shook her head. "Are you going to take it off? Tie me up?" she asked in a voice that hardly sounded like hers. It belonged to the part of her that had been untended for years.
He grinned wickedly. "No. I have other ways to tie you up," he said, and in a flash, he gripped her wrists in his big strong hands, wrapping his fingers around her, binding her as he yanked her hands behind her back. Heat flared in her body, spinning through her, settling between her legs. Her gorgeous, sexy panties were so damp right now they were useless.
She ached for his touch. And she could do nothing but wait for it since she was his hostage.
He was so strong she couldn't wriggle away if she wanted to. His thumbs dug into her wrist bones, pinning her hands above her ass, rendering her helpless. The pressure from the twist in her arms bordered on pain, and felt oh so good.
There was no space between the two of them. Only breath. Only words and his bare, husky voice. "Do you know what else I've been thinking about all day?"