5 Things I Learned at My First Book Signing – My Austin Book Fest Recap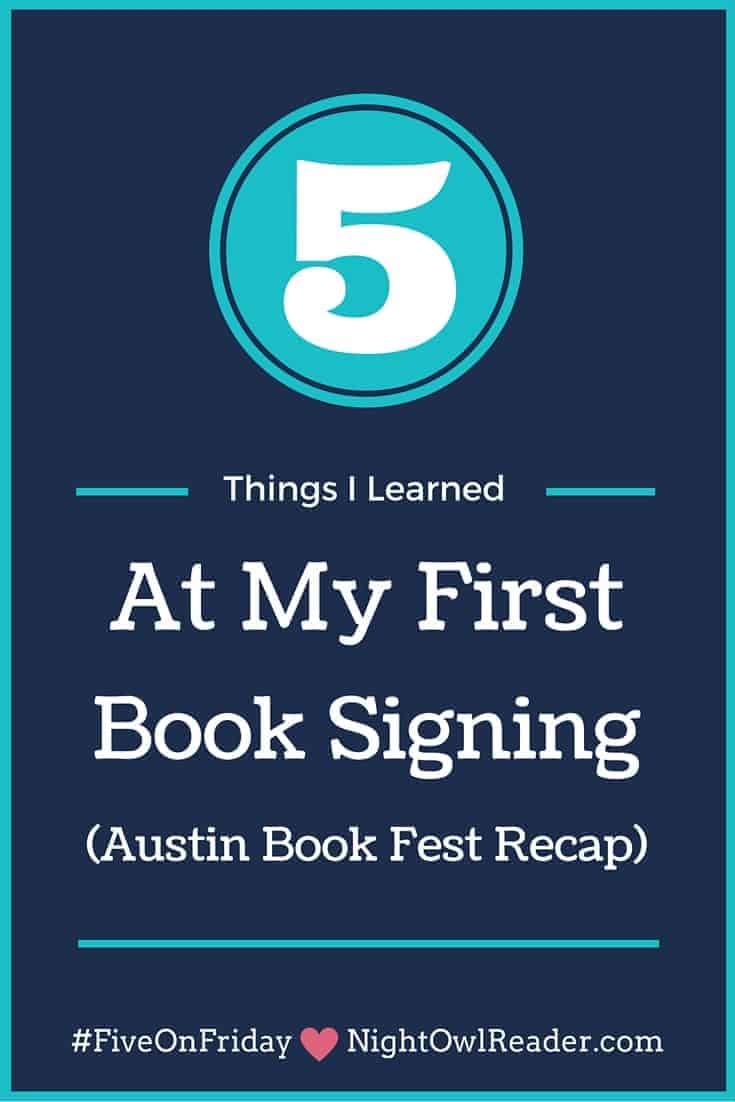 Last weekend, I had the awesome experience of flying to Texas and attending Austin Book Fest. One of the best parts was that I finally got to meet my online friend, Gretchen from About That Story–She's awesome btw, so be sure to check out her blog!  The other reason I was so excited was because it was my first book event. As a reader and lover of books, it was like going to Disneyland!
I thought it would be fun to do a combo Five On Friday post/event recap about our time in Austin and the things I learned.
---
1) The earlier, the better!
Tickets? Buy them before they are gone. Hotel? Book it before they sell out. Arrival time? Go earlier than you think you should!
Gretchen and I decided to go to ABF back in August, so we purchased our tickets before they were all gone. We also decided that we wanted to stay in the event hotel for the convenience, so we booked a room months ago. I am so glad we did! Neither of us felt like driving after spending over 7 hours at the signing.
As far as the arrival time, we thought getting there two hours early would be enough. Boy, were we wrong! We saw on Facebook that people were lining up as early as 5:45AM (!!!) Of course, we thought they were crazy….until we got there and saw the line snaking through hallway after hallway. We stood in line for 3 hours just to get in.
My advice: Arrive the night before and get up early!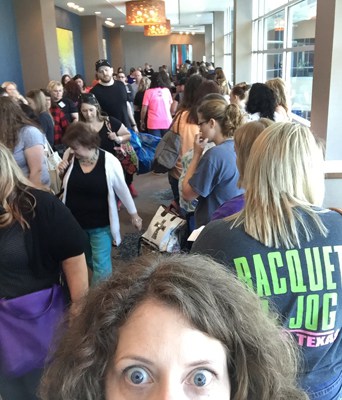 2) Organize your books
We took the time to put Post-It notes in our books with our name on them. We also tried to keep all of the books separated by author. In the end, we had 2 tote bags and a rolling cart full of books. It seemed like overkill, but we would have died carrying all of those books without them.
Note: Be careful if you use Post-It tabs. We ripped a couple of pages taking them off and that is just heartbreaking.
3) Be friendly and have lots of patience!
We heard there were an estimated 1500 people in attendance at this signing. That's a lot of people! So, the lines were long and personal space was non-existent. We were bumped and jostled all day. Just remember that everyone is in the same boat as you, so put a smile on your face and be nice. The best part about the lines was making new friends. It was so awesome to see so many fans in one place.
4) Take snacks and wear comfortable clothing
Gretchen and I ate breakfast before we arrived and thought we would eat at 4pm when the event was over. Again, we were so wrong. Many of the authors offered to stay until 5pm, then some stayed until 6pm. They were so kind with their time. However, Mia Sheridan's line was packed from the time we got there until after 5pm. She was one of my must-see authors and I had several books to have signed. Gretchen was kind enough to offer to stay, so we waited until after 7pm to see Mia. By the time we were done, we were exhausted! We just wanted food and sleep (oh, and maybe some adult beverages!). It ended up being 8:30 before we got to eat in the hotel restaurant. We earned every bite!
So, my advice is to TAKE SNACKS. You never know how long you are going to be.
As for the comfortable clothes, I can't recommend wearing layers enough. Like I said before, it was wall-to-wall people. In the back corners of the room, there was little airflow, so it was HOT. I get that we want to look cute, but wear something that can get you through the hottest temperatures.
5) Enjoy yourself!
Enjoy it for what it is and go with the flow. Chat with people. Talk to the authors. Take lots of pictures. Don't stress and just have fun!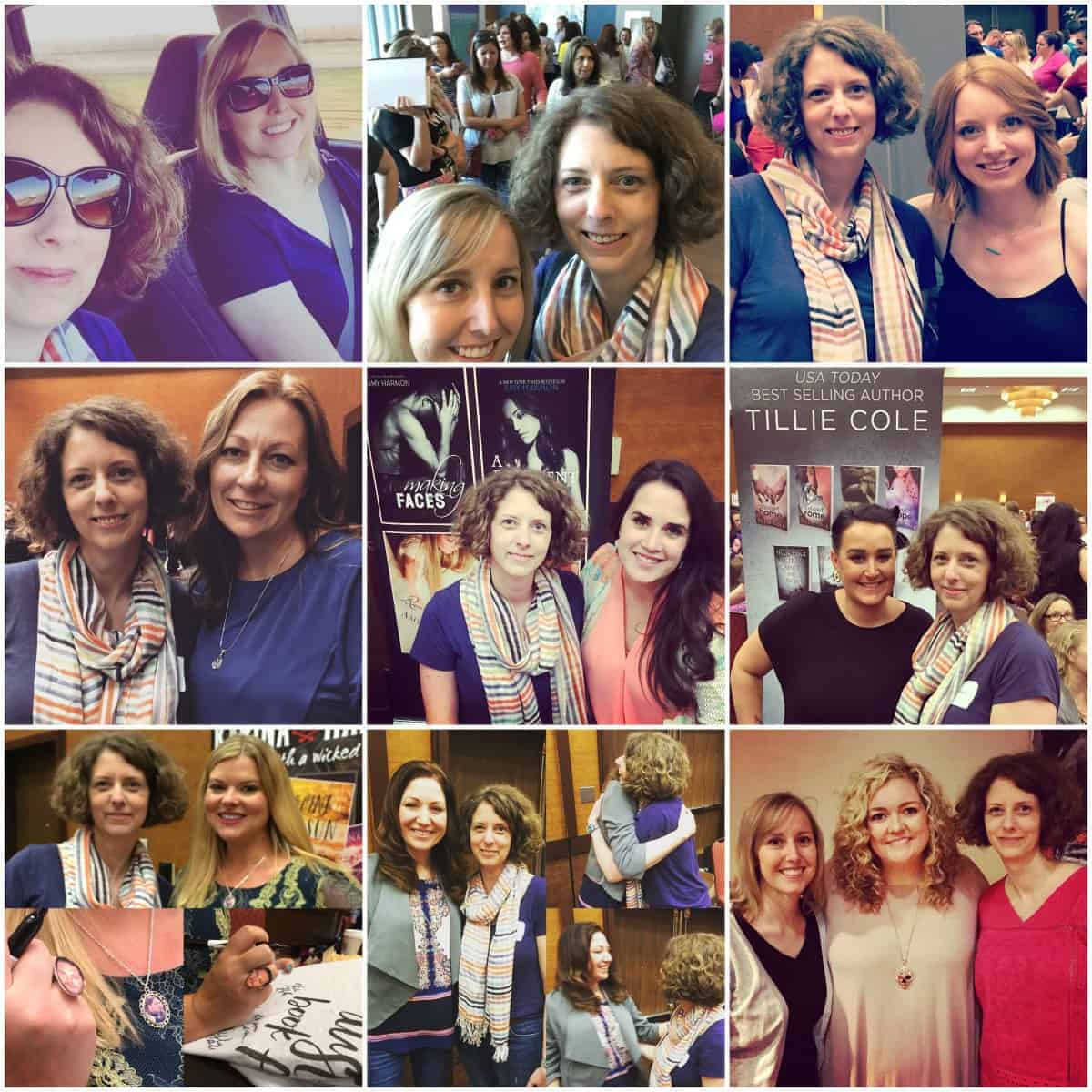 I want to thank Gretchen from the bottom of my heart for sharing this amazing, exhausting, fun, overwhelming, and chaotic experience with me. I can think of no one else I would want to spend hours in the car and hours in line with!!
---
Have you ever been to a book signing event?  Any advice you would like to share?  Leave a comment and let us know!