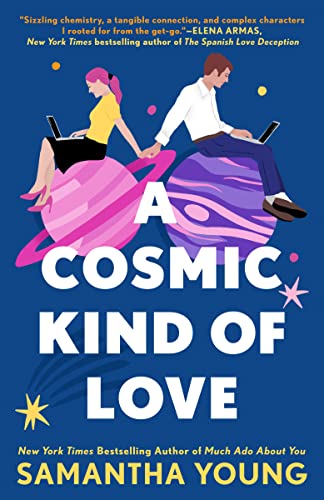 A Cosmic Kind of Love by Samantha Young
When event planner Hallie Goodman receives party-inspiration material from the bride of her latest wedding project, the last thing she expects to find in the files are digital videos from Darcy's ex-boyfriend. Hallie knows it's wrong to keep watching these personal videos, but this guy is cute, funny, and an astronaut on the International Space Station to boot. She's only human. And it's not long until she starts sending e-mails and video diaries to his discontinued NASA address. Since they're bouncing back, there's no way anyone will ever be able to see them…right?
Christopher Ortiz is readjusting to life on earth and being constantly in the shadow of his deceased older brother. When a friend from NASA's IT department forwards him the e-mails and video messages Hallie has sent, he can't help but notice how much her sense of humor and pink hair make his heart race.
Separated by screens, Hallie and Chris are falling in love with each other, one transmission at a time. But can they make their star-crossed romance work when they each learn the other's baggage?
Disclosure: Totally Bex is a participant in the Amazon Services LLC Associates Program, an affiliate advertising program designed to provide a means for us to earn fees by linking to Amazon.com and affiliated sites.
A Cosmic Kind of Love by Samantha Young