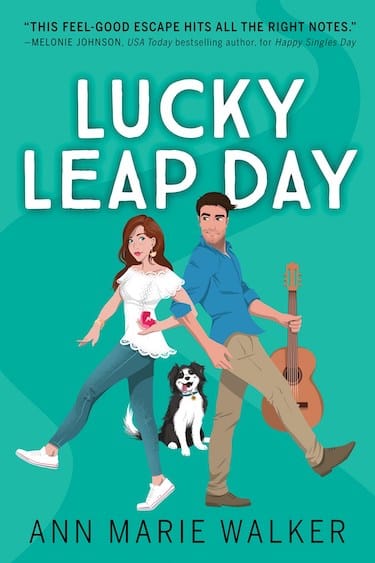 Lucky Leap Day by Ann Marie Walker
A whirlwind trip to Ireland is supposed to end with a suitcase full of wool sweaters and souvenir pint glasses—not a husband you only just met!
After one-too-many whiskeys, fledgling screenwriter Cara Kennedy takes a page out of someone else's script when she gets caught up in the Irish tradition of women proposing on Leap Day. She thought she might have dreamt everything until she wakes the next morning with a hot guy in her bed and a tin foil ring on her finger. Her flight is in four hours, her clothes are all over the room, and she has the most important meeting of her career in exactly two days—and on top of everything else, her husband has a dog who thinks Cara is a perfect surrogate mother, despite the fact that she has never been much of an animal lover…
Deciding to work things out stateside, Finn and her new fur baby accompany her to LA, where Finn spends his days going on auditions and his nights charming his new bride, leaving Cara to wonder whether this is real love, or if Finn is another aspiring actor just after her Hollywood connections? With limited time on his tourist visa, will Finn be able to convince Cara that she's the right girl for him, or will time run out on their Hollywood ending?
Additional information
| | |
| --- | --- |
| Publication Date | |
| Goodreads | |
Disclosure: Totally Bex is a participant in the Amazon Services LLC Associates Program, an affiliate advertising program designed to provide a means for us to earn fees by linking to Amazon.com and affiliated sites.
Lucky Leap Day by Ann Marie Walker