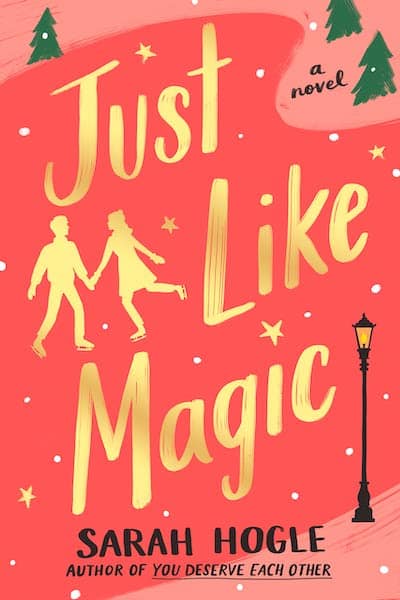 Just Like Magic by Sarah Hogle
Bettie Hughes once knew the comfort of luxury, flaunting a ridiculous collection of designer shoes and a stealthy addiction to CBD oils. That is, until her parents snipped her purse strings. Long obsessed with her public image, Bettie boasts an extravagant lifestyle on social media. But the reality is: Bettie is broke and squatting in Colorado, and her family has no idea.
Christmas, with its pressure to meet familial expectations, is looming when a drunk Bettie plays a vinyl record of "All I Want for Christmas Is You" backwards and accidentally conjures Hall, an unexpectedly charming Holiday Spirit in the form of a man. Once the shock wears off, Bettie knows she's stumbled upon the greatest gift: a chance to make all her holiday wishes come true, plus a ready-made fiancé.
But as the wiles of magic lose their charm, Bettie finds herself set off-kilter by Hall's sweet gestures. Suddenly, Bettie is finding her heart merry and light. But the happier she gets, the shorter Hall's time on earth grows. Can Bettie channel the Christmas spirit and learn to live with goodwill toward all men? Or will her selfish ways come back as soon as the holidays are over?
Disclosure: Totally Bex is a participant in the Amazon Services LLC Associates Program, an affiliate advertising program designed to provide a means for us to earn fees by linking to Amazon.com and affiliated sites.
Just Like Magic by Sarah Hogle