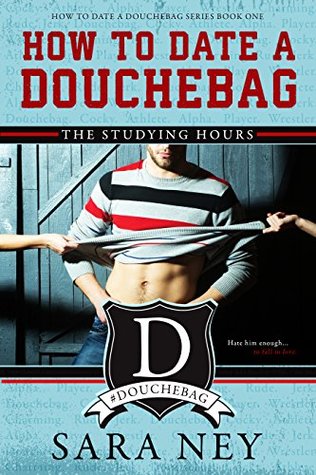 The Studying Hours: How to Date a Douchebag
CRUDE. ARROGANT. AHOLE.
Sebastian 'Oz' Osborne is a walking, talking cliche.
One of the university's most celebrated student athlete—and possibly the biggest douchebag–Oz has a filthy mouth, a fantastic body, and doesn't give a sh*t about what you, or anyone else thinks. He loves to have fun,but loves winning even more.
SMART. CLASSY. CONSERVATIVE.
Jameson Clarke may be the university's most diligent student—but she is no prude. She spends most of her time in the hallowed halls of the library, not because she's a brainiac–but because she's not. School doesn't come easy, and she's determined to finish the year without a D.
D stands for Douchebag.
Oz is a champion wrestler; one of the best. And he didn't fight his way to the top by backing down from a challenge.
He wants to be friends with Jameson.
He wants to spend time with her.
He wants to drive her crazy.
He wants…
Her.
EVERY DOUCHBAG HAS HIS WEAKNESS.
Disclosure: Totally Bex is a participant in the Amazon Services LLC Associates Program, an affiliate advertising program designed to provide a means for us to earn fees by linking to Amazon.com and affiliated sites.
The Studying Hours: How to Date a Douchebag