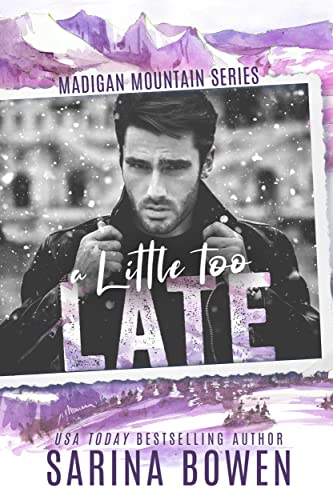 A Little Too Late by Sarina Bowen
How to behave when the guy who broke your heart two thousand miles away turns up in your office:
One: Don't drop your lucky coffee cup in shock, even though it's been ten years.
Two: Don't get defensive when he asks how you ended up working his family's ski mountain… and why you kept it a secret.
Three: Give him the worst room in the resort. He deserves it for suddenly waltzing back in like he owns the place. (Which he kind of does.)
Four, five, six, seven, eight and nine: Do not kiss him in the hot tub.
Ten: Try to keep your heart intact after you break all of your rules.
Because Reed is leaving again. Hate can't turn back into love. And it's a little too late…
Disclosure: Totally Bex is a participant in the Amazon Services LLC Associates Program, an affiliate advertising program designed to provide a means for us to earn fees by linking to Amazon.com and affiliated sites.
A Little Too Late by Sarina Bowen