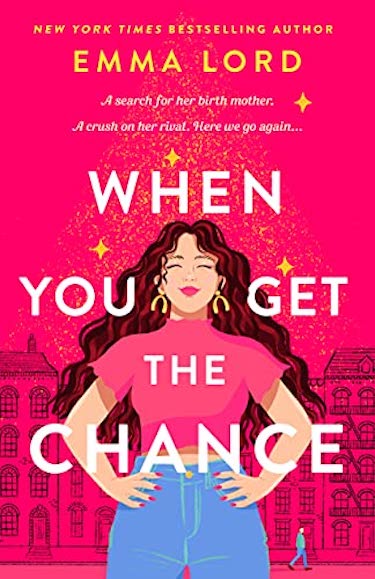 When You Get the Chance by Emma Lord
Nothing will get in the way of Millie Price's dream to become a Broadway star. Not her lovable but super-introverted dad, who after raising Millie alone, doesn't want to watch her leave home to pursue her dream. Not her pesky and ongoing drama club rival, Oliver, who is the very definition of Simmering Romantic Tension. And not the "Millie Moods," the feelings of intense emotion that threaten to overwhelm, always at maddeningly inconvenient times. Millie needs an ally. And when a left-open browser brings Millie to her dad's embarrassingly moody LiveJournal from 2003, Millie knows just what to do. She's going to find her mom.
There's Steph, a still-aspiring stage actress and receptionist at a talent agency. There's Farrah, ethereal dance teacher who clearly doesn't have the two left feet Millie has. And Beth, the chipper and sweet stage enthusiast with an equally exuberant fifteen-year-old daughter (A possible sister?! This is getting out of hand). But how can you find a new part of your life and expect it to fit into your old one, without leaving any marks? And why is it that when you go looking for the past, it somehow keeps bringing you back to what you've had all along?
Disclosure: Totally Bex is a participant in the Amazon Services LLC Associates Program, an affiliate advertising program designed to provide a means for us to earn fees by linking to Amazon.com and affiliated sites.
When You Get the Chance by Emma Lord