Thank you for the advanced copy of HOLD MY BREATH by Ginger Scott.  All opinions are my own.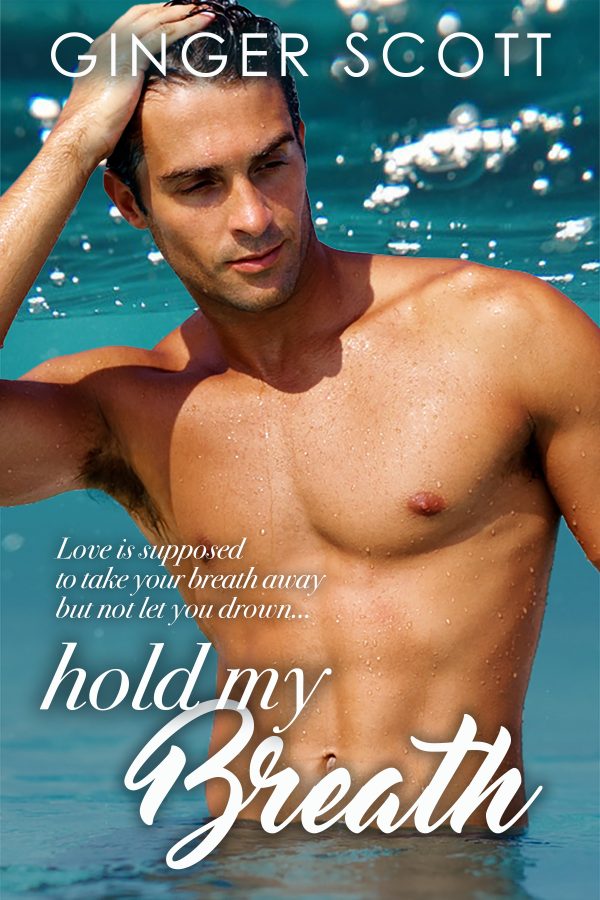 Fractions of seconds can do lots of damage. One decision can ruin lives. A blink can be tragic. And loving a Hollister…can hurt like hell.

I would know.

They say the average person can hold their breath under water for two full minutes when pushed to the extremes. Will Hollister has been holding his for years. The oldest of two elite swimming brothers, Will was always a dominant force in the water. But in life, he preferred to let his younger brother Evan be the one to shine.

Evan got the girl, and Will…he got to bury all of the secrets. A brother's burden, the weight of it all nearly left him to drown.

The daughter of two Olympians, my path was set the day my fingertips first touched water. My future was as crystal clear as the lane I dominated in the pool—swim hard, win big, love a Hollister.

My life with Evan burned bright. He gave me arms to come home to, and a smile that fooled the world into believing everything was perfect. But it was Will who pushed me. Will…who really knew me.

And when all of the pieces fell, it was Will who started to pick them up.

In the end, the only thing that matters are those few precious seconds—and what we decide to do while we still have them in our grasp.
Note: Clicking links on this site will take you to the retailer's purchase page.
Totally Bex is a participant in the Amazon Services LLC Associates Program, an affiliate advertising program designed to provide a means for us to earn fees by linking to Amazon.com and affiliated sites.

From the prologue, reading Hold My Breath had me doing just that. I held my breath through the reveal of each heartbreaking secret and the pain of each of the characters experienced.
It's a story of survival, of reframing your history, and ultimately, a story of love conquering all.
Maddy and Will have been friends since childhood, swimming together every day at her family's club. Will's brother, Evan, ends up being the boy who steals her heart—until he is taken by tragedy.
Four years later, Will and Maddy reunite in the pool to train for the Olympics. Things aren't just tense in the pool and history didn't happen the way Maddy wants to believe it did.
Will is an amazing hero in this story. There are so many secrets, responsibilities, and guilt that he is juggling, it seems like he is carrying the weight of the world on his shoulders. I wanted to give him a great big hug though most of the revelations that just keep coming, one after another.
Maddy is a fantastic heroine. She is so strong, understanding, and caring–exactly what Will needed to deal with the heartbreaking agony he was in. This story is emotional and heavy, but there are so many wonderful moments, too.
While it the blurb sounds like a typical sports romance, the athletics seem to take a backseat to the drama and the healing that happens in the story.
The writing is beautiful, the characters are realistic, and the story is so multi-dimensional. Scott sprinkles so many inspirational gems throughout the story and I highlighted a ton of quotes.
This was my first book by Ginger Scott, but I will definitely be reading more by her in the future!
Want more? Check out these posts!