Thank you for the advanced copy of A VEIL OF VINES by Tillie Cole.  All opinions are my own.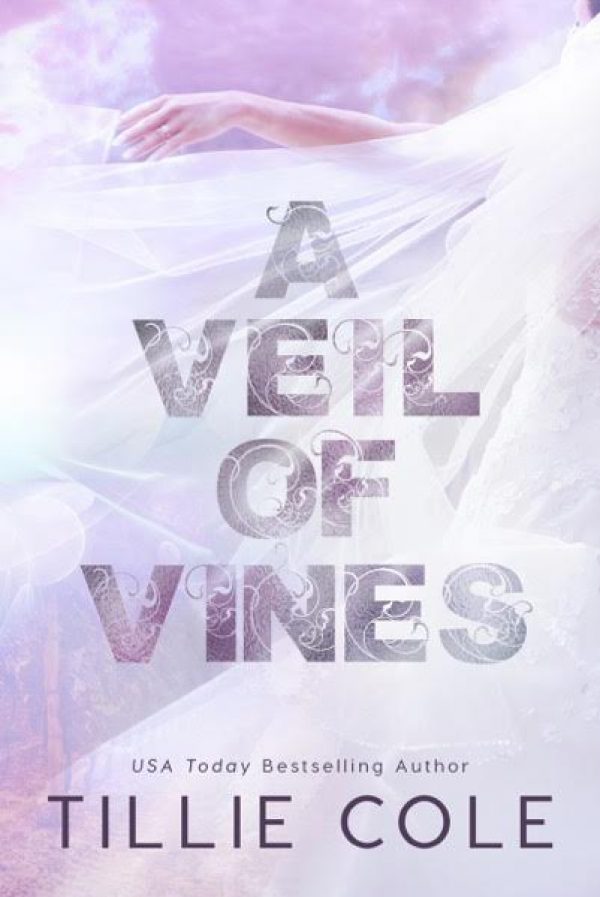 To most people, princes, princesses, counts and dukes are found only in the pages of the most famous of fairytales. Crowns, priceless jewels and gilded thrones belong only in childhood dreams.
But for some, these frivolous fancies are truth.
For some, they are real life.
On Manhattan's Upper East Side, people have always treated me as someone special. All because of my ancestral name and legacy. All because of a connection I share to our home country's most important family of all.
I am Caresa Acardi, the Duchessa di Parma. A blue blood of Italy. I was born to marry well. And now the marriage date is set.
I am to marry into House Savona. The family that would have been the royals had Italy not abolished the monarchy in 1946. But to the aristocrats of my home, the abolition means nothing at all.
The Savonas still hold power where it counts most.
In our tight-knit world of money, status and masked balls, they are everything and more.
And I am soon to become one of them.
I am soon to become Prince Zeno Savona's wife…
… or at least I was, until I met Achille.
And everything changed.
Note: Clicking links on this site will take you to the retailer's purchase page.
Totally Bex is a participant in the Amazon Services LLC Associates Program, an affiliate advertising program designed to provide a means for us to earn fees by linking to Amazon.com and affiliated sites.

I'm a huge fan of Tillie Cole's dark and gritty romances about fighters and motorcycle clubs, but she's been writing softer and sweeter romances lately that I have also enjoyed. 
A Veil of Vines is like a modern fairytale, complete with the Duchess who is betrothed to a Prince she doesn't love and falls madly in love with a commoner instead.  It is very descriptive and immersive, and as I mentioned, very sweet.
Caresa is Italian royalty, even though the monarchy has been abolished, the legacy continues.  Her marriage to a Prince she has never properly met makes good business sense for their families, so they must make a loveless alliance. 
The Prince has a reputation with the ladies to uphold, so Caresa is left to her own devices in Umbria—until she meets Achille.
Achille is a winemaker on the Prince's land, making the highly coveted wine that is the crown jewel of the family.  He's mostly a loner and has been isolated since his father passed away.  Achille is a simple man (maybe a little overly simple?), living in a cottage and working with his hands.
Achille and Caresa could not be more opposite, but there is something magnetic about them together.  I really enjoyed how they met, got to know each other, and worked through their challenges. 
Achille is so sweet, tender, and ever-so-slightly broken, you can't help but feel for him.  He will melt your heart, I do know that.
If you're a fan of Tillie Cole's softer romances or have a fondness for clandestine, star-crossed lovers, I think you will like A Veil of Vines. 
It was a little overly sweet for me, but I still enjoyed the story. Everyone could use a dose of sweetness once in a while, right?
Caresa

As my papa's G5 began its descent, I looked out of the window beside me and waited for the plane to break through the clouds. I held my breath, body tense, then suddenly the burnt-orange remnants of daylight flooded the plane, bathing the interior with a soft, golden glow. I inhaled deeply. Italia.
Fields and fields of green and yellow created a patchwork quilt below, rolling hills and crystal-blue lakes stretching as far the eye could see. I smiled as a sense of warmth ran through me.
It was the most beautiful place on earth.
Sitting back in my wide cream leather chair, I closed my eyes and tried to prepare myself for what was coming. I was flying to Florence airport, from where I would be swiftly taken to the Palazzo Savona estate just outside of the city.
I would meet Prince Zeno.
I had met him twice before—once when I was four, of which I had no memory, and again when I was ten. The interaction we'd had as children had been brief. If I was being honest, I had found Zeno to be arrogant and rude. He had been thirteen at the time and not at all interested in meeting a ten-year-old girl from America.
Neither of us had known at the time that that our betrothal had been agreed upon two years prior. It turned out that the trip my papa had taken to Umbria when I was eight was to secure a forever-bond between the Savonas and the Acardis. King Santo and my father had planned for their only children to marry. They were already joined in business; Zeno's arranged marriage to me would also strengthen both families' place in society.
I thought back on my New York farewell of nine hours ago and sighed. My parents had driven me to the private hangar and said their goodbyes. My mama cried—her only child was leaving her for a new life. My papa, although sad to see me go, beamed at me with the utmost pride. He had held me close and whispered, "I have never been more proud of you than I am right now, Caresa. Savona Wines' stock has plummeted since Santo's death. This union will reassure all the shareholders that our business is still strong. That we are still a stable company with Zeno at the helm."
I had given him a tight smile and boarded the plane with a promise that they would see me before the wedding. And that had been that.
I was to marry Zeno, and I hadn't protested even once. I imagined to most modern-day women living in New York, the process of arranged marriages sounded positively medieval, even barbaric. For a blue blood, it was simply a part of life.
King Santo Savona died two months ago. The shareholders of his many Italian vineyards, the stakeholders in Savona Wines, had expected his son, Zeno, to immediately step up and take charge. Instead, Zeno had plunged himself into the party scene even harder than before—and that was quite a feat. Within weeks my papa had flown out to Umbria to see what could be done.
The answer: our imminent union.
Want more? Check out these posts!