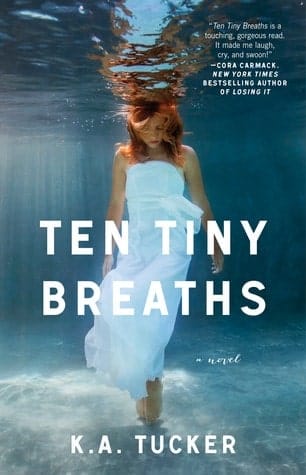 Ten Tiny Breaths: A Novel (The Ten Tiny Breaths Series Book 1)
After a terrible car accident destroys her life as she knew it, twenty-year-old Kacey escapes to Florida, where she encounters an irresistible man determined to capture her wounded heart.
Just breathe, Kacey. Ten tiny breaths. Seize them. Feel them. Love them.
Four years ago, Kacey Cleary's life imploded when her car was hit by a drunk driver, killing her parents, boyfriend, and best friend. Still haunted by memories of being trapped inside, listening to her mother take her last breath, Kacey wants to leave her past behind. Armed with two bus tickets, Kacey and her fifteen-year-old sister, Livie, escape Grand Rapids, Michigan, to start over in Miami. They're struggling to make ends meet at first, but Kacey's not worried. She can handle anything—anything but her mysterious neighbor in apartment 1D.
Trent Emerson has smoldering blue eyes and deep dimples, and perfectly skates that irresistible line between nice guy and bad boy. Hardened by her tragic past, Kacey is determined to keep everyone at a distance, but their mutual attraction is undeniable, and Trent is desperate to find a way into Kacey's guarded heart—even if it means revealing an explosive secret that could shatter both their worlds.
Additional information
| | |
| --- | --- |
| Author | |
| Publication Date | |
| Publisher | |
Disclosure: Totally Bex is a participant in the Amazon Services LLC Associates Program, an affiliate advertising program designed to provide a means for us to earn fees by linking to Amazon.com and affiliated sites.
Ten Tiny Breaths: A Novel (The Ten Tiny Breaths Series Book 1)