Thank you for the advanced copy of LICKED by Brooke Blaine.  All opinions are my own.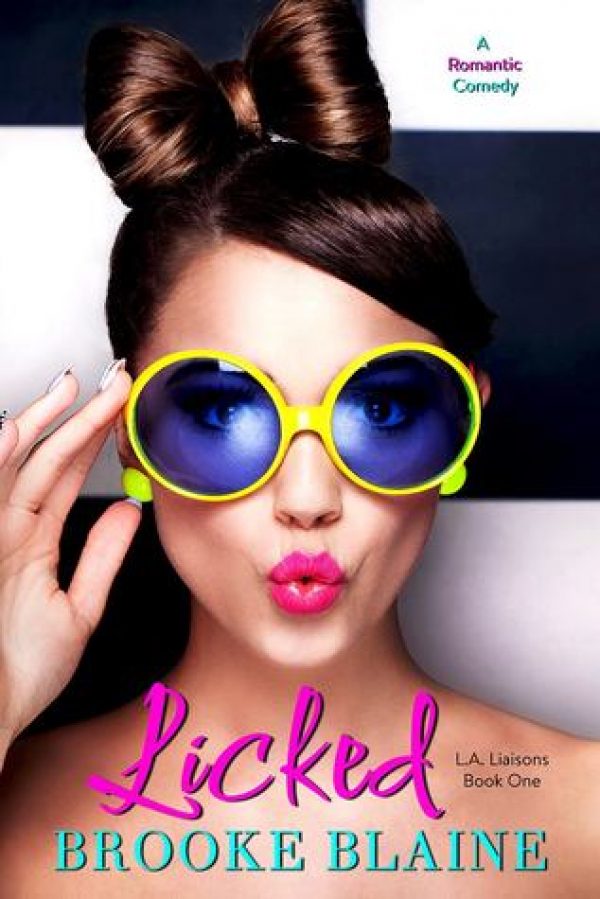 As the owner of Licked, an eclectic ice creamery and bar, Ryleigh Phillips doesn't have time for that love stuff. Serving up Nibble My Nuts sundaes and Drunken Sailor boozy shakes are as close to an orgasmic affair as she's had in months thanks to her expanding empire—until the night of her ten-year high school reunion.

When Ryleigh's crush, gorgeous ex-football god Cameron Mathis, comes streaking into her life (literally—streaking), she begins to wonder if she really can have it all.

Wouldn't it just figure that the moment you think life is perfect is when it falls spectacularly apart?

Enter Hunter Morgan, the contractor in charge of Licked's renovations. Devastatingly handsome, and a smartass to boot, he's got his eyes on Ryleigh from the moment he finds her passed out on his couch (yeah, that's a long story). There's just one tiny complication—he happens to be Cameron's best friend.

When the lines between relationships and friendships blur, and it's impossible to choose between two delicious flavors, what's a girl to do? Taste a sample of each? Or go out and get LICKED?
Note: Clicking links on this site will take you to the retailer's purchase page.
Totally Bex is a participant in the Amazon Services LLC Associates Program, an affiliate advertising program designed to provide a means for us to earn fees by linking to Amazon.com and affiliated sites.
Other books in this series:

Don't let the blurb fool you into thinking this is an angsty, melancholy story about a love triangle. Oh, no, no. Licked by Brooke Blaine is a fresh, fun, and flirty romantic comedy through and through.
It will melt your heart, tickle your funny bone, and make you wish you had a Nibble My Nuts sundae to devour while reading.
The heroine, Ryleigh, is a complete and total delight. She is strong, smart, cheeky, and impeccably styled in her retro attire. Licked is the hip joint that Ryleigh has built from the ground up with her signature style and sass.
The place sounds totally amazing, and I wish I had one in my neighborhood! Just the names of the treats and cocktails had me cracking up, and I dare you to keep a straight face while reading them.
Ryleigh may be rocking her business dreams, but she is sorely lacking in the love department–until the fateful night of her high school reunion.
First, there is Cameron, the guy she has had a crush on since she was 15. After a disastrous reunion and dashed hopes, Ryleigh meets Cameron's roommate, Hunter. With not one, but two potential suitors, predicaments and hilarity ensue.
I gobbled the whole thing up with a spoon and it left me unabashedly begging for seconds. Since Licked is a standalone that introduces the characters for the interconnected series, I won't have to wait too long for more yummy goodness.
"And then?"
I tugged at the edge of my apron in an attempt to avoid the three pairs of eyes staring bug-eyed at me. "And then he walked me to my car."
"And then you?" Shayne asked.
"Went home," I said.
"Wait a minute, can we talk about the fact that he made you sleep on his couch?" Paige's eyebrows were raised up to practically her hairline. "I'm sorry, but in what f*cking universe is that acceptable? Why didn't you call Quinn to pick you up?"
"He didn't make me, geez. He passed out and it was late, and I thought maybe you know. Morning sex."
Shayne cocked an eyebrow. "And did that happen?"
"Well, no. Hunter made me coffee, and then Cameron woke up and that's it."
"Wait," Quinn interrupted. "You slept in an apartment with two guys and both of them had you sleeping on the couch? Jesus, Ryleigh, it's against man-code for that to happen. Did you wear a chastity belt last night or something?"
I groaned, my head falling into my hands. Of course the girls would give me a hard time. I'd been talking up tackling Cameron at the reunion for weeks, so my body wasn't the only one feeling let down.
Still, I was seriously regretting inviting them over for a powwow at my shop during our off hours.
"I think I need another shot of vodka in my Feisty Ho-bag now." Paige pushed her glass stemware toward me, and I grabbed a liquor bottle from behind the bar and tipped some into her glass.
Boozy shakes. They were the bread and butter of Licked during the brunch and evening hours, and the main reason for the expansion next door. I glanced at the black tarp hanging over the doorway that led to the space I'd bought a few months ago and sighed. Construction was running behind, and it was too late to hire another company if I wanted to keep the launch date set.
And I had to keep the date set.
"So are you seeing him again?" Shayne asked, dunking her cherry through the layers of baklava bits and whipped cream on top of her Nibble My Nuts shake. "I will totally get involved if I need to."
No doubt she'd be successful. She basically ran one of the top matchmaking companies in the city, not that you'd know it from her degrading pay scale. Her boss was a f*cking nightmare, but Shayne was convinced she had to pay her dues.
"I don't need your expert skills this time, but thank you. He's got my number, so we'll see."
"You can't just wait around for a guy to call," she said.
"I'm not waiting. I've got all that" I gestured to the ugly tarp that hid the mess behind it "to deal with, so I'm actually quite busy at the moment."
The three of them gave each other "the look." You know, the one that said, We've got to help our poor little friend get laid so she doesn't end up gorging on the ice cream and boozy shakes she makes and be relegated to spinsterhood.
"Guys," I said, placing my hands on the counter as I stood in front of them. "I'm not on my way to spinsterhood. I just have priorities."
"I'm sure you could squeeze Cameron Mathis in," Quinn said with a wink. "Get it? Squeeze him in "
"More like blow off the dust, grab a key, unlock that sh!t, and pray there are no bats," Paige agreed.
Oh for f*ck's sake. "All right, no more booze for either of you.
Want more? Check out these posts!