Thank you for the advanced copy of PORN STAR by Laurelin Paige and Sierra Simone.  All opinions are my own.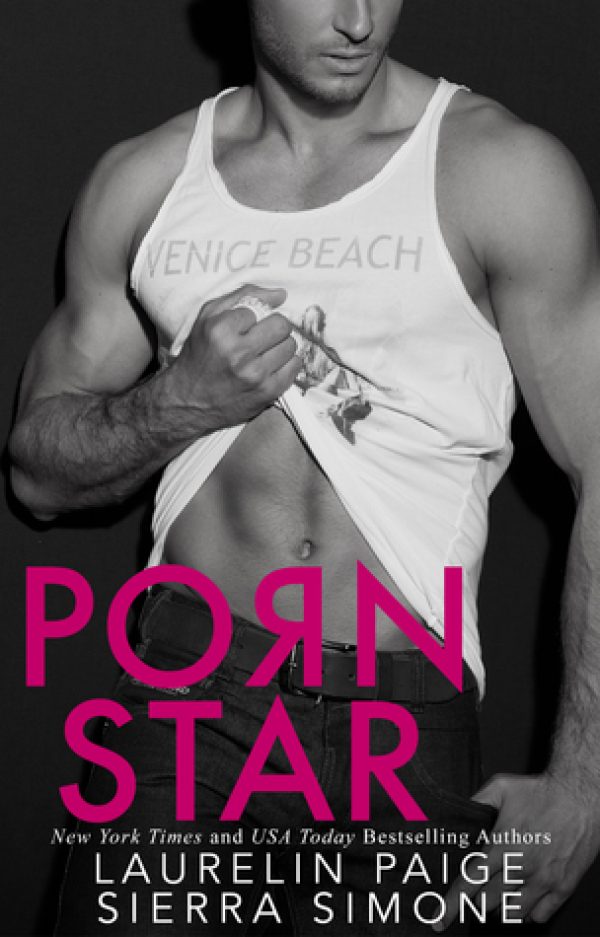 Come on, you know you do.

Maybe you pretend you don't. Maybe you clear your browser history religiously. Maybe you pretend to be aghast whenever someone even mentions the word p*rn in your presence.

But the truth is that you do know me.

Everybody knows Logan O'Toole, world famous porn star.

Except then Devi Dare pops into my world, and pretty soon I'm doing things that aren't like me–like texting her with flirty banter and creating an entire web p*rn series just so I can get to star in her bed. Again. And again.

With Devi, my entire universe shifts, and the more time I spend with her, the more I realize that Logan O'Toole isn't the guy I thought he was.

So maybe I'm not the guy you thought I was either.
Note: Clicking links on this site will take you to the retailer's purchase page.
Totally Bex is a participant in the Amazon Services LLC Associates Program, an affiliate advertising program designed to provide a means for us to earn fees by linking to Amazon.com and affiliated sites.

Logan O'Toole is a big-name p*rn star with his own production company and a huge house in the Hills. P*rn is all he knows and he's good at it. He loves it and he doesn't see himself doing anything else. That is until he sees Devi again. Devi is an actress in the industry and Logan has been crushing on her since they did a scene together three years prior.
The basis of P*rn Star is an interesting concept. Can a p*rn star have both a career and love within the industry? For the most part, I liked the story. Steamy scenes abound, intellectual conversations are had, and I loved Devi. She is so open, caring, and positive—it was refreshing to see such an empowered heroine.
That being said, Logan was a little more difficult to like. He didn't want to give anything up to make his relationship with Devi work for real, not just for the cameras. When the lines blurred, his actions were confusing and I felt like I wanted to shake some sense into him.
With two big name authors and a p*rn star for a hero, my expectations were pretty high heading into this book. I will say that the writing is excellently executed. However, the p*rn industry politics and advocacy interspersed throughout took away from the flow of the story for me. I am sure that the stats were well researched and more needs to be done for women within the industry, but including so much took away from the focus of the romance between the characters.
This is my first book by both of these authors, and based solely on the writing, I will definitely read more of their work. I just need less textbook and more romance next time.
I spin around and throw my phone as hard as I can into the pool.
It lands with a small splash, sinking like a brushed-aluminum stone straight to the bottom. My momentary satisfaction is eclipsed by immense regret, because I just got that phone a few weeks ago. F*ck it, I can get a new one tomorrow. If that's the price I have to pay to keep myself separate from Raven, then so be it.
I take a few healthy chugs of the Laphroaig.
"I hope you've got a good warranty," a cheerful voice says from next to me. Even over the smoky scent of the whisky, I smell her. Cinnamon and sunshine.
I inelegantly swallow the Scotch still in my mouth, turning to face the person next to me. "Devi."
She flashes me her sunny grin, and then returns the greeting by playfully bumping her shoulder against my arm. Heat flares across my bicep, emanating from the place where our bare skin touched, and the heat slowly migrates towards my chest, independent of the blood now pumping to my groin.
I am suddenly very aware of the fact that Devi and I have never been alone. Strange, given that we've given each other orgasms, but Raven's Real Playdates was the only time we've worked together, and there are so many people on a p*rn set that it's impossible to feel any sense of alone-ness, even when you're staring them in the eyes while they suck you off. And even though we've seen each other at parties and events since then, we've only ever said hi or how are you or where's the drinks? Not exactly the basis for a deep understanding of one another.
So I should probably explain why I just chucked a brand new phone into the water, and also maybe not reveal the fact that I have a massive crush on her.
I try to muster the casual, flirty guy I was earlier tonight. "Devi, I…"
I jack off to you almost every day.
"…I, uh, didn't know anyone else was out here. Or I wouldn't have, you know." I mime throwing the phone.
She laughs and then bends down to unfasten her leather heel. "If it's in a good case, it might still be okay," she says. I watch, transfixed, as she kicks off both shoes, shimmies out of her shorts, and then walks to the edge of the pool. She's wearing what legally might qualify as underwear, but only just barely.
Have I mentioned Devi Dare's ass? Because I should. She has one of the best asses known to mankind. Plump and thick and juicy, the kind of ass that invites biting and squeezing, and the way it slopes out from her small waist is pure poetry. And those legs—despite the obvious muscles in her calves and thighs, they still move as she walks, like her ass does, and there's something so healthy about it, so tantalizing about her body with its wide hips and slightly soft stomach and full breasts. She's sexy in such a visceral, biological way, the kind of way that says you want to make babies with me. My cock lengthens as I watch her, tens of thousands of years of evolution telling me to haul her off and impregnate her.
She turns, hands on her hips. "Are you going to join me?"
"I was just enjoying the view," I say, and it comes out a little too raspy, a little too honest, but then I follow it up with a weak grin and then she laughs and jumps into the pool. With a final gulp of whisky, I put the cork in the bottle and then fling myself in after her, clothes, shoes and all.
The water is cool and it's the best kind of contrast to the dry heat of the night and the warmth of the Scotch in my stomach, and the new kind of warmth that's agitating in my chest, something frictive and thrilling and pressing up against my anger and my broken heart. Something that started the moment Devi brushed up against my arm.
I jumped into the deep end, and so it's a few beats before my feet press flat against the bottom and I can push myself back up. I break the surface, sputtering, and awkwardly try to swim over to Devi with one hand still clenched around my Scotch bottle. She treads water as steadily and gracefully as a water nymph, her long hair floating around her shoulders and her gold top drifting away from her skin, giving me just the barest glimpse of one nipple, dark rose and peaked into a tight furl. Water droplets cling to the thick fringe of her eyelashes.
"You're not very good at swimming," she points out as I make my way closer.
"Never liked it much," I say, swimming past her and moving to where my feet can touch. With a sigh of relief, I set my feet down, examine the Scotch bottle to make sure no pool water leaked in, and then I take a long drink. I'm on my way to being drunk, but I'm intent on sealing the deal. What can I say? I'm a finisher.
Devi drifts up next to me, holding something in her hand. It takes me a minute to realize that it's my phone, the entire reason we spontaneously jumped into the pool in the first place. And somehow, miraculously, the pricey case the Apple Store girl talked me into buying has saved the phone. The screen still glows with my unwritten text message.
Somehow, between the pool and the Scotch and Devi Dare with no pants on, I've lost the urge to talk to Raven. I take the phone and toss it carelessly onto the concrete and then turn back to Devi.
"You, on the other hand, seem like quite the swimmer," I say with a smile, offering her the Scotch. She takes it and raises the bottle to her lips.
"I was raised in California, you know," she says and then takes a drink.
"Well, so was I. But my parents are Boston transplants, so I guess they never saw swimming as a priority for me."
She hands the bottle back to me. "I think I had floaties before I had a bicycle. My parents are very, uh…" She searches for the right words. "Natural people. They think it's important to be periodically cleansed of negative energy, and flowing water is one of the best ways to do that. So we went swimming at least once a week."
I can see the faintest blush coloring the apples of her cheeks, as if she's embarrassed of what her parents believe. And then I wonder if she's embarrassed because she believes it a little too.
God, that blush is so sexy. I want to lick it right off her face. And then pin her down and lick her everywhere.
She tilts her head to the sky. "You can see Cassiopeia tonight."
I look up, following her gaze, but I see nothing other than the golden glow hovering above the city and a smattering of faint, twinkling stars. "Is Cassiopeia a constellation?" I venture.
She laughs and nods, and then she reaches over and takes my head in her hands. My pulse thrums, that warmth in my chest explodes into flames, and I want her to kiss me kiss me kiss me, but before I can turn my head to her, she trains my face to the sky, facing the right direction this time.
"Do you see it?" she asks. Her mouth is close to my neck, and I wonder what it would feel like if she bit me there. "It looks like a letter M." She traces the shape of it with her fingers, until finally I see it–an underwhelming handful of tired stars.
"You can't see it this far into the city sometimes," she continues.
"Cassiopeia sounds like a p*rn name," I say frankly and she laughs again.
"Ptolemy named it."
I give her a blank look. I got pretty good grades in school, but it's been more than ten years since graduation, and anything not intimately related to film or the kind of math I need to run my business has been filtered out of my brain.
"Ptolemy was a Greek astronomer," she explains, giving me an amused glance. "He named it after a famous queen in Greek mythology. She was so beautiful and vain and boastful that she brought the wrath of Poseidon down on her kingdom."
Beautiful, vain, boastful. My mind swerves back to Raven, possibly still in this very house, possibly still being screwed with that evil smile on her face. Where is Poseidon when you need him?
No.
No, I won't let Raven crowd into my happy, drunk moment with Devi and the Scotch. I speak as much to drive away thoughts of my ex as to comment on Devi's astronomy knowledge. "You know a lot about this shit," I tell her, turning my eyes back to her face completely.
And now she really blushes. "I really like astronomy. Stars and galaxies and stuff. It makes life feel so…big…you know?"
The thing is, I do know. That big feeling, I mean. I get it every time I watch an amazing film, every time I imagine my own films with just the right setting and just the right cinematography and just the right score.
"I've never met a performer who's told me anything like that," I say. And it's true. Not once have I been around another adult film star and had them confess a purely impractical fascination. A call toward something that makes them feel like life is magical.
She blinks, and the way her long, thick eyelashes brush against her wet cheeks is arresting. "Really?"