Thank you for the advanced copy of SWEET RIVALRY by K. Bromberg.  All opinions are my own.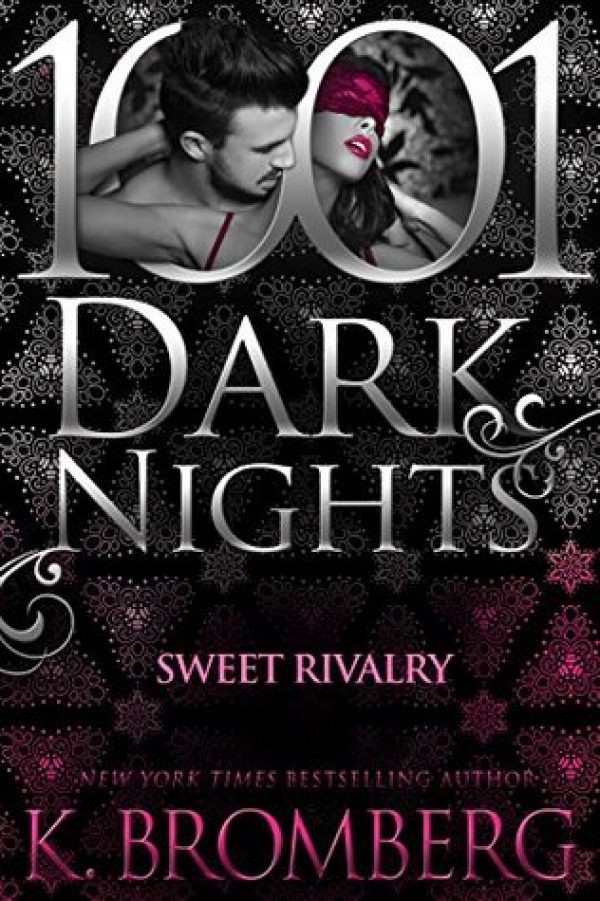 Ryder Rodgers had a plan.

He was going to stride into the conference room, do the required song and dance over the next five days, and win the biggest contract of his career. But when he walked in and heard the voice of one of his competitors, all his plans were shot to hell.

Harper Denton. She was always on top. In college. First in their class. Always using every advantage to edge him out to win the coveted positions. The only one who could beat him. His academic rival. More like a constant thorn in his side. And his ego's.

When he heard her voice, he was brought back to years before. To the bitter taste of being second best. But the woman who meets his gaze is nothing like the drab wallflower he used to know. Hell no. She was all woman now: curves, confidence, and staggering sex appeal. And no doubt, still brilliant.

The fact that she's gorgeous and bright won't distract him. This time, Ryder's determined to be the one on top. But not if Harper can help it.
Note: Clicking links on this site will take you to the retailer's purchase page.
Totally Bex is a participant in the Amazon Services LLC Associates Program, an affiliate advertising program designed to provide a means for us to earn fees by linking to Amazon.com and affiliated sites.
Other books in this series:

After reading K. Bromberg's Sweet Cheeks, I was more than ready to hear more about Ryder, the brother of the heroine.  When I heard there was a novella coming, I couldn't wait to read it—and it was anything but disappointing.  
Ryder is a classic hero with chiseled features, a hot beard, and black-rimmed glasses.  All of that is great, but what I totally loved was his heart of gold.  That's what made this novella a winner for me.
In college, Harper and Ryder were always in opposition.  They pushed each other to excel, trying to outdo one another to come out on top, complete with verbal sparring in class and debates.  After their last debate, they share a searing kiss and then go their separate ways.  They live on opposite coasts but work in the same industry.  Thirteen years later, they finally (and unexpectedly) get to pick up where they left off.
I love that this is an office romance with tons of sexual tension and unresolved feelings.  The pressure of work makes an excellent balance to the 'reward sex' that both Harper and Ryder deserve.  Thirteen years is a long time to have repressed feelings for someone, and that results in some killer chemistry and even better sexy times.  
Harper doesn't need saving by a man, and she's always in control, so seeing her give up some of that armor was awesome.
I am hoping that this is just a prequel to a longer story.  The ending of the novella is a bit abrupt, and I really want to see what happens after Harper and Ryder finish with their work project. 
I guess that's the nature of novellas, though, right?
That'll give me something to look forward to during the next few days. The ones I can't wait to dive headfirst into that will be an ever-changing combination of stress, exhaustion, strategy, and manipulation. An unscripted dance amongst us bidders while we size each other up, calculate our numbers and explain to the developer why we're the most valuable candidate for the job.
It's the game I love. The competition I thrive on. My return to the job that I've been desperate to make.
And there'd be no better way to make a statement that Harper Denton is back than to leave this building with the multimillion dollar contract for Meteor Development tucked securely under my arm.
And just like that, as a reward for my positive thinking, when I look up, there he is, in full view.
I take in the expensive briefcase, the venti Starbucks, and the expensive watch peeking out from beneath the cuff of his shirt. And just my luck that while I'm afforded a full view of his body, the one thing I'm the most curious about is obscured by his hand holding his cell phone up to his ear: his face.
So instead I drink him in. He really is magnificent. I note his posture and the way he carries his body when he moves forward a few steps. There's an air about him that says he's no-nonsense and in control, powerful, and at the same time, he doesn't seem uptight. He has that Southern California professional vibe. I can't put my finger on it, but he reminds me of someone I can't quite place. Regardless, a man who can pull off being in control and playful has definite merits.
Like "spank me until my body aches in want, and then make a game of hitting each erogenous zone with his tongue before he'll satisfy that ache he created and let me come" type of merits.The
The mind-blowing sex reward just became even more appealing.
Want more? Check out these posts!