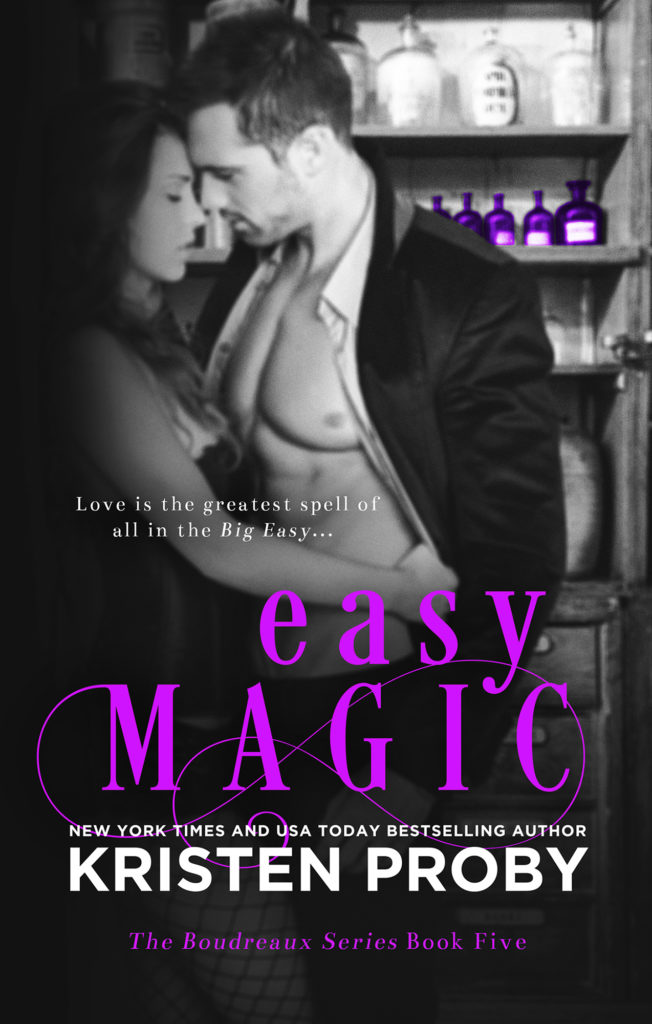 Family. Responsibility. Stability.

As the co-CEO of Bayou Enterprises, and the eldest of the Boudreaux clan, Beau is the epitome of these. Now that his baby sister Gabby is happily settled down, Beau has moved into the company loft in the heart of the French Quarter to be closer to his office while his own home is built. He doesn't have time for anything but the family he adores and the company that drives him.

If only the bewitching owner of the herb shop downstairs from Beau's loft wasn't so damn tempting.

Mallory Adams is living the life. The good life. The best life for her. After years of hiding who she is, and the gifts she's been cursed with, Mallory opened her little shop in the French Quarter, offering herbs and lotions for anything from soothing a sunburn to chasing those pesky ghosts New Orleans is known for out of a client's home. Some call her eccentric, and some say she's simply odd, and that's okay with her. She is a bit odd, but in her experience, all of the best people are.

When an old pipe bursts in the loft above her store, flooding her storeroom, Mallory comes face to face with Beau Boudreaux, and she doesn't need the clairvoyant abilities that have been passed down through generations to know that she'll never be the same. Beau is her exact opposite; serious, straitlaced. He wears suits for Pete's sake and probably wouldn't know the difference between arnica and flaxseed if his life depended on it. But when he touches her, the electricity is through the roof and she's smart enough to know that a chemistry like theirs doesn't happen every day.

Can two people so very different possibly find their way to happily ever after?
Note: Clicking links on this site will take you to the retailer's purchase page. Making a purchase through these links helps support Night Owl Reader at no extra cost to you.
While Easy Magic is a charming and sweet romance first and foremost, there is an underlying supernatural story that gives it a unique spin on the ordinary contemporary romance.  With the mystical elements and the setting of the Big Easy (New Orleans), the title Easy Magic is absolutely perfect.   
Mallory has inherited special gifts that she believes are more of a curse when it comes to love.  She comes from a long line of women with special abilities, such as empaths, psychics, and mediums.  Since Mallory can read thoughts, she doesn't like to be touched, which makes intimacy difficult and her love life almost non-existent.
Beau is the oldest of six siblings and he's the COO of his family's company.  While his new home is being built, he lives in the company's loft above Mallory's herbal remedy storefront.  He works more than he plays, but meeting Mallory changes his workaholic ways almost immediately.
Easy Magic is just that—an easy and magical story to get caught up in.  I loved Mallory's gifts and Beau's patience with her and her 'baggage'.  Dating someone with supernatural abilities cannot be easy, but he really made it a non-issue.  Beau is sweet and caring with Mallory almost immediately, but I didn't feel like it was an insta-love situation.  The storyline flows well, so everything that happens feels natural and normal.
I don't read much paranormal romance anymore (I think this is more paranormal-lite), but I enjoyed having a change of pace and a bit of mystery alongside a contemporary romance.  However, I could have used a little more depth to the characters, especially at the beginning.  Since this is the first book of the series that I have read, I didn't feel like I had a good idea of these characters and their personalities.  It is my own fault, though, since I didn't read the previous books to get more perspective on the characters.  I need to rectify that situation as soon as possible!