Thank you for the advanced copy of THE BEAUTY OF US by Kristen Proby.  All opinions are my own.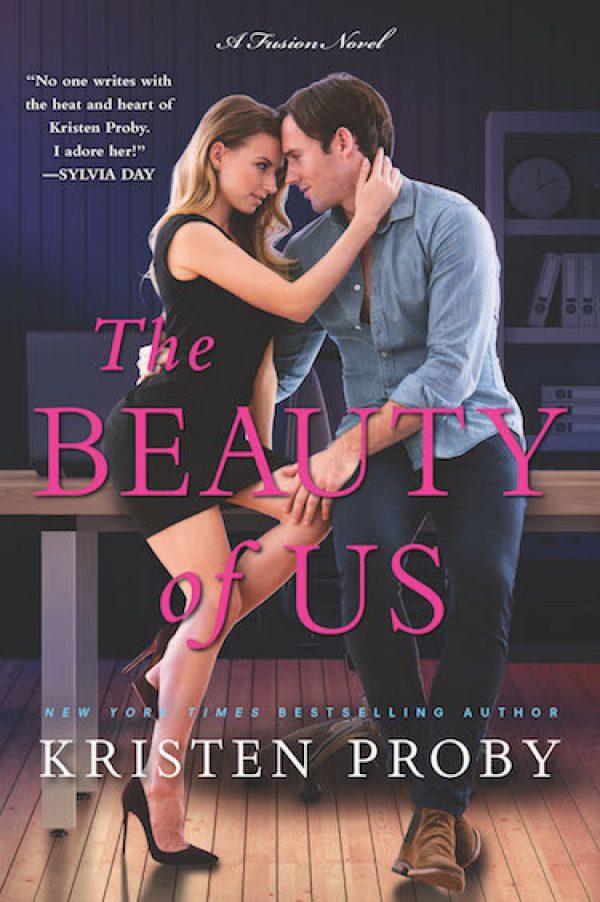 Riley Gibson is over the moon at the prospect of having her restaurant, Seduction, on the Best Bites TV network. This could be the big break she's been waiting for. But the idea of having an in-house show on a regular basis is a whole other matter. Their lives would be turned upside down, and convincing Mia, her best friend and head chef of Seduction, that having cameras in her kitchen every day is a good idea is daunting. Still, Riley knows it's an opportunity she can't afford to pass on. And when she meets Trevor Cooper, the show's executive producer, she's stunned by their intense chemistry.

Trevor's sole intention is to persuade Riley to allow Best Bites TV to do a show on her restaurant. But when he walks into Riley's office, he stops dead in his tracks. The professional, aloof woman on the phone is incredibly beautiful and funny. But can he convince her that he's interested in Riley for himself? Or is he using the undeniable pull between them to persuade her to agree to his offer? 
Note: Clicking links on this site will take you to the retailer's purchase page.
Totally Bex is a participant in the Amazon Services LLC Associates Program, an affiliate advertising program designed to provide a means for us to earn fees by linking to Amazon.com and affiliated sites.
Other books in this series:

This is my first book in the Fusion series, but you wouldn't know it because Kristen Proby makes it easy to jump right in and connect with all of the characters.  She does a great job of giving just enough backstory for each that I didn't feel like I was missing anything — which is good because I really enjoyed this fun and flirty, sexy and sweet love story.
Riley is the marketing guru for the restaurant she owns with her girlfriends. When an opportunity arises for a reality show, she jumps at the chance for the exposure that  will help catapult their success and future expansions. Riley may be smart and sassy, but she also has a bad habit of dating the wrong men.  What she didn't count on was meeting the perfect guy on the set of her show.
Trevor is the cute and charming producer of the reality series and is only in town for the length of filming. The circumstances may not be ideal, but the instant attraction he feels with Riley is as real as it gets.  Trevor may have a weakness for gaming and Star Wars, but he's no slouch in the protectiveness department.  I love that combo, by the way! 
Riley and Trevor have great chemistry and their banter is fantastic.  You can feel their connection, which is a definite plus.  The thing I loved the most, though, was the fact that they were allowed to have a friendship and develop deeper feelings for one another.  Yes, they lusted after one another from the moment they laid eyes on each other, but they spent time together and really got to know each other first which I found refreshing.
The Beauty of Us reminds me a bit of the books I used to read in my 'chick lit' days.  Of course, it's a romance with plenty of sexy parts, but it's the friendships and the camaraderie of the girlfriends that makes me think of that genre.  The co-owners of the restaurant at the center of the series are truly a chosen family and their 'girl talk' was so true-to-life and realistic.  I liked so many parts of this book, but that might be my favorite.
I had some minor quibbles over the resolution of the conflict, but overall it was an enjoyable book that makes me want to read the rest of the series.  If you're looking for a romance that's low on angst, but high on steam, look no further than The Beauty of Us!
"There seems to be an explosion in the jacka$$ population," I reply, and sigh, passing my glass to Kat for a refill.
"Where are you meeting them?" he asks, and I bite my lip.
"I don't want to tell you."
"Online," he says with a nod.
"I didn't say that!"
"Didn't have to. If you met him at the gym or the grocery store, or somewhere else in person, you wouldn't be embarrassed."
"I'm not embarrassed."
"Yes, you are. Otherwise, you wouldn't mind telling me."
"Fine." I sigh and rub my forehead with my fingers. "I met them online."
"Stop that," he says.
"I don't know where else I'd meet people," I reply. "I'm at work at least fifty hours a week. I don't do school or clubs or church, and I rarely go to the grocery store because I always eat here."
"I could stop feeding you," Mia interjects and I toss her a glare.
"I'm just saying, if you always do what you've always done, you'll always get what you've always gotten."
"I don't understand any of the words you just said." I squint at him, trying to process.
"Switch it up," he says with a grin. "Try to meet people somewhere else. I mean, you didn't meet me online, and I'm not an asshole."
"Sure, you're cute, and you look like you have your sh!t together, but I suspect that once I got to know you I'd learn that you have mommy issues and fourteen dogs."
"You might," he says with a thoughtful nod. "I do hide those things well. All I'm saying is, stop using the dating sites and try meeting people in real life."
"Yeah. Easy for you to say." I pout into my wineglass. "Do I need to send you some money for this counseling session?"
"Nah, the first one's on me," he says, tossing that crazy-hot smile at me again. "Just don't combine Star Warsand Star Trek anymore and that's payment enough for me."
He pulls a few bills out of his wallet and tosses them on the bar, then stands to leave.
"Have a good night, and good luck," he says.
"Thanks." Just as he's almost out of view, I call out. "Wait! I didn't ask your name."
"Trevor," he says, and my stomach immediately does at least four cartwheels. "Trevor Cooper."
"You're early," is all I can think to say. My cheeks burning, my fingertips immediately tremble. "You're not supposed to be here for two more days."
"I like to come early. Get the lay of the land, that sort of thing." He smiles and waves. "See you in a couple of days."
He walks away, and as soon as I hear the front door close, I turn to my friends and just stare at them in utter horror.
"Tell me that didn't just happen."
Want more? Check out these posts!