Thank you for the advanced copy of JED HAD TO DIE by Tara Sivec.  All opinions are my own.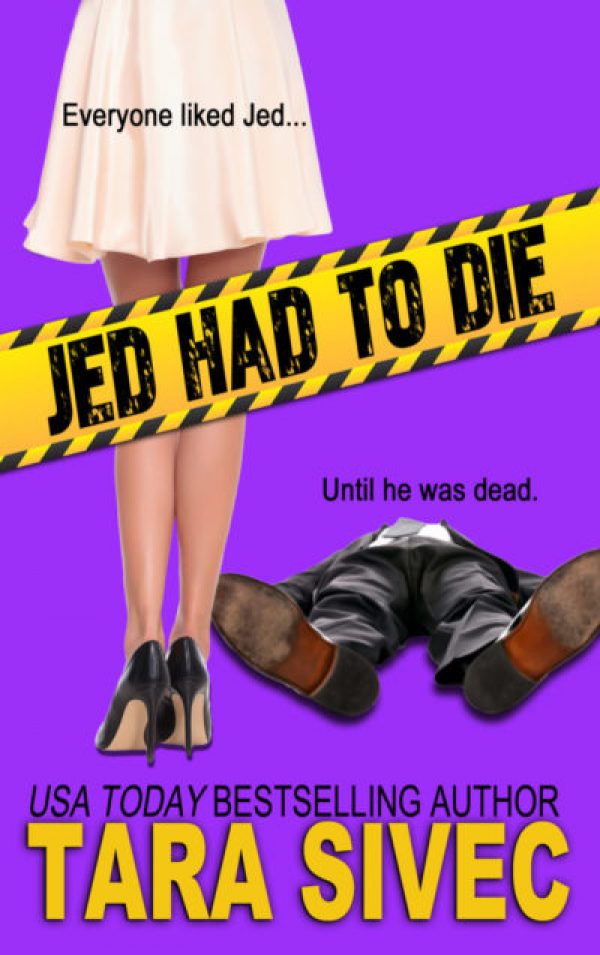 The happiest day of Payton Lambert's life was the day she graduated high school and watched Bald Knob, Kentucky get smaller and smaller in her rearview mirror. She wanted more for her life than a tiny town where everyone knows your business and you can't find a decent cup of coffee for at least forty miles. Twelve years later, an unexpected phone call in the middle of the night has her packing up her life in Chicago and racing back home to the one person she ever regretted leaving behind.

Wait, one person?? Make that two. When the hell did Leo Hudson become sheriff of Bald Knob and get so hot? The scrawny Future Farmer of America who followed Payton around like a puppy and could recite cow insemination facts in his sleep is long gone. Leo is still hot on her heels, but now he's wearing a badge and dead set on solving a murder that may or may not involve Payton…along with half the town.

You steal a few wine coolers in high school and make one little comment about cutting off a man's balls when you come home, and suddenly, you're suspected of killing him.

In a town where the biggest crime happened the day Jethro Snell kicked a few of his cows (an honest mistake when you've had a few jars of homemade moonshine), people are pointing fingers, rumors are spreading like wildfire, and Payton swears she's only making out with the sweet-talking, studly sheriff to distract him from the secrets she's keeping.

When you've been tased, peed on by a yippy dog named Bo Jangles, and can't stop picturing what Sheriff Hudson looks like naked, it will be a tough job making everyone agree that…Jed had to die.
Note: Clicking links on this site will take you to the retailer's purchase page.
Totally Bex is a participant in the Amazon Services LLC Associates Program, an affiliate advertising program designed to provide a means for us to earn fees by linking to Amazon.com and affiliated sites.

Every time I see the title, "Jed Had to Die", I sing it to the tune of the Dixie Chicks, "Goodbye, Earl".  (Click or Google it.  The video is hilarious!) 
If you're familiar with the song, you know that a woman has been hospitalized by her abusive husband and she calls her best friend for support.  One thing leads to another and the husband winds up dead.  It's a great song that inspired an even better book.  Jed winds up dead, but solving the mystery of how it happens unfolds in the most hilarious of ways.
Payton grew up in small-town Kentucky and skedaddled as soon as her diploma was in her hand.  She moved to Chicago, opened a coffee shop, and never looked back. 
When the best friend she hasn't seen in 12 years calls, she is on the first flight out to help her.  After zero sleep and no coffee, Payton inadvertently insults the hot guy she doesn't recognize from high school.  Despite her faux pas, Leo has been harboring a secret crush for years and he's just what Payton is looking for in a man.
I, too, grew up in a tiny town and like Payton, I could NOT wait to graduate from high school and move on to bigger and better things.  I certainly can't blame her wanting to get away from the busybodies who know everything about everyone in town. 
Some of the funniest moments in Jed were due to the townsfolk and their reactions to everything happening with Jed's death and the subsequent investigation.
My morbid sense of humor rejoiced while reading this book and I laughed until there were tears more than once.  Sivec flexes her writing muscle by injecting hilarious scenes into what could easily have been a depressing story. 
If you like romance with a side of mystery and a whole lot of shenanigans and inappropriate behavior, Jed Had to Die is definitely a winner!
Want more? Check out these posts!