Thank you for the advanced copy of SMUT by Karina Halle.  All opinions are my own.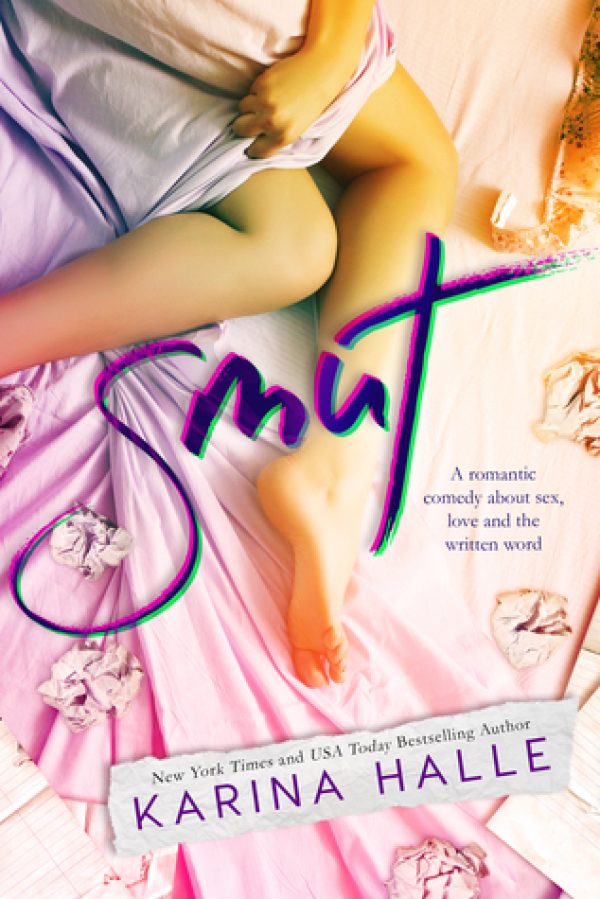 What happens when the kink between the pages leads to heat between the sheets?
All Blake Crawford wants is to pass his creative writing course, get his university degree, and take over his dad's ailing family business. What Amanda Newland wants is to graduate at the top of her class, as well as finally finish her novel and prove to her family that writing is a respectful career.
What Blake and Amanda don't want is to be paired up with each other for their final project, but that's exactly what they both get when they're forced to collaborate on a writing piece. Since Amanda thinks Blake is a pushy a$$hole (with a panty-melting smirk and British accent) and Blake thinks Amanda has a stick up her ass (though it's a brilliant ass), they fight tooth and nail until they discover they write well together. They also may find each other really attractive, but that's neither here nor there.
When their writing project turns out to be a success, the two of them decide to start up a secret partnership using a pen name, infiltrating the self-publishing market in the lucrative genre of erotica. Naturally, with so much heat and passion between the pages, it's not long before their dirty words become a dirty reality. Sure, they still fight a lot, but at least there's make-up sex now.
But even as they start to fall hard for each other, will their burgeoning relationship survive if their scandalous secret is exposed? Or are happily-ever-afters just a work of fiction?
Note: Clicking links on this site will take you to the retailer's purchase page.
Totally Bex is a participant in the Amazon Services LLC Associates Program, an affiliate advertising program designed to provide a means for us to earn fees by linking to Amazon.com and affiliated sites.

Smut is an enemies-to-lovers romance that pulls back the curtain on the self-publishing industry and takes us along for the hilarious ride. It is light and fun and would make the perfect beach read. While this is classified as a 'romantic comedy', this isn't slapstick humor, it's nuanced humor and nerdy humor and sometimes, just plain ol' laugh out loud humor. Side note: prepare to embrace your inner nerd and let your freak flag fly while reading–the characters are that quirky and adorkable.
Amanda has just ended a long-term relationship, while Blake is working his way through most of the female population in town. They have a college writing class together and their meet-cute is more like a hate-cute. When Amanda and Blake are partnered together for an assignment, all of that animosity comes in handy and they kick ass at the final project.
After they finish school, Blake needs money and he gets the idea to publish an erotic novel and needs Amanda's female perspective to make it work. Writing about smut and not acting it out proves to be too much for the duo and the fireworks start to fly.
Throughout the book, Blake and Amanda give really good banter. Blake has the sexy Brit angle working for him, and Amanda is spunky and sassy with a hint of vulnerability. She's also a closet dork, a trait I identified with for sure. (FYI: 'shippers of Dex and Perry will definitely like the relationship between Amanda and Blake, as it is very reminiscent of the Experiment in Terror series.)
Amanda's roommate stole the show several times, as did Blake's brother, so I definitely enjoyed the supporting characters, too. I think the epilogue is great and it ties everything up with a pretty bow. Overall, I enjoyed reading Smut and recommend it to anyone looking for a light and laughable read.
She holds my gaze for a moment and something passes over her. Regret, maybe. Then she nods.
"Sit down. Let's work."
And so we do. And for the first time in a long time, it's strained. I'm about to suggest maybe we need the Estonian vodka anyway when she lets out an exasperated sigh over something she's reading.
It happens to be something I wrote.
"What?" I ask, wondering what I did wrong.
She gives me the the 'are you kidding me?'look. "Okay, I was ignoring it earlier but I think you need to get a grip on some of this sh!t. This simply does not happen."
"Explain, please."
"I just think it's unrealistic for there to be so much talking, let alone the fact that the first time they do it it's in a public place."
"Too much talking?"
"Yeah." she scans over the document. "You know, give me your cock, oh you feel so good, harder, harder, you're so big, f*ck me harder big boy."
"Have you even had good sex?" I ask incredulously.
She flinches. "Of course I have. And it's none of your business."
"We're writing about sex. It's completely my business. I'm not letting you interject your edits based on your personal experiences about sex because believe me, if the sex is good, you're moaning my name."
She raises her chin. "Maybe all those girls were faking it."
Oh, brilliant.
"Excuse me?" I say, hands pressed against the table, nearly getting out of my chair. "You have no idea. I pride myself in giving a girl as many bloody orgasms as she can handle."
"Bloody orgasms don't sound like fun," she jokes softly.
"They can be if you're into knife play," I tell her, even though that's not exactly what I meant. Still, she scrunches up her nose. "Don't knock it until you try it, but that's neither here nor there. When you were with Alan, he must have made you come at least a few times."
If he didn't, I feel like finding the guy and showing him a thing or two for wasting four years of her life.
"Yeah," she says flatly.
"And in the middle of that orgasm, didn't you want to yell a few things?"
"Sometimes."
"And why didn't you?"
She looks at her nails as if they're suddenly fascinating. "It didn't seem right. It was…too intimate. I would have felt dumb. He didn't like any of that stuff."
The plot thickens. "Any of what stuff?"
"Sex that didn't involve the missionary position or the bed."
My mouth drops open. My brain and penis can't compute this. "I feel so sorry for you."
We must remedy this.
She glares at me. "It's not like I didn't want to do it. I did. And he did try it. Most of it. But it always went back to the same old."
I knew it. She's a nerd on the streets and a freak in the sheets.
"I don't mean to brag," I tell her in all seriousness. "But you do realize that I could give you an orgasm in thirty seconds."
Her eyes widen. I can't tell if she's horrified or intrigued. "I don't believe you and I don't want you to try."
She's not getting it. I frown, trying to explain. "If you're having good sex and it's with someone you're comfortable with, you won't worry about holding back. You'll cry out all the nonsense you want, you'll make noises like a pig and scream like you're on fire because you truly can't have a good orgasm unless you're letting go on all accounts." I lean back in my chair and study her, running my fingers along my jaw. "I would venture that every time you came with your ex, you were only experiencing half of what you should have been. How is it with your vibrators?"
I expect her to tell me to f*ck off, that I'm getting too personal but to my surprise she gives me a small smile. "It's better. But I do have a roommate with exceptionally good hearing." She clears her throat. "Anyway, so I guess I'm wrong. The heroine can make all the noise she wants."
"And have first time sex in public."
"I don't know…"
"Believe me, when you finally get a chance to f*ck, you don't care where it is. That's why I always have a condom in my pocket. And the more public the sex, the sneakier you have to be, the hotter it is."
"But in the book you would never get caught."
"You don't always get caught in real life too."
I can see she wants to ask me where I've done it but she loses her nerve. "Okay." She looks back to the document. "I accept defeat."
But I don't want her to. I want to prove to her I'm right and not have her take my word.
Is there a non-creepy way to show her just how amazing good sex can feel? I'm thinking not.
Or…maybe there is.
Want more? Check out these posts!