This post contains affiliate links you can use to purchase the book. If you buy the book using that link, I will receive a small commission from the sale at no additional cost to you.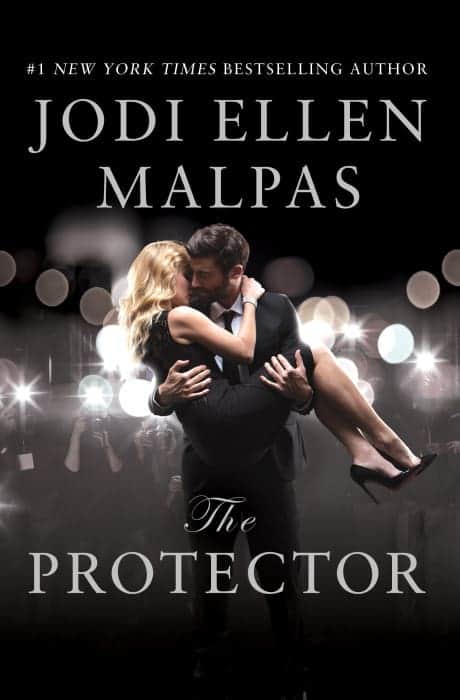 The Protector
by
Jodi Ellen Malpas
Published by
Forever
on September 6th, 2016
Genres:
Romance
,
Romantic Suspense
Number of Pages:
384
My rating:


Kindle
Paperback
Audiobook
Kobo
Apple Books
People think they have Camille Logan nailed: daddy's girl; beautiful, spoiled young woman with her father's bank balance to fund her lifestyle. But Camille is determined to have a life free from his strings. Out on her own, she's made mistakes, including one that found her clawing her way back after a stint in rehab and plenty of bad press. Now, after fighting so hard to be independent and happy, she finds her life threatened as a result of her father's ruthless business dealings. Caught between resentment and fear, Camille prepares herself for the measures her father will take to protect her. But nothing could prepare her for the ex-SAS sniper who crashes into her life.

Jake Sharp resides in his own personal hell. He was distracted from duty once before, and the consequences were devastating--both personally and professionally. He vowed never to let that happen again. Accepting the job of bodyguard to Camille Logan isn't the kind of distraction from his demons he should take. Women and Jake don't mix well, yet protecting the heiress seems the lesser of two evils. But Jake soon discovers that she isn't the woman she's perceived to be. She's warm, compassionate, her presence settling, and his duty to protect her soon goes deeper than a well-paid job, no matter how hard he fights it. He needs absolution. He comes to need Camille. But he knows he can't have both.
I received this book for free from the publisher in exchange for an honest review. This does not affect my opinion of the book or the content of my review.
True fact: the cover for The Protector and its premise struck a chord with my penchant for nostalgia. I remember watching The Bodyguard on a first date back in 1992. The guy I dated wasn't very memorable, but the movie stuck with me all these years. I definitely wanted The Protector to give me some Bodyguard/Costner-Houston vibes.
Camille Logan is a model and the daughter of a money-hungry tycoon. She has recently turned her life around after a short stint in rehab following a break-up with her drug-pushing ex. She is headstrong and fights for her independence from her domineering father. Cami is in a good place, working hard to start a clothing line with her best friend.
Jake Sharp is a former military sniper who had a bad final tour. He's spent four years boozing and binging on nameless women to keep from feeling anything. Jake has also taken assignments as a contract bodyguard to fill his time. When Camille's life is threatened, Jake is reluctant to take the call, since he assumes she is a spoiled socialite and nothing more.
The things I liked about The Protector:
Camille and Jake's hate-to-love progression, Cami's loyalty and work ethic, and the suspense aspect of the story. Cami had the potential to be annoying and I didn't find that to be the case. She has a smart head on her shoulders (except for the running away!) and seems to be a genuine person.
Things that didn't work for me include:
Jake's attitude about his previous relationships, Jake hiding the truth behind his secrets for so long, and Jake's cocky attitude about his skills. Basically, he's kind of a douche and I didn't like him very much. Once he and Cami stop fighting the feelings, things get a little better, but I still didn't care for his character or his actions.
So, did The Protector live up to my expectations and my need for The Bodyguard vibes? Not exactly, but I did enjoy the storyline and aspects of the characters. If you are looking for a suspenseful romance with a bodyguard theme, definitely give The Protector a try.
p.s. For a book by Jodi Ellen Malpas that I loved, check out my review for The Forbidden!