Thank you to Gallery Books for the advanced copy of THE ROYAL RUNAWAY by Lindsey Emory.  All opinions are my own.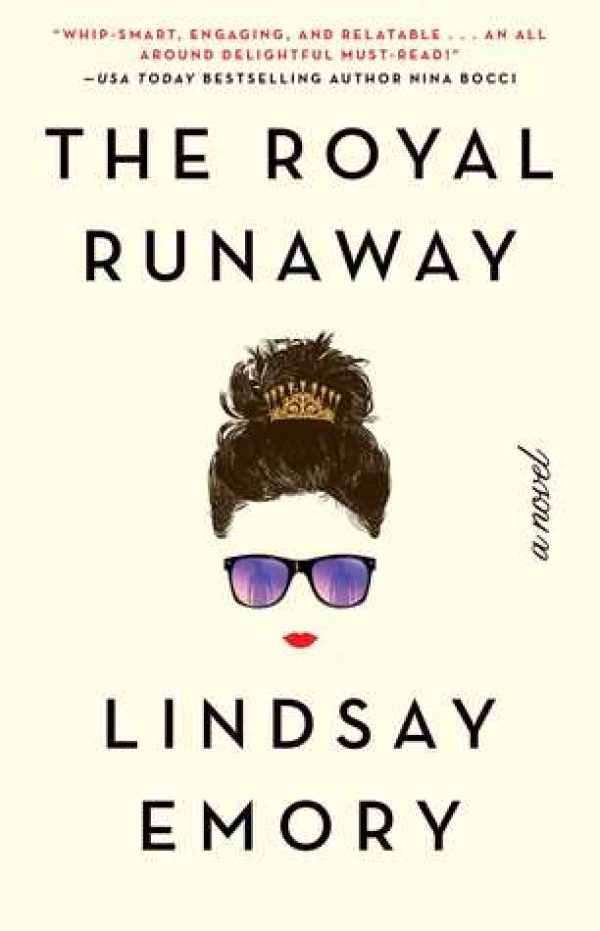 Princess Theodora Isabella Victoria of Drieden of the Royal House Laurent is so over this princess thing.

After her fiancé jilted her on their wedding day, she's finally back home after spending four months in exile—aka it's back to press conferences, public appearances, and putting on a show for the Driedish nation as the perfect princess they expect her to be. But Thea's sick of duty. After all, that's what got her into this mess in the first place.

So when she sneaks out of the palace and meets a sexy Scot named Nick in a local bar, she relishes the chance to be a normal woman for a change. But just as she thinks she's found her Prince Charming for the night, he reveals his intentions are less than honorable: he's the brother of her former fiancé, a British spy, and he's not above blackmail. As Thea reluctantly joins forces with Nick to find out what happened the day her fiancé disappeared, together they discover a secret that could destroy a centuries-old monarchy and change life as they know it.

Funny, fast-paced, and full of more twists and turns than the castle Thea lives in, The Royal Runaway is a fresh romantic comedy that will leave you cheering for the modern-day royal who chucks the rulebook aside to create her own happily-ever-after.
Note: Clicking links on this site will take you to the retailer's purchase page.
Totally Bex is a participant in the Amazon Services LLC Associates Program, an affiliate advertising program designed to provide a means for us to earn fees by linking to Amazon.com and affiliated sites.
Other books in this series:

Set in the fictional European monarchy of Drieden, The Royal Runaway reads like an Old Hollywood whodunit caper set in modern times.  The story is part mystery, part suspense, and part romance, all told in the fresh voice of Lindsay Emory.
Princess Theodora isn't necessarily happy with the royal status quo, but she's resigned to the fact that she was born second in line to the throne of Drieden.  This familial obligation has both dictated her upbringing and her decisions, but has also taken its toll on Thea and her happiness.  Not only was she willing to settle down with a man who was deemed suitable by the queen (not for love), but she was humiliated by being stood up on her wedding day.   Thea's quite headstrong and loves to take as much time for herself as a busy schedule affords, which means she is adept at sneaking out of the castle unaccompanied. 
Enter Nick, the enigmatic stranger Thea meets in a pub on one such excursion.  He oozes danger and intrigue, which is exactly why Thea is initially drawn to him.  The adventure they embark upon is both intriguing and dangerous.  It's definitely not all-danger-all-the-time and we get to see several tender moments develop between the characters.  All of it had me flipping pages to get to the end, not only to find out who the culprit was but to see if there would be a happily ever after.
I'm so happy to have discovered the 'make-believe monarchy' trope.  Not only are they a fun glimpse into modern royalty, with its juxtaposition of traditions and history balanced with current issues and struggles, but they are also highly entertaining.  The Royal Runaway definitely checks all of those boxes and I recommend it if you are looking for a cozy, suspenseful mystery!
Later, I would look back on this moment and wonder why I hadn't simply popped the sleeping pill and crawled back into my gilded four-poster bed, the same one that my grandmother and great-grandmother had slept in before their ascendancies to the throne.
I'll never know what made me change into street clothes, pull my hair into a bun, and slip on running shoes. But that's exactly what I did.
I knew the covert ways out of the palace like the back of my hand. Part of it was due to a natural gift for observation and investigation; part of it was thanks to my formal education. It had been impressed on me by my tutors, secretaries, and Big Gran herself that a good princess should learn everything about her country.
That included secret ways out of the palace. This wasn't the first time I'd slipped out undetected. That had been when I was a teenager, a university student. There were things I'd wanted to do, places I'd wanted to go, people I'd wanted to see without my official security detail getting involved. For years, it hadn't been a problem. Drieden is a small country and the monarchy can still be informal if it wishes. My uncle John, the Duke of Falender, works as a banker in the financial district. My brother serves in the armed forces. Until my engagement, I produced documentary films. With a discreet and small security presence, my family has been able to keep up the pretense that we're normal folk who just happen to live in that big old house on the hill.
With my recent notoriety, though, and my resulting cloistering in the palace and assorted hideaways, I hadn't been outside royal boundaries in over three months.
And sometimes a girl just needed a change of scenery.
My feet flew over the carpet, down the southwest stairwell, across the landing, into the upper gallery through a service entrance, then down another set of stairs that led into the herb garden, which was next to the kitchens with their loading dock and abandoned at this time of night.
Just like that, I was outside in a small courtyard. There was a guardhouse at the bottom of the cobblestone drive, but I pulled up the hood of my jacket and hopped into a nearby white Fiat with plates that matched the keys I had snagged from the loading dock bay.
The gates opened swiftly (as they should for an official palace vehicle) and I drove two hundred meters and . . .
I had no idea where I was going.
To the lights?
Why?
Because the lights were pretty?
Was I insane?
Probably. Now I was talking to myself. Just like Prince Karl the Holy when he believed a trout told him to invade France.
My foot pressed the gas pedal, indicating that I was, in fact, insane. Sleep deprivation had sucked all the common sense out of my head.
But I kept driving. Instinct and a memory pulled me forward.
There had been a night, two years ago, right after I had started dating Christian. I had gotten a call from him; he had flown to Drieden to surprise me. "Come see me," he had urged. He had given me the name of a bar where I was to meet him in an hour. And like tonight, I had managed to slip out of the palace completely undetected.
Romantic, right?
Without being aware of my destination, I now suddenly found myself parked outside that same bar. It seemed just as I remembered it. A cocktail lounge in the theater district, its raucous crowd was decidedly different from the posh, upper-crust circle Christian usually ran with. As soon as I walked into the disorienting mix of shadow and neon, I remembered that I hadn't brought any money or identification. Another sign of my deteriorating mental state. Still, I took a seat at a table covered with chipped red paint. After all, the point of this excursion wasn't to drink. If I'd wanted to get drunk, the palace had vast cellars full of very expensive spirits at my disposal. If I'd wanted to lose myself, I would have just taken the damn sleeping pill.
The point of this trip was . . .
I had no idea.
Now I closed my eyes.
I saw Christian, as he was the night I met him here. His longish blond hair curled around his collar. His skin still tan from the ski season. Was this what I wanted? To see Christian again? Was that why I came here?
"Excuse me. Is this seat taken?"
A deep voice. A Scottish accent. Christian
Want more? Check out these posts!