A DUKE IS NEVER ENOUGH by Darcy Burke is the second book in the Spitfire Society series.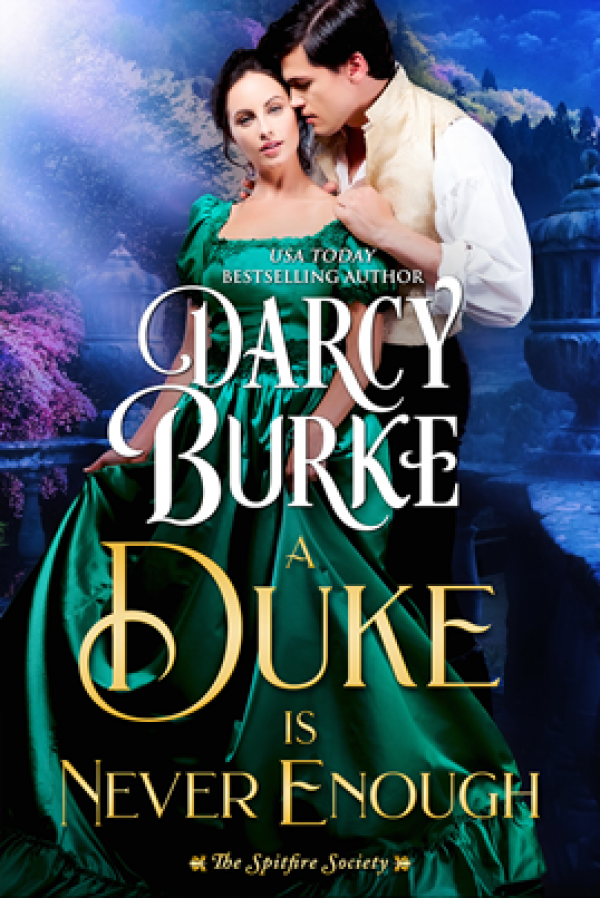 Notorious rake Marcus Raleigh, Marquess of Ripley, is gracing the gossip pages for a new reason: the rumors he may have murdered his swindling cousin. His quest for answers regarding his cousin's death leads him to an incomparable self-declared spinster, and he is—for the first time—beguiled beyond reason. Neither is what the other wants, and yet their intense mutual infatuation is inescapable.

After abandoning her philandering betrothed at the altar, Phoebe Lennox fled from London only to return an heiress who refuses to follow the ton's rules. She won't risk a relationship of any kind—until she meets the notorious Marquess of Ripley. Swept into his seductive embrace, her resolve falters in the face of a pleasure she never anticipated. But when the truth about Marcus and the murder come to light, Phoebe could lose everything she holds dear, including a love for all time.
Note: Clicking links on this site will take you to the retailer's purchase page.
Totally Bex is a participant in the Amazon Services LLC Associates Program, an affiliate advertising program designed to provide a means for us to earn fees by linking to Amazon.com and affiliated sites.
Other books in this series:
Following his angel of mercy, he sat down and removed his hat. He tipped his head back, both to give her better access and so he could study her.
She wore a pert peacock-blue-colored riding hat set atop her dark curls at a jaunty angle. Delicate sable brows crowned a magnificent pair of jade-green eyes. They gleamed with intelligence and concern. Her rose-pink lips were slightly pursed as she tended to him.
"His aim was quite good," she murmured, cleaning his temple.
He winced when she pressed on the wound itself. "You saw what happened?"
"Everyone in Hyde Park saw what happened." Her wry tone sparked with wit, igniting his curiosity about her.
"I can't believe that's true." But then he hadn't paid close attention to the size of the crowd.
"Well, perhaps not everyone. It's a rather large park." She lifted her hand briefly before applying pressure once more. "This doesn't seem to want to stop bleeding."
"It will take a minute—or ten," he said, studying her more closely. The tip of her nose turned up just slightly, and he suspected she had dimples when she smiled. "Wounds to the head are like that."
"You have experience with head wounds?" she asked.
"Once or twice," he answered absentmindedly as he took in the gentle sweep of her jaw and the graceful line of her neck, nearly hidden from his gaze by her smart riding costume. "You're very beautiful. Why haven't we met?"
Her laughter sparkled around him like a firework at Vauxhall. And yes, she had dimples. The right one was slightly deeper than the left. "I daresay we do not keep the same company."
"Pity, but I fear you are correct. You are obviously a Society…matron?" With her smooth skin and plump lips, she looked young, but that didn't mean she wasn't wed. Since she was without a companion or a chaperone, she must be married. Either way, it was odd for her to be here alone.
Her laughter was more subdued this time. "I am not a matron. I am a spinster."
Now it was his turn to laugh. "You sound quite proud of yourself."
"It's preferable to being a wife." She shuddered.
How rare to meet a woman who shared his opinion of marriage. "Is that why you're a spinster? You seem awfully young for that designation."
"It is self-declared, I assure you. I have no quarrel with being called such. Furthermore, I'm not young at all."
"Surely you can't be more than twenty-one."
"Surely I can. I am, in fact, twenty-five."
Marcus gasped in mock horror. "You're positively ancient. Whereas at thirty-one, I am at the height of my virility. It's too bad you weren't born a man."
"A sentiment I have reflected upon many times." Her wry tone and humor-filled gaze stirred a warmth inside him. The word rare rose in his mind again.
"So why not behave like one? Is that why you're here alone?"
"I'm not alone. My groom is waiting nearby."
"Well, that's a shame, because I was going to offer to see you home." He gave her a lazy smile. "I still could." His gaze connected with hers, and heat flickered between them. Attraction came easily to Marcus—perhaps too easily—but once in a while, there was something…more.
She quickly looked away, leading Marcus to question what he thought he'd seen. "That won't be necessary."
When she started to remove her hand, he reached up and gently clasped her wrist. "Why did you stop to help me?"
Her gaze found his once more, and color tinted her cheeks. She was more than beautiful. She was charm and grace, and there was something else lurking beneath the surface of her spinsterliness—passion. "Because you needed someone to, didn't you?"
He would argue that he didn't need anyone; however, in this case, her assistance was most welcome. "Apparently, and for that, I am grateful. I wish to repay your kindness."
She pulled the cloth from his head and studied the wound a moment. "I believe the bleeding has stopped. You will need to clean this up when you get home."
"If I saw you home, you could invite me in and clean it up for me."
She folded the handkerchief so that the blood-soaked part was on the interior. "There is the Lord Ripley I expected."
He exhaled and stood from the bench. "Alas, my reputation always precedes me."
"Perhaps if you ceased your roguish behavior, your reputation would change."
"Oh, I don't wish to change it." He grinned. "Like you, I am quite content with my designation. As a libertine, that is." He reached for the cloth she held. "Let me take that." His fingers grazed hers, and, despite their gloves, desire thrummed through him.
She relinquished the handkerchief more quickly than he would have liked. "Why?"
"I'll have it cleaned and then return it to you. However, I don't know your direction or even your name. Pray release me from the darkness of ignorance."
After staring at him a moment, she rolled her eyes. "You really have perfected this, haven't you? That does not require an answer. Nor does your request. Keep the handkerchief. You don't need to return it."
He blinked at her in slight surprise. He'd been rebuffed before, but seldom and not in some time. "You aren't going to tell me your name? That's rather cruel and again begs the question why you stopped to help me."
"As I said, you seemed to need it, and I am, if nothing else, a considerate person."
"Then have a care for me, dear lady, and deliver me from misery. Will you give me your name if I promise not to call?"
One of her sable brows tilted dubiously. "Will you actually keep that promise?"
No, and that she'd already discerned that about him was…intriguing. "I'm going to find out who you are whether you tell me or not. I guarantee I will be on your doorstep by tomorrow."
Her lips spread into a wide, vivacious smile, and Marcus's breath fixed in his lungs. "You're welcome to try. I bid you good day, my lord." She inclined her head, then turned to go.
"Until tomorrow, mystery lady." Marcus couldn't recall the last time he'd been so…aroused.
Want more? Check out these posts!