I purchased an audiobook copy of THE HAPPY EVER AFTER PLAYLIST by Abby Jimenez.  All opinions are my own.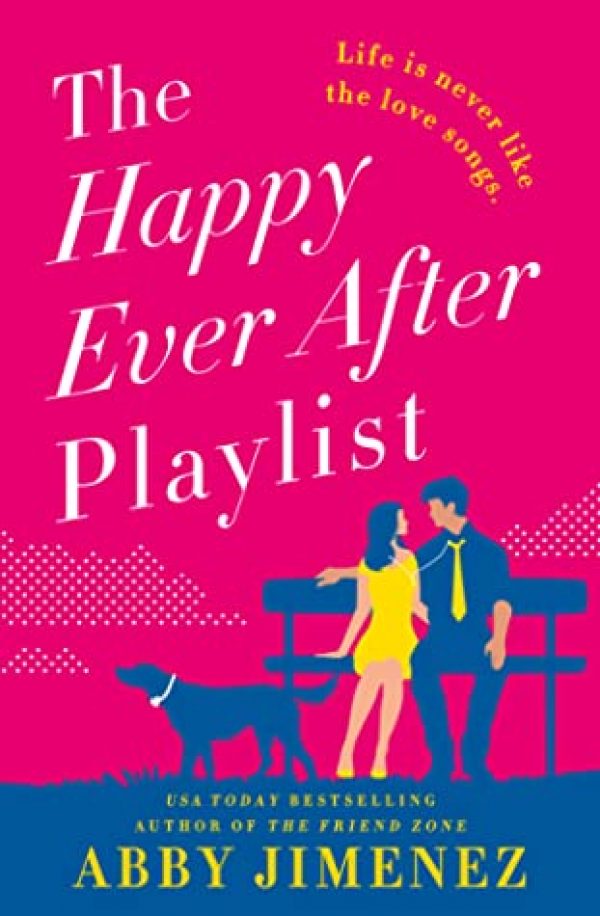 Two years after losing her fiancé, Sloan Monroe still can't seem to get her life back on track. But one trouble-making pup with a "take me home" look in his eyes is about to change everything. With her new pet by her side, Sloan finally starts to feel more like herself. Then, after weeks of unanswered texts, Tucker's owner reaches out. He's a musician on tour in Australia. And bottom line: He wants Tucker back.

Well, Sloan's not about to give up her dog without a fight. But what if this Jason guy really loves Tucker? As their flirty texts turn into long calls, Sloan can't deny a connection. Jason is hot and nice and funny. There's no telling what could happen when they meet in person. The question is: With his music career on the rise, how long will Jason really stick around? And is it possible for Sloan to survive another heartbreak?
Note: Clicking links on this site will take you to the retailer's purchase page.
Totally Bex is a participant in the Amazon Services LLC Associates Program, an affiliate advertising program designed to provide a means for us to earn fees by linking to Amazon.com and affiliated sites.
Other books in this series:
The Happy Ever After Playlist

Narrated by the dream duo of Erin Mallon and Zachary Webber, The Happy Ever After Playlist is pretty close to both vocal and literary perfection.  Abby Jimenez proves that she has the writing chops to handle difficult, real-life situations with grace and humor, first with The Friend Zone and now with Happy Ever After.
If you had the pleasure of reading last summer's hit, The Friend Zone, you would remember Kristen's best friend Sloan and the horrifically painful situation she endured.  Unable to move on from Brandon's death, Sloan is living life as a shell of her former self in Happy Ever After until a dog literally jumps into her lap. 
Finding the owner of said dog begins a series of texts and phone calls with Jason, a funny, flirty, and happy kind of guy who is out of town for an extended period of time.  Jason enjoys the mysterious Sloan and the diversion she provides from the mounting pressure of his music career.
Their getting-to-know-you stage is hilarious, and seeing Sloan come back to life is incredibly heartwarming.  When they finally meet in person, it gets even better.  Jason is exactly what Sloan needs to heal and to move on with her life.
The Happy Ever After Playlist reads like two halves of a whole in a way, with the first half being a girl-meets-guy romantic comedy, but the second is a much heavier rock star romance.  Jason's touring and the pressure to perform is hard on everyone, but Sloan takes the brunt of the fallout. 
This portion of the audiobook is a lot harder to listen to, but again, the narrators nail it.  They are both excellent at portraying the depth of each characters' feelings.  I may have even teared up a time or two, to be honest.
Between the fresh and snappy writing, the witty banter, and the heartwarming romance, I couldn't stop smiling through much of the audio.  Kristen and Josh are also in the book, which is another reason to smile. 
I love that Sloan takes enormous risks to fight for her HEA, and Jason is the perfect man for the job. She doesn't settle, she doesn't compromise, and she doesn't give up her dreams. I loved pretty much everything about this story!
Want more? Check out these posts!