Butterfly Dreams by A. Meredith Walters – Excerpt
This post contains affiliate links. If you make a purchase using that link, I will receive a small commission from the sale at no additional cost to you.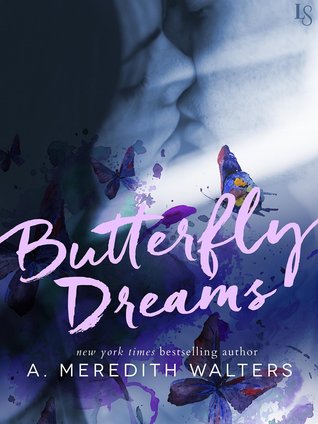 Butterfly Dreams
Published by
Loveswept
on November 24th, 2015
Genres:
Contemporary Romance
,
New Adult

Kindle
In a powerful romance hailed as "heartbreaking, real, and breathtakingly beautiful" by Stacey Lynn, New York Times bestselling author A. Meredith Walters tells the story of a troubled young woman and the unforgettable guy who teaches her to live—and love—to the fullest.

She's waiting to die. . . . Corin Thompson is paralyzed by her obsession with mortality. Having lost both of her parents, she is terrified by the idea that she too will die young, and she loses control at any sign of illness. But when Corin connects with someone who has survived a very real brush with death, she begins to see the world in a whole new way.

He's learning to live. . . . As Corin struggles under the weight of her neuroses, Beckett Kingsley is attempting to rebuild a life that feels all too temporary. With the ever-present threat of heart failure never far from his mind, he just wants to make the most of whatever time he has left. And that means pursuing the girl he never expected to find.

Together, Corin and Beckett finally learn to let go of their fears and take solace in everyday pleasures. Who knows what the future holds? After all, nothing lasts forever—the only promise they have is right now.
A Guest Post by A. Meredith Walters
Favorite Scene from Butterfly Dreams:
I loved writing from Beckett's point of view. Those were some of my favorite parts to write in Butterfly Dreams. But there was one particular scene towards the end, it's actually the very last chapter from his POV. It's a very emotional scene, even if it's not a very long one. For me, it was a huge emotional punch for the story. I may, or may not have cried a little when writing it. I can't go into a whole lot of detail about the particulars, since it would be a huge spoiler for the story.
One thing about the characters you want readers to know:
I know that there will be a lot of readers out there who will get annoyed with Corin. She's hard to like. She neurotic. She's a total head case. She has so many issues that she isn't likable right away. But this was done completely on purpose. Corin's issues are realistic. There are so many people out there who struggle with that particular type of anxiety every single day. I felt it was important to portray her this way in order to make her change as she falls in love with Beckett more pronounced, more vivid. I just encourage readers to be patient with Corin. Don't be too harsh on her for having walls and for being rude. She's a tough cookie because she was made that way. Her experiences have defined her. But she's one of the truest characters I've ever written.
An Excerpt from Butterfly Dreams by A. Meredith Walters
My doorbell rang.
What?
I looked at the clock and realized it was already 7:30.
So that meant it was Beckett on the other side of the door.
Shi!t.
I looked down at my half-naked body.
Sh!t!
And then I started freaking out.
"I'll be right there!" I yelled.
Should I let him in?
But I was practically naked!
I couldn't let him see me like this!
Maybe I should own it. Shake my hips and let him get a look at the goods.
Like that would ever happen.
Crap, what was I going to wear?
I grabbed a pair of jeans from my floor and wiggled them on, not really paying attention to which ones they were.
I reached into my closet and pulled the closest shirt off the rack. I tied my hair into a ponytail and slipped on a comfortable pair of ballet flats.
I hoped Beckett hadn't planned on five-star dining because I was dressed more for a Mcdonald's milkshake before hanging with the bowling league.
"Sorry," I said, out of breath, opening the door and letting Beckett inside.
"I was starting to think I needed to break in and make sure you hadn't gotten stuck in the toilet or something." Beckett looked damn near perfect in a dark pair of jeans and button-up blue shirt the same color as his eyes.
He had even gotten a haircut. Way to make me feel like a total underachiever in the getting ready department, buddy.
"Looks like you cut yourself," I said, indicating the piece of toilet paper stuck to his chin.
"F*ck. I forgot about that," he muttered, pulling it off, looking embarrassed.
"You should have left it there. It's cute," I teased, putting on my black wool coat.
"You ready?" he asked.
"As I'll ever be." I gave him a wide smile and he laughed.
"I'm not taking you to your death by firing squad. You could act a bit more excited."
I jumped up and down, clapping my hands together. "OMG, Beck! I can't wait!" I gasped.
"Is that better?" I asked, closing my apartment door behind me and locking it.
"Much." Beckett leaned down and I swear he was checking out my a$$.
"Excuse me, but what in the hell are you doing?" I demanded.
"Are you aware that the Cheshire cat is on your right butt cheek?"
I craned my body to get a look at what he was talking about. And sure enough, there was a bright purple patch with the damn Cheshire cat on my derriere.
"I must have picked up the wrong jeans," I groaned. These were my hanging-out-doing-laundry jeans. Not meant to be seen by anyone but myself and the cat.
"I was in a rush. I couldn't figure out what to wear. It was stressful," I tried to explain, pulling my coat down over my feline-covered bum.
"The last thing I want is to stress you out, Cor-Cor."
I smacked his arm. "I thought I warned you about using that damn nickname," I threatened.
"I show up with toilet paper stuck to my face and you have a cat on your butt. I think we make a pretty awesome pair," Beckett snickered, unlocking his car.