Thank you for the advanced copy of DRUNK DIAL by Penelope Ward.  All opinions are my own.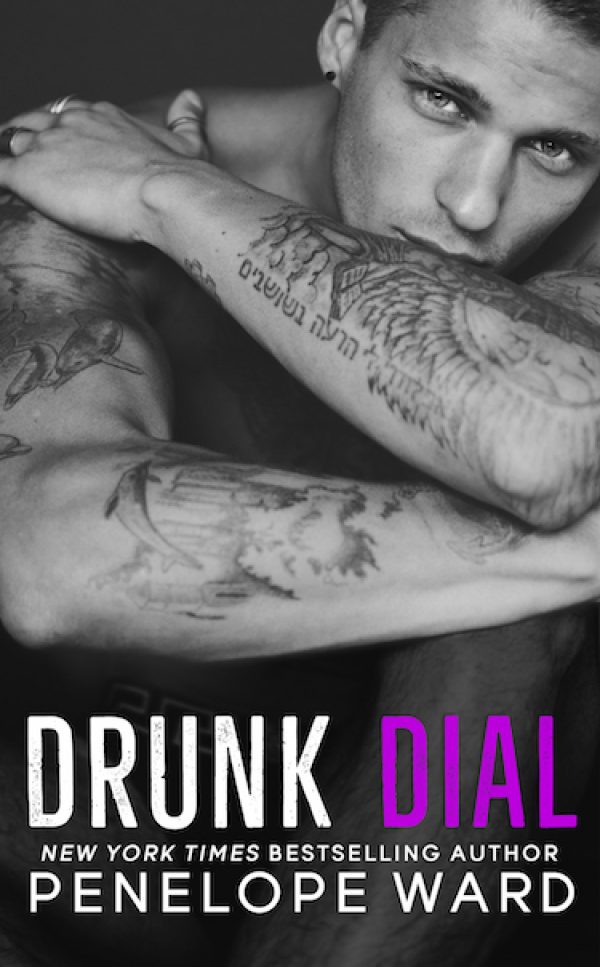 It seemed like a good idea at the time. Look up Landon Roderick, that boy from childhood whom I'd never been able to forget—even though he so easily forgot about me—and call him.

Then again, anything sounds like a good idea when you've had a little too much wine before bed, right? It was supposed to be just a quick, meaningless, prank call. Instead, I went off on him—unloading thirteen years of pent-up emotions.

I didn't think he'd call me back.

I certainly could never have anticipated the weeks of sexually tense phone conversations that followed as I got to know the man he'd become.

Turned out, Landon had never really forgotten me, either. That special connection we had was still there. I opened up to him, but there were also things about me he didn't know. And he had his own secrets.

Over the countless hours we talked on the phone, I wondered what would happen if we actually saw each other. One night, I did something impulsive again. Only this time, I went to the airport and booked a ticket to California. We were about to find out if one phone call could bring two lost souls together or if my drunk dial really was all just a big mistake.
Note: Clicking links on this site will take you to the retailer's purchase page.
Totally Bex is a participant in the Amazon Services LLC Associates Program, an affiliate advertising program designed to provide a means for us to earn fees by linking to Amazon.com and affiliated sites.

Can you really make a love connection with someone who lives across the country, you haven't seen since you were 13, and you thought you hated?  Apparently, you can because that's exactly what Penelope Ward does in Drunk Dial.  I loved the sound of this unique storyline and I couldn't wait to dive in.  Unfortunately, this one missed the mark for me and I couldn't be sadder to say that.
Rana lives in Michigan, works as a belly dancer at a restaurant, and has a psycho roommate who may or may not be plotting to kill her.  Her life is pretty lonely, so after a bottle of wine, calling her childhood friend who deserted her sounds like a good idea.  What she doesn't know is that she has the history wrong and Landon wants to correct the record and reconnect with Rana.
Landon lives in California, owns a food truck, and loves to skateboard.  He may not have thought about Rana in years, but hearing her voice stirs up old memories and he wants to find out what happened to Rana and her family after all of these years.  When she shows up at his door, feelings start to deepen and their relationship grows into something that neither of them saw coming.
I'm a big fan of Ms. Ward's writing and while I enjoyed Drunk Dial, I didn't love it like I wanted to.  Rana and Landon talk both on the phone and in person, so we are able to see their connection, but I didn't necessarily feel it like I would have liked to.  Both of the characters have made mistakes in their pasts that could affect their budding relationship, but I didn't think they were the kind that should keep them apart.  Rana has a great personality, but her insecurity started to become a turn-off. 
I know that I am in the minority when it comes to this book.  I have read so many glowing reviews, so it is probably a case of "it's me, not you" with my feelings about the story.  If you're a fan of Penelope Ward's books, I urge you to give it a shot and make your own opinion!
After that evening, I hadn't heard back from him for a few days.
Then, one night, a text came in from the same phone number I recognized as Landon's. It was the first time he'd texted me.
I looked down to find he'd sent a photo.
I gasped.
It was a heavily tatted man set against the backdrop of the ocean at sunset. Oh, my. It was him—a selfie.
F*ck. Me. He was beautiful.
I wouldn't have even known it was Landon were it not for the blue eyes I recognized instantly. The shaggy, caramel hair I remembered from the past was now a darker shade of brown and shorter, cropped closer to his head. His arms and his chest were inked, his body so perfect that if I squinted, it almost resembled carved stone.
I couldn't stop looking at him. My eyes wanted nothing more than to explore the ridges and valleys of his stunning body.
Was this a cruel joke?
This was not Landon!
But, it was.
With my thumb and middle finger, I kept zooming in and out, examining the details of the ink across his chest and on his arms. There was really nothing sexier than a guy with perfect arms and a full sleeve tattoo.
Even though his lips seemed fuller than I recalled, they still curved into a familiar grin that oozed confidence. The eyes and that smile were the only traces of the boy I remembered. I wished I could've leaped through the screen to smell him, touch him.
"Hi, Landon," I whispered, for a brief moment talking to the boy inside, not the man in front of me.
This Landon was the polar opposite of the Ivy League yuppie image previously in my head. The only thing the man pictured might have majored in was badassery. He looked like a rockstar, a rule breaker, displaying a sense of arousing danger—someone who must have had women from all walks of life drooling over him for the sheer fact that either they couldn't have him or shouldn't have him. It suddenly became clear why, as he'd alluded to, a woman might have been begging him for sex. That made me wonder if he had any secret tattoos in spots I wasn't allowed to see.
God.
A fire was burning inside of me, and I knew it was my crush exploding into a full-blown obsession.
A self-conscious feeling came over me. If I was scared to show him a picture of myself before, now I was really hesitant.
The message that went along with the photo simply read:
Now show me you.
Want more? Check out these posts!