Thank you for the advanced copy of WISH YOU WERE HERE by Renee Carlino.  All opinions are my own.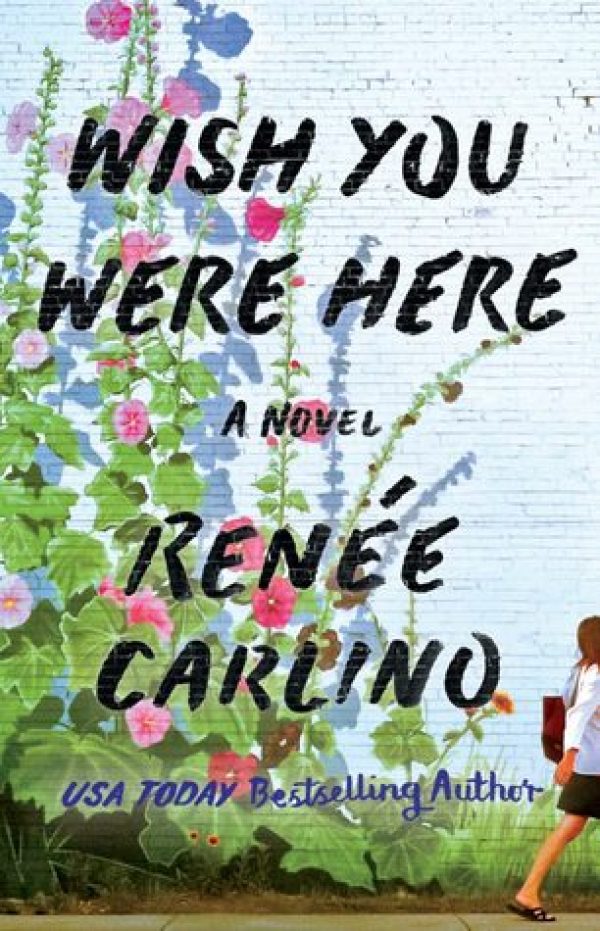 Charlotte has spent her twenties adrift, floating from interest to interest, job to job, and guy to guy, searching for a spark but never quite finding it. All she knows is that she won't discover it working as a waitress at a pies-and-fries joint in Los Angeles or living with her fun but aimless best friend in a tiny apartment in the Arts District.

Then Charlotte collides with Adam, a gorgeous and soulful painter who seems just as lost as she feels. Their instant connection turns into a midnight drink… and a whirlwind night of champagne, Chinese food, and the kind of conversation that only happens in romantic comedies. But the next morning, Adam gives Charlotte the cold shoulder, leaving her confused and hurt—and wondering if the few odd moments between them the night before were red flags in disguise.

Months later, Charlotte hasn't been able to shake Adam, so she decides to find out what happened the morning after their magical night together. This fateful decision rewrites their wild love story, but what Charlotte doesn't know yet is that the ending has already been written.
Note: Clicking links on this site will take you to the retailer's purchase page.
Totally Bex is a participant in the Amazon Services LLC Associates Program, an affiliate advertising program designed to provide a means for us to earn fees by linking to Amazon.com and affiliated sites.

Beautiful. Absolutely, stunningly beautiful. And spectacular, and powerful, and heartbreaking… I just don't have enough adjectives to describe my feelings for this book! I've only read one other book by Renee Carlino, and I enjoyed it, but she brought everything to the table with this story. I laughed, I cried, I fell in love with these characters, and the story left me bereft (yet hopeful and happy—the hangover is real, y'all!). Wish You Were Here is a gorgeous must-read and one of my favorite books of the year!
Charlotte is like a lot of twenty-somethings these days. She's searching for her life's purpose through lackluster jobs and even worse boyfriend prospects. Her aimless wanderings steer her into the path of an enigmatic stranger who inadvertently changes the course of Charlotte's stagnant life. Nothing is the same after seeing the world through Adam's eyes.  
I devoured this story in one sitting, and you could blow me over with a feather once I finished. Wish You Were Here is one of those books that you just sit and stare off into space for a while after setting it down. There is so much to appreciate and absorb and adore about the intricacies and the outcome of the journey Charlotte, Adam, their friends and their families go on thanks to Ms. Carlino's skillful storytelling.
So many passages were highlighted to reread later (when my eyes aren't so misty), and I had even planned to share some here, but I've decided that I want everyone to read this book and enjoy those passages organically and within the context of the story. No matter what I share, it would never capture the perfection of the epic love story I just experienced. Do yourself a favor and pick this book up as soon as you can. I promise, you won't regret it!
"You're making love sound tragic," I said.
"No"—he shook his head—"I wouldn't want it any other way. Tell me about us. What do we like to do?"
"Paint and sail and eat and drink. Just simple things." 
"Don't forget about sex," he said.
"Yeah, lots of sex. Before the children were born we-
"We were practically naked every second of the day." 
"I like that."
"When they got older, we'd sneak away for weekends and leave them at my mom's."
"What are they like? Our children."
"Happy. That's all we wished for. We put our love first and it just spilled over into them and now they're happy."
Tears sprang from my eyes and ran down my cheeks. Isn't that what we all hope for when it comes to our children?
His tone suddenly changed. "That's beautiful, Char- lotte." It was like he was waking up from the dream. I didn't want to go back to reality yet, but I knew these fantasies were just to help Adam get his mind off things.
"I can imagine a long life with you," he said. "I can imagine what a great wife you'd be."
I pulled my hand out of his. "The story is about you and me." He didn't say anything; he just nodded and then continued to stare out the window. I bent and kissed the top of his head again, and whispered, "It's about us. Don't take that away from me." 
Want more? Check out these posts!