Felony Ever After : A Domino Novel – 13 Authors, 1 Story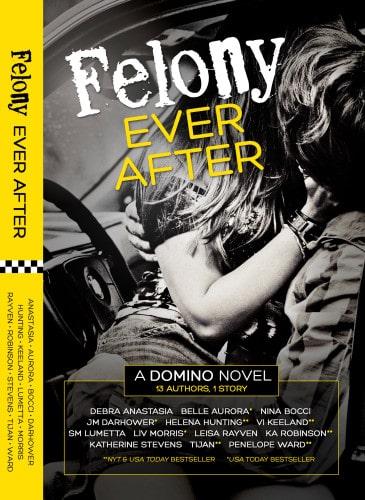 This post contains affiliate links. If you make a purchase using that link, I will receive a small commission from the sale at no additional cost to you.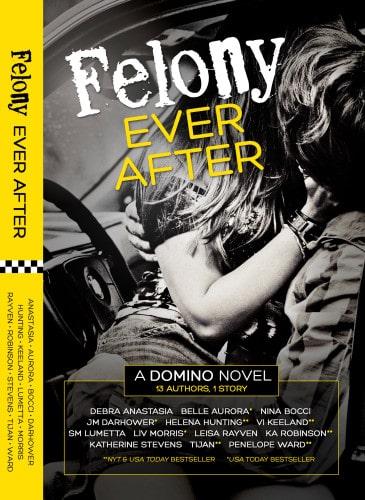 Felony Ever After-A Domino Novel by Helena Hunting, Debra Anastasia, Belle Aurora, Nina Bocci, JM Darhower, Vi Keeland, SM Lumetta, Liv Morris, Leisa Rayven, KA Robinson, Katherine Stevens, Tijan, Penelope Ward
Published by Self-Published on March 22nd, 2016
Genres: Contemporary Romance
Number of Pages: 218
My rating:



Kindle | Paperback | Audiobook


Verity Michaels is new to New York City, but even she knows riding in a stolen cab is not a normal way to meet someone. Damn it if that tattoo-covered would-be felon isn't everywhere now, and lighting everything on fire under her skirt.

His name is Hudson Fenn, and he's frustratingly impossible to pin down. He works as a bike messenger, but has the manners of a prince—along with a strange tendency toward breaking and entering. As much as Verity knows he's not her type, and likely to land her in jail, she can't help but find her truest self when they're together.

Can she be brave enough to give Hudson a real chance? Will he be bold enough to reveal the man beneath the ink, or will his secrecy doom their connection? Also, WTF is the deal with Verity's boss? No less than thirteen of your favorite romance writers have teamed up to tell this sexy, wacky, snort-inducing tale. With them you'll visit the world's most irritating office, a VIP room of questionable cleanliness, and the fanciest apartment a bike messenger has ever inhabited, but you'll still never see this ending coming.
I received this book for free from the author in exchange for an honest review. This does not affect my opinion of the book or the content of my review.
My Review of Felony Ever After
Felony Ever After is a novel written by 13 different authors.  Some are seasoned pros, some are brand new, so I thought, "How is THAT going to work?".  Each author wrote a chapter (or two) and then passed the story on to the next person.  While the concept of a chain story isn't new, I know I've never read a novel like this before.  I don't know how they made it come together, but they pulled it off seamlessly.
The story is about Verity Michaels, a 20-something receptionist trying to make something of herself in New York City.  She has great friends, an unnervingly pervy boss, and a habit of picking up the slack at work.  One night, after working late, Verity ends up sharing a cab with Hudson Fenn.  After a very unexpected evening, hilarity ensues and their rollercoaster relationship begins.
I was surprised by how much I enjoyed FEA.  It's light-hearted and fun, with a totally unique storyline.  There is also a touch of angst with plenty of steam.  I thought the story flowed well, which honestly was a concern of mine from the beginning.  Verity and Hudson are hilarious and their banter is awesome.  Twitter is featured heavily in the plot, which was another interesting twist.  I looked forward to the end of every chapter to see what the characters tweeted and the hashtags are priceless.
I love how this book turned out and I have found some new-to-me authors that I will definitely be adding to my 'must read' list.  Congratulations to the authors on a job well done!
Trailer and More Info
Visit the book's web page and learn more about these authors: http://www.salesexportt.com