Thank you for the advanced copy of PLAYBOY PILOT by Penelope Ward and Vi Keeland.  All opinions are my own.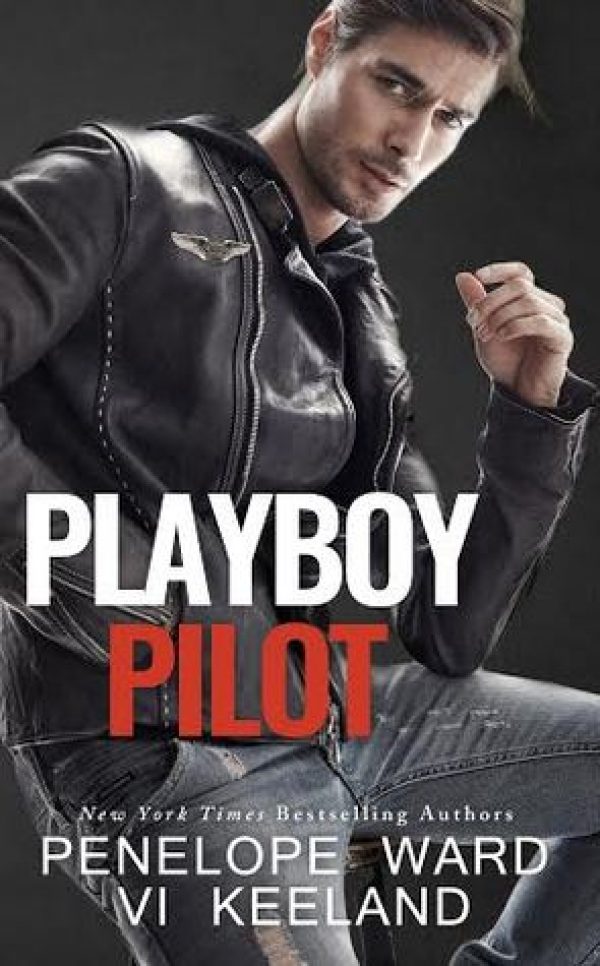 Money or love? Which would you choose?

You probably just answered the question in your head thinking it's an easy decision.

For me, it's not. Did I mention it's a lot of money? A hell of a lot.

I needed to go far away to think it through.

As I embarked on an impulsive trip, I hit a detour when I met sexy Carter in the airport lounge. We struck up a heated conversation.

Then, he left.

I thought I'd never see him again.

But fate had other plans.

Surprise! He was the pilot of my flight.

The bigger surprise was the adventure that followed after the plane landed.

Carter was dangerous and always on the move.

Even though our connection was magnetic, I knew it was only temporary.

He would give me tickets, and I would follow him around the world to exotic places.

A bevy of flight attendant exes and rumors about Carter's reputation were never far behind.

I didn't know what to believe.

But I was addicted. Nothing else mattered anymore. And I was going to get hurt. Because a part of me wanted to be the one to finally ground the playboy pilot.

At the very least, he was taking me on a thrilling ride.

All good things must come to an end, right?

Except our ending was one I didn't see coming. 
Note: Clicking links on this site will take you to the retailer's purchase page.
Totally Bex is a participant in the Amazon Services LLC Associates Program, an affiliate advertising program designed to provide a means for us to earn fees by linking to Amazon.com and affiliated sites.
Other books in this series:

I am a huge fan of the Penelope Ward/Vi Keeland writing collaboration!  Cocky Bastard and Stuck-Up Suit were fabulous and fun, and Playboy Pilot is no different.  It's sweet, sexy, humorous, a little angsty, and comes with the signature plot twist. I had a smile on my face for most of the story and enjoyed it to the end.
Carter is a pilot who has earned his playboy reputation.  After losing a girlfriend at a young age, he never wanted to fall in love and get hurt by a woman again.  Although he enjoys the carefree lifestyle that his job affords him, he's ready for a change.
Kendall is at a crossroads in her life and needs to decide if she wants to follow the path her family laid out for her life or take the bull by the horns and strike out on her own.  Putting off the decision, Kendall decides to take a trip to think things through.  While in the airport lounge, she runs into a handsome man who helps her figure out where to go on her trip.  Following Carter to Rio becomes one of the best spur-of-the-moment decisions Kendall has ever made.
Kendall and Carter have great chemistry and I enjoyed their adventures.  They hop the globe together and the locations were fantastic.  I felt like I was along for the ride right along with them.  As with the previous two books, there are plenty of common themes, puns, and coincidences throughout.  I loved how the Beatles and their songs were featured heavily in the plot.
So, if you're a fan of Ward and Keeland or just love sweet romances with exotic locales, you're sure to enjoy Playboy Pilot.  I definitely did!
The driver began to shout something in Portuguese. The way his finger was wagging, I assumed he was telling the person that the cab was full. But the passenger didn't listen. Next thing I knew, I was sitting next to someone in the back seat.
Someone wearing a uniform.
Captain Carter Clynes in the flesh.
He turned to face me with a wicked grin on his face. "My layover just got more interesting."
Damn. He seemed to have grown that stubble overnight.
"How was your flight, Perky? Did you enjoy the ride I gave you?"
"My shirt's dry. I think you can drop the Perky."
His eyes lowered to my breasts. Of course, my nipples were standing at full attention since the sheen of sweat on my skin had met the cool air-conditioning inside the cab.
Carter scrubbed his hands over his face. "Damn. You weren't kidding about those things. I haven't slept in eighteen hours, and they just woke me up. I think they're contagious, and I'm f*cking perky now."
"That's not really an appropriate thing to say to a woman you just met, you know."
"We didn't just meet. This is our third date."
"Third date?"
"I bought you dinner in an elegant restaurant for our first one and took you up for a plane ride for our second one. Those were damn good dates. Some women would kill for that kind of lavishness. Seems fitting date three we should be heading to a hotel." He winked.
I wasn't sure if it was the time change, my being tired from restless sleep on the plane, or if it was possible this man could say anything and I wouldn't be offended. Why am I not I offended?
When I didn't respond, he continued. "I'm glad I saw you. Didn't think I would ever see you again."
"That might be because you didn't look for me."
"I never thought you'd actually take my suggestion and fly to Brazil."
I mumbled. "Neither did I."
The cab driver interrupted, looking between us to ask, "You share cab, yes?"
Surprising me, Carter answered. In Portuguese. The language that sounded choppy and frustrating just two minutes ago, suddenly sounded sexy and romantic.
He turned back to me in English. "What hotel are you staying at?"
"I was just trying to figure that out with a little help from Google. Do you have one to recommend?"
"You trust me to pick out where you'll stay tonight?"
I considered his question for a minute. It was illogical, that much I knew, but I did trust him to pick my hotel. Lord knows why. "I think I do."
That response earned me another sexy grin that had me more excited than I'd been in the last year.
Almost a half-hour later, we were finally off the highway and traveling into what looked like a residential neighborhood. "Barra da Tijuca." I read the street sign aloud.
"Very good. I should probably warn you. It's probably not the type of hotel you're used to."
"What does that mean?"
"You look like you're more of the luxury chain with a spa type of woman, that's all."
Even though that was exactly what I'd typed into Google, when he said it that way, it sounded like a bad thing. It made me defensive. "And what's wrong with a luxury hotel? Sometimes a girl needs a massage and a soak in a nice bathtub while traveling."
"Well, you certainly won't be getting either of those where we're heading." Carter caught my eye. "Unless I'm the one doing the massaging, that is."
I blushed, which caused Carter to chuckle. "You really are f*cking adorable. I'm not sure what's sexier, the fact that you're up for letting me take you on this little adventure, or that you secretly like the thought of me giving you a massage."
"I do not!" My quick, defensive response only confirmed he was right.
He leaned to me. "Do, too."
"You're off base."
"That's a shame. I've been told I'm really good with my hands." He held out his hands in front of him, examining them. Big hands. Hands that looked like he used them to do some actual work when he wasn't flying a plane.
Damn.
Want more? Check out these posts!