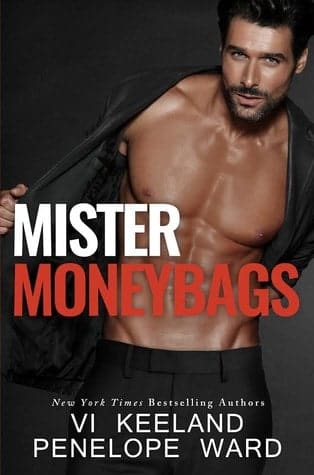 I met Bianca in an elevator.
She was on her way to interview me when we got stuck. The beautiful, raven-haired reporter assumed I was a delivery guy because of the way I was dressed.
She had no clue I was really Dex Truitt, the wealthy, successful businessman she'd dubbed "Mister Moneybags"—her afternoon appointment.
Bianca told me how much she hated Dex's type—snobby, over educated, silver- spooned men who didn't appreciate the simple things in life.
So, after the elevator finally started moving again, I cancelled the interview and let her believe I was someone I wasn't—a bike messenger named Jay. I loved the way she looked at the fake me and didn't want it to end.
I began dating her as "Jay"—all the while letting her interview the real me over email.
I didn't expect that our chemistry online would be just as hot. I didn't expect the mess I'd gotten myself into.
I didn't expect that Jay and Dex would fall in love with her. And she was falling for two men.
Only, both men were me.
And when she found out, we were both going to lose her.
Nothing could have prepared me for that day. And I certainly wasn't prepared for what came after. All good things must come to an end, right?
Except our ending was one I didn't see coming.
Note: Clicking links on this site will take you to the retailer's purchase page. Making a purchase through these links helps support Night Owl Reader at no extra cost to you.
Liar, liar, pants on fire!  Everyone knows that lying will get you into trouble every time and Dexter Truitt finds out the hard way that one little lie can snowball into a major catastrophe in no time at all. 
Dexter is a multi-millionaire CEO who is highly secretive about his identity.  Bianca George is a journalist at a financial magazine who is sent to interview the elusive Dexter Truitt.  Their chance meeting in a broken elevator starts a twisted chain of events that ends up with an invented alter-ego and a date on a tandem bike.  The craziness continues from there and I liked where it was heading.
Normally, lying in stories is a big turnoff for me, but I love Penelope and Vi's co-written books too much to pass up reading one.  I enjoyed the first 70% of the book.  It was entertaining and had some well-written one-liners, jokes, and banter.  However, the twist was a little too much for me and it sent my rating down.  Not everyone will feel the way I did, so please take my opinion and rating with a grain of salt. 
I think we can all agree that lying is never the answer, but watching Dex lie his way through a relationship as two different men was pretty humorous and enjoyable.  I will be certain to read the next collaboration from these two, but unfortunately, Mister Moneybags was a bit of a miss for me.