Thank you to Grand Central Publishing for the advanced copy of THE FORBIDDEN by Jodi Ellen Malpas.  All opinions are my own.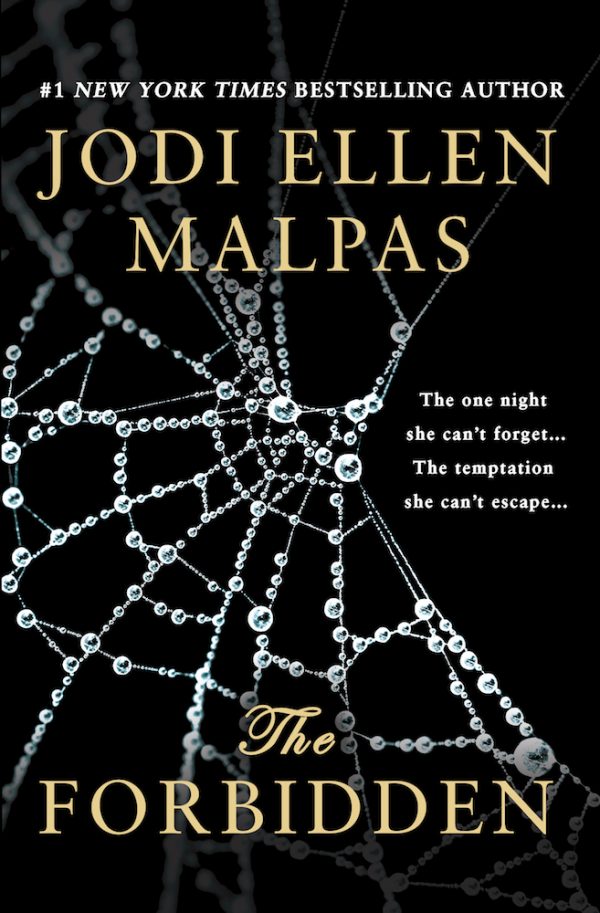 What do you do when you can't control your feelings for someone? When you know you shouldn't go there? Not even in your head.

Annie has never experienced the 'spark' with a guy-the kind of instant chemistry that steals your breath and blindsides you completely. Until a night out with friends brings her face to face with the wickedly sexy and mysterious Jack. It's not just a spark that ignites between them. It's an explosion. Jack promises to consume Annie, and he fully delivers on that promise.

Overwhelmed by the intensity of their one night together, Annie slips out of their hotel room. She is certain that a man who's had such a powerful impact on her and who could bend her to his will so easily, must be dangerous. But she's already in too deep. And Jack isn't only dangerous. He is forbidden.
Note: Clicking links on this site will take you to the retailer's purchase page.
Totally Bex is a participant in the Amazon Services LLC Associates Program, an affiliate advertising program designed to provide a means for us to earn fees by linking to Amazon.com and affiliated sites.

With The Forbidden, Jodi Ellen Malpas takes a calculated risk, and overall I think it paid off. The reader can feel the author's heart and soul poured into the pages through the honest, emotional, and drama-filled story she has given us.
Annie is an architect and a workaholic. She doesn't make time for dating and relationships since she's focused on her career and it is starting to pay off for her. Annie is surrounded by a supportive group of friends and while blowing off steam with them one evening, she encounters a man who steals her breath and makes her weak in the knees.  
After a hot and steamy one-night stand, Annie doesn't expect to see him again… until she does. That's when she finds out just how forbidden he really is.  Unfortunately, it's too late by then and Annie is too far gone to stop wanting him.
The relationship between Annie and Jack is quite passionate and their chemistry is undeniable, but the twinge of guilt and regret is never far from their minds. You can feel their connection, even if it is an unconventional one.
I really felt for Jack and his situation, though, and hated the circumstance he was in. You may not agree with Annie and Jack's choices, but I have a 'to each their own' attitude about most things, and it came in handy for this book. 
I went into The Forbidden blindly, as I did not want to spoil the surprise (which is what I suggest for you, too!).
Honestly, the 'taboo' subject wasn't so much of a shock for me, but I can see how it could cause some to question the characters' morals and the rest of the story. The characters and their actions may not seem palatable to some, but it makes you feel something, and really, that's why I read romance.
(Sidenote: I also really enjoyed the 'Brit-speak' and it makes me want to head to England as soon as possible!)
Keeping his eyes on mine, he calls to the barman. "Two tequilas, please."
"Tequila," I muse, looking over my shoulder when the salt and lemon land behind me. "Is that my challenge?"
"Crying off?" he goads, reaching into his pocket and pulling out some notes.
"Never," I scoff, turning into the bar. I don't know what his game is, but I want to play. With him. "You're asking me to prove I'm sober by doing a shot?" I narrow my eyes on him, teasing. "Or is your plan to get me drunk and take advantage of me?"
He smiles to himself as he pays the barman. "You don't look like the kind of woman who could be taken advantage of."
"What kind of woman do I look like, then?" I challenge quietly.
He turns into me, watching me for a few moments. "I don't know, but I think I'd like to find out."
I hold his gaze for a few seconds, no retort coming to me. I think I want him to find out, too, just as much as I want to find out what kind of man he is. My eyes drop from his sparkling greys, down his tall, lean frame to his feet.
Oh…f*ck…
"Let's play," he says, moving in closer and pulling one of the glasses forward. I don't mean to, but I yank my arm away abruptly when he brushes against me, startled by the tiny stabs of pleasure that pitter-patter all over my skin. The fleeting touch tells me he would feel as good as he looks, and—give me strength—he smells divine, all manly and earthy and f*cking edible.
The sudden lapse in movement and talking from both of us becomes slightly awkward. I can feel him looking down at me.
"What do I have to do?" I ask again quietly, almost on a breathy gasp.
He clears his throat. "You're not drunk?"
"Not even the slightest bit." I raise my nose in the air.
"Good. Then you'll smash this challenge first time." He places a finger on the brim of one of the shot glasses. "Brace your palms on the edge of the bar," he orders, firm but softly. I look at him, finding a serious face. "Go on."
Frowning, I place my hands on the edge of the bar. "Okay?"
He takes my hips. He takes my f*cking hips! I freeze from top to toe and swallow hard, waiting. My insides are quickly furling, my mind in chaos. "Move back a bit," he says, pulling at them a little until I step back.
Oh, Jesus. I'm on fire. I have a strange man bending me over a bar in public, and me, Annie I'm-immune-to-men Ryan, isn't fighting him off. It's like he has me under a spell. What gives? I dare not look behind me. I'm not stupid enough to think Lizzy isn't currently watching a man manipulate my body to where he wants it.
"You feel tense," he observes, releasing me and moving back to my side.
I don't deny it; neither do I confirm it. His big hands felt so good resting on my hips, so much so I have to resist not claiming them and putting them back where they were. "What now?" I ask, evidently struggling for air, damn me.
"Now." He picks up his beer and grins. "I get to gloat that I had you bent over a bar within five minutes of meeting you." He takes a swig, still grinning, and I hear the roar of a man down the bar laughing his head off.
Oh, the f*cker! Part of me has admiration. Another part of me wants to slap him stupid; I don't care how beautiful he is. And another part of me wants to rip his clothes from his body and ravish the sly bastard.
I cannot believe I fell for it! How many women has he played like a fiddle? I drop my head, shaking it to myself.
I knew that smile was dangerous. A man who can bend a woman to his will so easily and so soon couldn't be anything less than lethal. And the fact that he got me with his wicked game means hats off to him. I can't possibly take that away from him, and since I'm lacking in the dignity department right now, I decide not to slap him. Nor will I chuck a drink over his head, or fire a load of verbal abuse at him.
I'll do what he least expects.
I push myself up and turn to face him, unable to stop myself from smiling at his half-grin. Holding his gaze, I slowly lick the back of my hand, blindly take the salt off the bar, sprinkle a bit, and take one of the shots of tequila. But as I'm taking my hand to my mouth to lick the salt up, he seizes my wrist and takes the shot from my other hand. My heartbeat accelerates, our eyes glued to each other as he moves into me and slowly brings my hand to his mouth. I watch, gripped, as he lazily licks up the salt from the back of my hand, eyes on mine, and then knocks the tequila back. Kill me now, for I will certainly die a happy woman. His tongue on my skin. His eyes boring into mine. His hold of my wrist. I must look like a statue—unable to talk, move, or think clearly.
"There's one more tequila," he says, cocking his head toward the bar but keeping me in his sights. "And it's yours."
Oh good lord. My heart is speeding up by the second as I watch him lick the back of his hand and sprinkle some salt. Then he offers it to me. I stare at his hand, and then slowly look up at him. I could get lost in those grey glittery eyes.
"I taste good," he whispers.
Want more? Check out these posts!