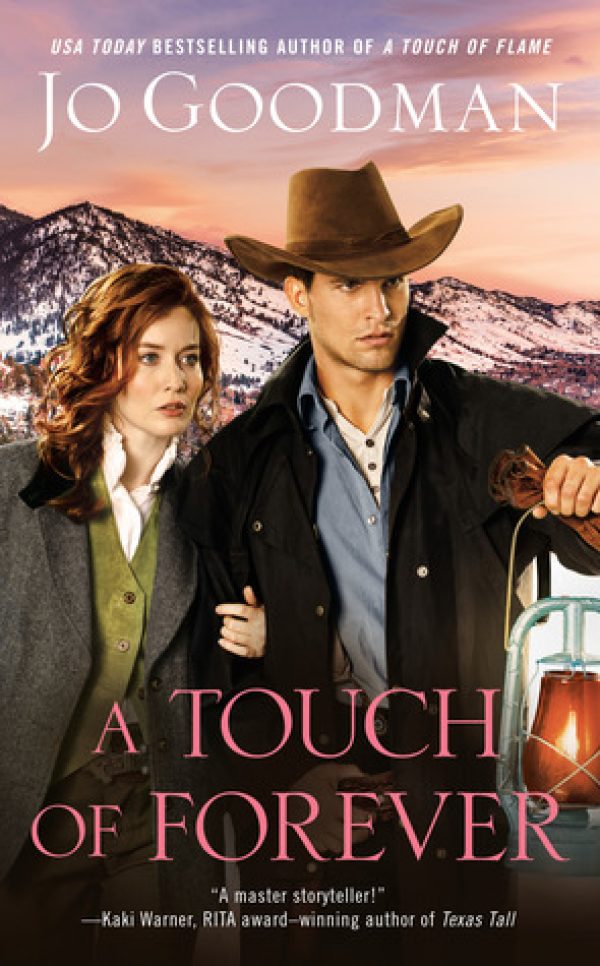 Lily Salt has sworn off men. After finally gaining her independence, the last thing she needs is another man telling her what to do. But the handsome railroad engineer from New York isn't at all what she expected. He's kind, gentle…and tempting enough to make her wonder what a second chance at love might be worth.

A self-acknowledged black sheep, Roen Shepard knows what it means to feel alone. Recognizing a kindred spirit in the reserved widow whose fascinating blue-green eyes have seen too much, and charmed by the warmth of her ready-made family, the two begin an unlikely friendship.

When a complication from his past follows him to Frost Falls, Roen proposes a mad scheme to protect the new life he's built and keep close the stubborn woman he's accidentally fallen for–a marriage of convenience. But Lily has secrets of her own, and the closer he gets to uncovering them, the more he comes to realize that the only truth that matters is the secret to unlocking her heart.
Note: Clicking links on this site will take you to the retailer's purchase page.
Totally Bex is a participant in the Amazon Services LLC Associates Program, an affiliate advertising program designed to provide a means for us to earn fees by linking to Amazon.com and affiliated sites.

This is my first book by Jo Goodman and while I don't read cowboy romances often, the blurb and cover of this one intrigued me.  While this third book in the Cowboys of Colorado series doesn't focus on a cowboy, per se, it is set in early 1900's Colorado (and I didn't have any problems with following along).
Roen is an engineer/mathematician working to expand the railway, which takes him to Frost Falls.  There he meets a precocious boy whose mother is a widow with 4 kids (by the way, I can't even imagine being a single mother in those days).  Lily and her children have had a traumatic life, so everyone in town is concerned about the 'stranger' who is spending time with them.
There is a lot going on in this lengthy story and the first part of the book is beefy with tons of details:  character details, scenery details, mechanical details… a lot of details.  Some slowed the story down, but by the middle things start picking up speed.
Having said all of that, I enjoyed Roen and Lily's story.  It's intriguing, well-written, slow-burning, has cute kids, and feels like a modern small-town romance with all of the gossips and busy-bodies, and has a surprise stalker.  There is quite a journey that takes place for all of the characters, but it was one that I appreciated for the compassion and care that was taken with it.  Now that I've read the third book, I am curious about the others in the series and will be checking them out soon!
Roen stepped aside and held the door to allow a woman to exit the sheriff's office before he entered. It was only when a little yellow-haired girl squeezed herself out between the doorframe and her mother's skirts that Roen recognized that the woman was Lily Salt. She was wearing a straw boater pitched at a forward angle so that it shaded her eyes.
Keeping the door open with a foot, he tipped his hat. "Good afternoon, Mrs. Salt."
Lily looked up, startled. "Oh. It's you. Forgive me. I was woolgathering." She touched the top of Lizzie's head. "It's Mr. Shepard, Lizzie. Say hello."
Lizzie was already beaming. "I saw him right away, Mama. Hello!"
"Hello, Lizzie. You're looking very fine today. Is that a new dress?"
She twirled like a top, showing off her apple green dress with the miniature bustle in the back. "Mama cut it down and made it all new for me. I love it." She hugged Lily's legs and thus prevented any forward movement.
Lily's tentative smile was apologetic. "Lizzie, I can't take a step. Mr. Shepard must have business here and we're keeping him from it."
"I do, but it can wait. I'd rather escort two lovely ladies to the drugstore for a fountain drink."
Her narrowed blue-green eyes said it was unfair of him. "I must decline. Lizzie and I are on our way to Mrs. Fish's to pick up a pattern and material."
Roen discovered he had just enough rascal in him to persevere. "We'll pass the dress shop on our way back."
"Mama?" Lizzie's hugged her mother's legs a little tighter. "I would surely like a fizzy drink."
Roen held up his hands as though the gesture could absolve him of responsibility. He knew the moment Lily relented because her lips parted and she blew out a shallow breath. He grinned.
"You understand I am not amused."
"I understand." Roen couldn't rein in his grin, and when it deepened, a small dimple on the left side of his mouth was revealed. He did not miss that her gaze dropped to it. "We should go." He held out a hand to Lizzie, and the child immediately released her mother's legs and put her fingers against his palm. Lily had little choice but to follow. It was only a few steps before she came abreast of them.
Lizzie rattled on about what flavor fizzy drink she wanted. She didn't ask for an opinion and neither adult offered one. As near as Roen could make out, it would either be root beer and seltzer water or ginger beer mixed with the same. When they were seated at one of the small round tables close to the fountain bar, Lizzie ordered a cherry fizzy.
Roen did not anticipate sharing a chuckle with Lily Salt after having shamelessly used her daughter to engage her cooperation, yet a chuckle was precisely what they shared as their eyes met over Lizzie's small head. He liked the sound of it bubbling on her lips, the way it came up from her throat and mingled with his deeper, rumbling laughter. There was harmony, real harmony, in their agreement.
It did not last long. A thin vertical crease appeared between Lily's eyebrows.
"What is it?" asked Roen.
Lily darted a sideways look at Lizzie, who was blowing humid breaths on the glass tabletop and then dragging a finger through the condensation. She quickly shook her head.
Roen said, "Lizzie, why don't you belly up to the bar and watch Mrs. Mangold make our drinks?"
When the little girl climbed onto a barstool and was out of hearing range, Roen put the question to Lily again. "What is it?"
"I shouldn't be here. You know I didn't want to come with you."
"But you did."
"You were walking away with my daughter. That wasn't right."
"Or fair," he said. "Not right. Not fair. But you're here, and that was the goal."
"Why?" She leaned in and her voice dropped to a whisper. "Someone will have seen me."
"Surely there's nothing strange about that."
"With you. Someone will say I was here with you."
"The best way to deal with that is to make it a habit. Then it won't be out of the ordinary. People don't comment on the ordinary."
Lily's nostrils flared slightly as she inhaled. "Mr. Shepard. I don't appreciate you making light of my concerns. I think I know the mind-set of folks here better than you. Even if you stay a year, you're still only passing through. I live here. Will always live here. It would be a kindness if you would take that into account. The next time you make to walk off with my daughter, I will holler bloody murder."
"Bloody murder? Why didn't you holler bloody murder when we were standing in the sheriff's doorway? Seems as if that would have been the time to do it. He was right there, sitting behind his desk, nursing a cup of coffee and watching the goings-on with what I would call a peculiar level of interest. I think he would have gotten up if you had hollered. But you didn't. Why is that?"
Lily didn't—couldn't—respond. She stared at him instead.
Roen went on conversationally, "Anyway, I don't think you holler."
A muscle jumped in her cheek. "Perhaps not, but I can scream, Mr. Shepard, and right now you're making me want to scream."
He nodded slowly. "I've heard that before. My piano teacher. He did scream, but then he was dramatic about taking his seat on the piano bench, so it was to be expected. You are not dramatic, Mrs. Salt."
Lily leaned back the few inches necessary to sit up straight again. Beneath her emerald green shawl, she squared her shoulders. Her gaze was direct, unflinching. "What is it that you want from me?"
Want more? Check out these posts!