Thank you for the advanced copy of SOULS UNFRACTURED by Tillie Cole. All opinions are my own.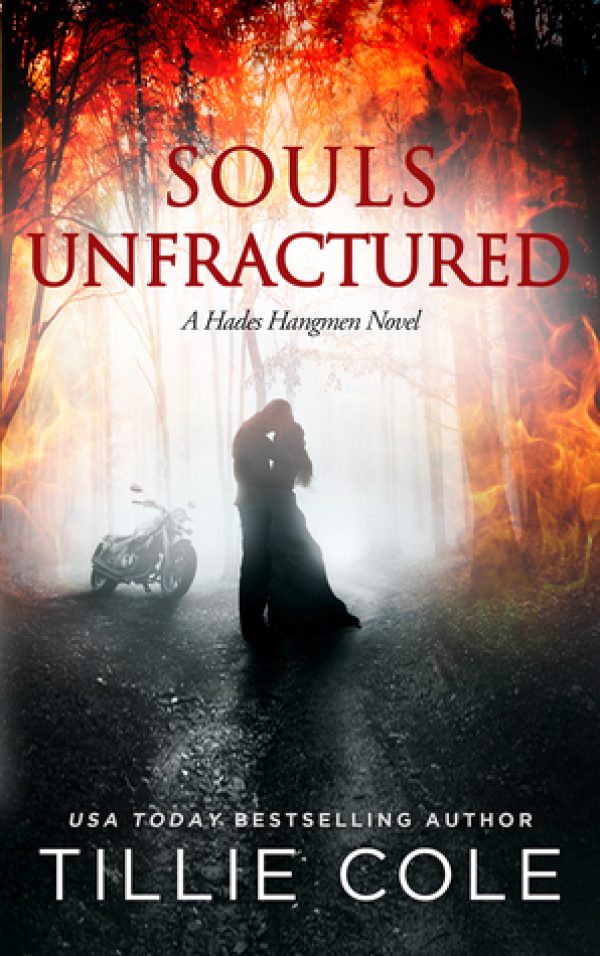 Labeled a 'Cursed' woman of Eve from birth, Maddie has endured nothing but pain and repression at the hands of The Order's most abusive elder, Moses. Now living with her sister in The Hangmen's secluded compound, finally, Maddie, is free. Free from the suffocating faith she no longer believes in. Free from endless years of physical and mental torment.

Just… free…

At age twenty-one, the timid and shy Maddie is content to live within the confines of her new home—safe from the outside world, safe from harm and, strangely, protected by the Hangmen's most volatile member; the heavily pierced and tattooed, Flame.

Flame.

The man who ceaselessly watches over her with his midnight dark and searing eyes. The man who protects her with a breath-taking intensity. And the man who stirs something deep within her numbed heart.

But when circumstances conspire for Flame to need HER help, Maddie bravely risks it all for the broken man who has captivated her fragile soul.

The Hangmen's most infamous member, Flame, is ruled by one thing—anger. Plagued by haunting demons from his past, an all-consuming rage, and isolated by an abhorrent hatred of being touched, Flame's days are filled with suffocating darkness, pierced only by a single ray of light—Maddie. The shy, beautiful woman he cannot purge from his thoughts. The woman he has an overwhelming need to possess…
… the only person who has ever been able to touch him.

Flame's mission in life is to protect Maddie, to keep her safe. Until a trigger from his troubled past sends him spiraling into madness, trapping him in the deepest recesses of his disturbed mind.

His Hangmen brothers fear that Flame is beyond saving.

His only hope of salvation: Maddie and her healing light.
Note: Clicking links on this site will take you to the retailer's purchase page.
Totally Bex is a participant in the Amazon Services LLC Associates Program, an affiliate advertising program designed to provide a means for us to earn fees by linking to Amazon.com and affiliated sites.
Other books in this series:
You would never think that a story about two tortured souls, filled with such horrible, terrible things could be so heartbreakingly beautiful, but Tillie Cole has done it in Souls Unfractured. Every word, every phrase, and every act in this book is purposeful and poignant, and they each affected me deeply.
While reading It Ain't Me, Babe (book 1), I was curious about Flame and why he was so 'crazy'. However, being inside Flame's head, hearing his inner his thoughts, and seeing his flashbacks brought tears to my eyes.
With each thought, each memory of abuse, my heart would break more. Not being able to be touched and always consumed by rage made me want to weep for him. Knowing that Maddie's care was the only personal contact he'd had after so many years of neglect utterly wrecked me.
Inside, Flame is like a fragile little boy, one was tormented because he is different. He doesn't speak well and can't understand emotions, but he knows that he needs to protect Maddie. He has saved her life twice, so in return, she fights for the chance to save him from the demons in his head and to extinguish the flames that consume him.
Watching Maddie calm Flame and delve beneath his protective layers was tender and intense–and perfect.
Since Maddie and Flame are both painfully shy and have an aversion to being touched, I was anxiously awaiting the moment when they would trust the other enough to become more intimate. When the moment finally came, it was utterly and truly beautiful.
Again, my heart just about did me in. After that, I waited with bated breath to see what was in store for them and how they would deal with it together, surrounded by their chosen family.  I was not disappointed.
Honestly, this series just keeps getting better and better, and I can't wait for the next one. Thank goodness there are at least four more planned because I love each of their stories!
The hand resting near her head inched forward in my direction. I stopped breathing as I thought she was going to touch me. But her hand stopped about an inch from mine.
I wondered what she was doing, when she said, "I like how your hand looks next to mine. It is so big and mine is so small. Yet I feel they look compatible."
I focused on our hands and noticed that my hand was bigger than hers. Maddie's little finger then extended, landing right next to mine. I thought of ripping my hand away, but something stopped me. I didn't want her to touch me; I didn't want her to be hurt. My touch only ever caused people to be hurt. But I left my hand where it was, our little fingers staring at each other.
"I sometimes imagine what our hands would look like, touching. What they would look like with our fingers intertwined. I wonder if it would make me smile. At times I daydream that it would be something we could do."
Maddie's voice was so quiet as she spoke. I couldn't take my eyes off our hands. I tried to picture in my head what she described. I saw her hand reaching out for mine, but then I thought of how it would make me feel, and I shook my head.
"Our hands can't ever touch. I can't… I couldn't do it."
Maddie's lips pulled into a half-smile, but water filled her eyes and her voice hitched.
"Why are your eyes filling with water? Why is your voice breaking?" I asked, confused. I had to understand what she was thinking. What she was feeling. I didn't know, and I had to.
"I am sad, Flame. It makes me sad to know that we can never touch."
The muscles in my stomach pulled tight with the knowledge that I'd made her sad. Then that warm feeling I'd felt cooled and I no longer felt good. "I don't want to make you sad. Not you. I just can't be touched. It makes the flames worse. I can't touch you."
"It is okay, Flame," Maddie said in response, then she looked up at me and added, "Because I cannot be touched by a man either. But I dream about it regardless."
Want more? Check out these posts!