Thank you for the advanced copy of WALK THROUGH FIRE by Kristen Ashley. All opinions are my own.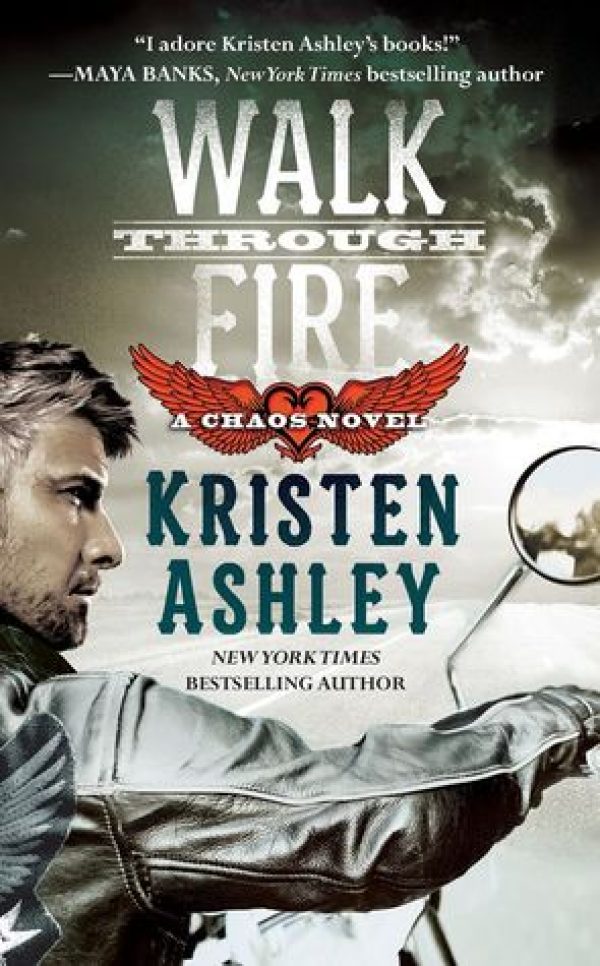 The flame never dies . . .

Millie Cross knows what it's like to burn for someone. She was young and wild and he was fierce and even wilder-a Chaos biker who made her heart pound. They fell in love at first sight and life was good, until she learned she couldn't be the woman he needed and made it so he had no choice but to walk away. Twenty years later, Millie's chance run-in with her old flame sparks a desire she just can't ignore. And this time, she won't let him ride off . . .

Bad boy Logan "High" Judd has seen his share of troubles with the law. Yet it was a beautiful woman who broke him. After ending a loveless marriage, High is shocked when his true love walks back into his life. Millie is still gorgeous, but she's just a ghost of her former self. High's intrigued at the change, but her betrayal cut him deep-and he doesn't want to get burned again. As High sinks into meting out vengeance for Millie's betrayal, he'll break all over again when he realizes just how Millie walked through fire for her man . . .
Note: Clicking links on this site will take you to the retailer's purchase page.
Totally Bex is a participant in the Amazon Services LLC Associates Program, an affiliate advertising program designed to provide a means for us to earn fees by linking to Amazon.com and affiliated sites.
Other books in this series:

Kristen Ashley, the romance-writing ninja that she is, has brought her A-game once again with Walk Through Fire. She's managed to create a story that pulls you in, punches you in the gut, and turns you into a blubbering mess. All the while, you keep turning pages, begging for more sweet torture, and loving every minute of it.
It's no secret that I love her Chaos series. I've said it before and I will say it again: this series just keeps getting better and better with every new book—and I was a huge fan of Ride Steady (the previous book in the series).
Walk Through Fire is Logan (High) and Millie's story. Logan and Millie were together for three glorious years. They worked hard and built the perfect life for themselves and their future. Everything seems to be wonderful, until Millie ends it all and walks away.
For twenty years, they don't see each other, speak to each other, or work through their feelings. That's a long time to think back on what happened and what could have been.
Once Millie and Logan reconnect, the sparks start flying immediately. The first half of the book is extremely intense. I didn't even like Logan (or his Chaos brothers) for part of it. I kept reading because I needed to know what Millie's secret was. We learn about their life together through flashbacks, but I had to know why it ended so abruptly.
Everything in the first part of the book is building up to the dramatic secret reveal and it's consequences. Once the verbal explosions, miscommunications, and hurt feelings are behind them, it almost feels like the beginning of a new book. There are plenty of hurdles that still need to be overcome, but at least they are together to work through it.
Unlike some of the past books, I felt 100% connected to Millie. When she took a hit (and there are a lot of them), so did I. Her heart and soul are laid bare, every moment is so raw and gritty and full of pain. I truly felt devastated for her. Seeing Millie's heart start beating again was worth all of the pain I went through to get to other side.
Walk Through Fire has all of the "Kristen Ashley trademarks": hot alpha males, strong and sassy women, cameos by previous characters, heart-squeezing dialogue, and lots of feel-good moments. There is also a lot of heat—in fact, this may be one of her hottest and steamiest yet.
I think fans of the series will be very happy with the addition of Millie and Logan's story. I know I was, and I'll be anxiously awaiting her next book release.
Want more? Check out these posts!