Thank you for the advanced copy of WASTED WORDS by Staci Hart.  All opinions are my own.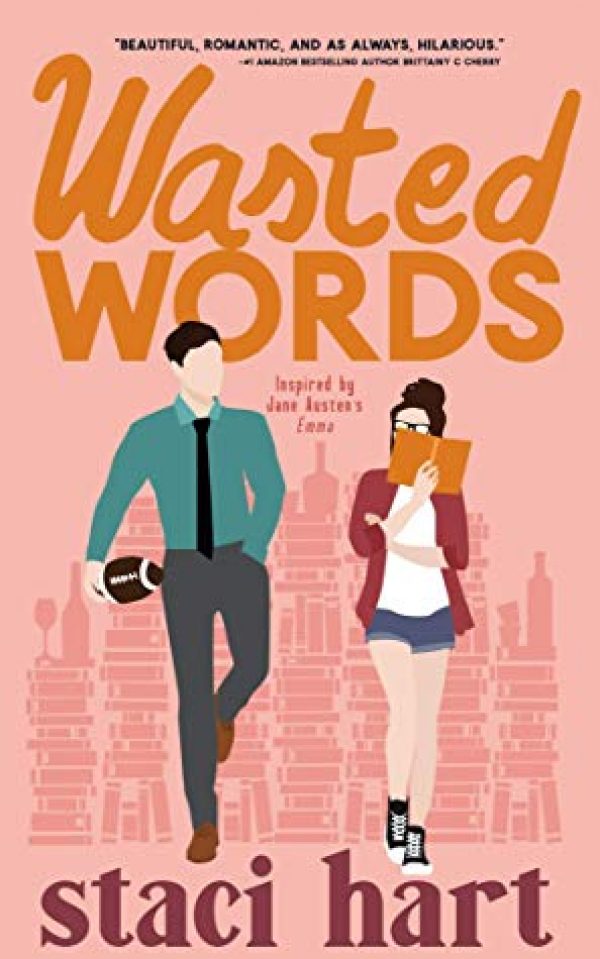 Some universal truths refuse to be ignored.

Peanut butter and jelly are a match made in heaven. Spaghetti and meatballs are best friends forever. And guys like Tyler Knight don't go for girls like Cam Emerson.

She knew from the second she met him that he didn't belong on her bookshelf, the six-foot-six ex-tight end with a face so all-American, it could have sold apple pie. So she shelved him next to the supermodels and rock stars and took her place on her own shelf — the one with the flannel-clad, pasty-faced comic book nerds. Most of her boyfriends have existed between the pages of books, but rather than worrying over her own lacking love life, she puts all her energy into playing Cupid, using her job at the book bar, Wasted Words, as her stomping ground.

Tyler Knight always looks on the bright side. His career-ending injury turned into a job as a sports agent. A horrible breakup led him to Cam, his quirky, smart roommate who is far more beautiful than she realizes. She's made it perfectly clear she's not interested in him — not like that at least — but if she ever changes her mind, he won't hesitate. Because he doesn't see the lines she's drawn between them, as much as she insists that they're there. Deep down he knows that despite their differences, they're a match well made.
Note: Clicking links on this site will take you to the retailer's purchase page.
Totally Bex is a participant in the Amazon Services LLC Associates Program, an affiliate advertising program designed to provide a means for us to earn fees by linking to Amazon.com and affiliated sites.
Other books in this series:

I will read just about any Jane Austen reimagining, modern update, sequel, or prequel.  I am a huge fan and can't get enough, so when I read that Wasted Words is inspired by Austen's Emma, I knew I had to read it.  I'm glad I did because Staci Hart does a perfect job of updating Emma for the modern age.  The writing is fresh and fun while the characters are descriptive and full of depth.  This story was so cute and it made my heart happy.
Cam is a perky, adorably dorky bookworm working as bartender/barista at a bookstore bar (first of all, how awesome would that be?!?).  Since she was burned by a boy in high school, Cam has lived by a set of rules: Always know which shelf a person belongs on and never date anyone not on your shelf.
Tyler is an upbeat and funny former football player turned agent who is also Cam's roommate.  After a year of living together, their attraction can no longer be avoided and everything changes between them.  However, falling for your roommate isn't without pitfalls as they soon discover.  Cam is very insecure about herself and her relationship with Tyler at almost every step because she thinks they are too different, he could do so much better than her, etc.  (Silly girl!)
I absolutely loved Cam and Tyler together, they are so adorable and sweet.  Tyler is pretty swoon-worthy throughout the book–even before he and Cam became 'more than friends', I knew that he was going to be perfect for her.  I'm so happy this book is told in dual point-of-view so that we get to see their relationship from both of their perspectives.
Everything that made Austen's novel a classic is present here: meddlesome matchmaker, opposites attract, and falling in love with the friend who was right under your nose the entire time.  Staci Hart does an excellent job of drawing the reader into Cam and Tyler's world from the very first page and I was rooting for them the entire time.
This may have been my first book by Staci Hart, but I loved her writing so much, I will be reading more of her in the future!
Want more? Check out these posts!