This post contains affiliate links you can use to purchase the book. If you buy the book using that link, I will receive a small commission from the sale at no additional cost to you.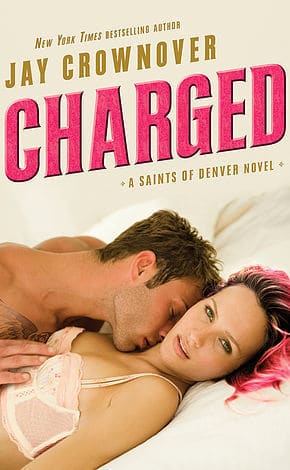 Charged
by
Jay Crownover
Series:
Saints of Denver #2
Also in this series:
Riveted
,
Salvaged
Published by
HarperCollins
on May 24th, 2016
Genres:
Contemporary Romance
Number of Pages:
361
My rating:


Kindle
Audiobook
From the New York Times bestselling author of the Marked Men books comes the second installment in the Saints of Denver series featuring a bad girl and a by the book attorney who could be her salvation...or her ruin.

Avett Walker and Quaid Jackson's worlds have no reason to collide. Ever. Quaid is a high powered criminal attorney as slick as he is handsome. Avett is a pink-haired troublemaker with a bad attitude and a history of picking the wrong men.

When Avett lands in a sea of hot water because of one terrible mistake, the only person who can get her out of it is the insanely sexy lawyer. The last thing on earth she wants to do is rely on the no-nonsense attorney who thinks of her as nothing more than a nuisance. He literally has her fate in his hands. Yet there is something about him that makes her want to convince him to loosen his tie and have a little fun…with her.

Quaid never takes on clients like the impulsive young woman with a Technicolor dye job. She could stand to learn a hard lesson or two, but something about her guileless hazel eyes intrigues him. Still, he's determined to keep their relationship strictly business. But doing so is becoming more impossible with each day he spends with her.

As they work side-by-side, they'll have to figure out a way to get along and keep their hands off each other—because the chemistry between them is beyond charged.
I received this book for free from the publisher in exchange for an honest review. This does not affect my opinion of the book or the content of my review.
My Review of Charged
I truly love Jay Crownover's writing. She's as adept at writing about tortured heroes trying to remain on the right side of good as she is about tortured anti-heroes who don't. Her writing is so layered and dimensional, it paints a picture of life in Colorado and dives deeply into the character's lives, making them seem real.
I was riveted to the story from the very first page, and by that I mean the dedication. The story hadn't even started yet, and I was already invested. Both the dedication and introduction set the tone for the book. They make you feel like it is drawing you into the author's personal memories and experiences, at times feeling like an auto-biography of sorts.
Avett Walker is described as wild and sweet and that exactly what she is. She's a force to be reckoned with and is set on making bad decisions in her life. One of those decisions leads her to Quaid Jackson. Quaid is a man who is tired of putting on appearances, living behind an armor, and doing the right thing. Avett barrels her way into his life and his thoughts and he can't get enough. They were like oil and water, but they mixed together in such an explosive way. I couldn't get enough of them.
As much as I loved Avett and Quaid, my favorite part of Charged had to be Avett's relationship with her dad. He loves her so fiercely, it brought tears to my eyes at one point. Like Brite, my dad is taciturn, but you know when he is disappointed and you also know when he is going to fight for you. Avett's relationship with her dad is similar to my own, so I felt an immediate connection to her. Brite may be big and gruff, but he's so loving and supportive, I couldn't help but love him.
I've read and loved many of Jay Crownover's books, but I honestly believe this is her best yet. Charged feels like it's deeply personal to the author–like she just opened her heart and poured it out onto the page. I highly recommend this book. And the series. Ok, just read all of her books, she's that good!
Excerpt
Charged
by Jay Crownover
Avett
Don't worry, Sprite, bad decisions always make for good stories…
I could hear my dad's gruff voice, lightened with humor, in my ear as he told me those words every single time I got caught doing something I wasn't supposed to do when I was growing up. I was always doing something I shouldn't then and now, so I heard those words a lot from him. Unfortunately, as an adult, my bad decisions resulted in consequences far worse than a scraped knee or a broken wrist from falling out of the tree in the backyard he warned me repeatedly wasn't sturdy enough to limb. And sadly, my dad reassuring me in his firm and gentle way, while calling me his little Sprite as he kissed my boo-boos, wasn't going to help my current situation at all.
This boo-boo was big-time.
This boo-boo was life-changing.
This boo-boo was anything but a good story waiting to be told.
This boo-boo very well could be the end of me, the end of the rope where my patient parents had dangled precariously for years, and it very well could be the end of any kind of future I may have had. A future I was well on my way to letting a lifetime of bad decisions and even worse choices screw up. At barely twenty-two, bad decisions had sort of become my stock in trade and were as familiar to me as my own face. I was almost legendary, at this point, for putting all my trust in the absolutely wrong kind of people. If there was a wrong path to take, I was going to skip gleefully down that road and not look back until I ended up exactly in the kind of situation I found myself in at the moment. It wasn't like this was even a new dead end; it was the same one I ran into over and over again. No matter how hard I tried, I couldn't get myself turned around, and the longer I was at this dead end, the darker and more wicked it became.
I knew better. I really did, even if there was a boatload of evidence contradicting that fact.
I wasn't stupid, naïve, immature, or senseless. I might appear that way to anyone on the outside looking in, but I had my reasons for being a consummate failure and lifelong loser. All of those reasons had nothing to do with me not knowing better and everything to do with me knowing exactly what I deserved.
For a long time now I had been spiraling out of control, whirling, falling deep and deeper into a pit of really awful actions and consequences, each seemingly worse and more painful than the last. I also hadn't made any kind of effort to try and pull myself out of it, so logically I knew the only place I was going to end up was right here, right at the lowest part of rock bottom. I never imagined the landing would be so jarring.