Thank you for the advanced copy of ALL THE RAGE by TM Frazier.  All opinions are my own.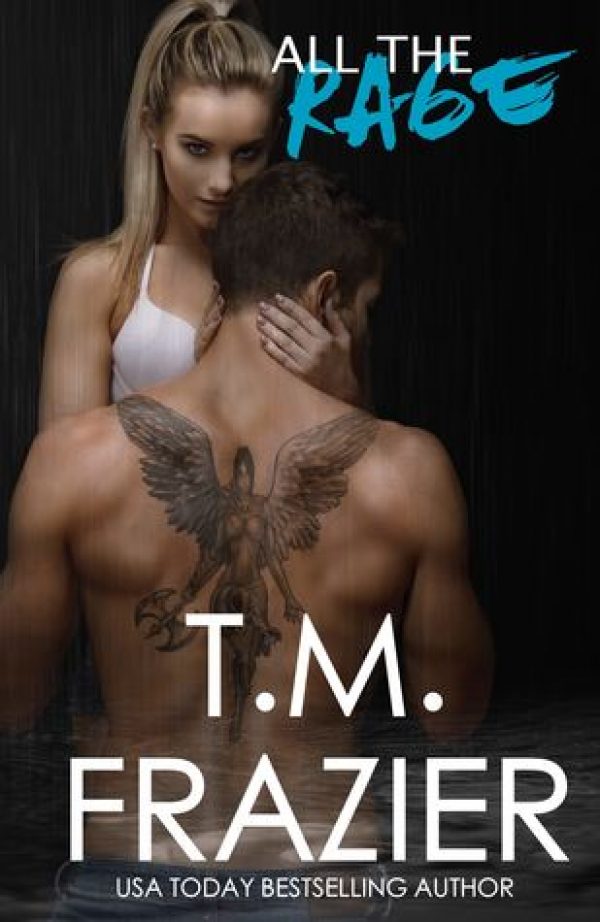 They call me Rage.
My real name is like a shadow, always close behind, but never quite able to catch up to me.
I fly under the radar because no one ever suspects I'm capable of the kind of brutal violence I commit each and every day.
You see, I'm a girl. I'm nineteen.
And I'm a killer.
I look like a goddamn cheerleader, but can take out a man three times my size in more than as many ways, without hesitation.
This life is all I know. It's all I want to know. It keeps the shit buried that I need kept buried. It allows me to live without thinking too much.
Without dwelling on the past.
Until him.
It all changes when an ordinary boy becomes my next target.
And my first love.
I have to choose.
The only life I've ever known has to die, or he does.
Either way, I'll be the one pulling the trigger…
Note: Clicking links on this site will take you to the retailer's purchase page.
Totally Bex is a participant in the Amazon Services LLC Associates Program, an affiliate advertising program designed to provide a means for us to earn fees by linking to Amazon.com and affiliated sites.
Other books in this series:

It isn't often that you see a female anti-hero (anti-heroine?) in a romance book.  You most certainly don't see a female character as badass as Rage very often, either.  All the Rage made my adrenaline rush with it's gritty, violent, and suspenseful story. 
I got drawn into Rage's world and even though she does very bad things, I found myself rooting for her to find her own twisted happily-ever-after.
Rage knew from an early age that she isn't like most people.  She doesn't get emotional or feel remorse, in fact, she's cold and unaffected. 
Rage leaves home as a teenager to finally be who she was meant to be: a trained assassin, a demolition expert, and a brutal killer.
Rage meets Nolan through a surveillance job.  He's a recently injured college hockey player who is recuperating at his grandparent's beach cottage. 
When Rage is forced to save his life after an accident, she starts to see that maybe there is more to life than just her job.  There is definitely more to Nolan than meets the eye.
I enjoyed Rage's story and how it is unlike other books I have read lately.  There were twists I wasn't expecting, interesting characters, and of course, some steamy scenes. 
More than that, though, Rage is so unlike other heroines that I couldn't help but like her.  I also like a book that keeps me on my toes and All the Rage definitely delivered!
ARE YOU READY TO RAGE?
"What you don't seem to understand is all that matters right now is standing right f*cking here," Nolan said, his voice thick and deep. His eyes were the darkest I'd ever seen them, glimmering with wicked intent. One side of his full lips curled upward in a devilish smirk. I couldn't breathe. I couldn't think. I was consumed by him. Or at least, from the way he continued to f*ck me with his eyes, I knew I was about to be.
Nolan took a step forward and I took two back. Our little dance made him chuckle, the sound coming from deep within his throat. With just that little laugh my insides clenched so hard I gasped. Nolan's smirk grew into a knowing smile. His eyes darted to the space between my legs where my shorts had ridden up, exposing every inch of my shaking thighs.
He licked his bottom lip, tracing it with the tip of his tongue. My inner battle raged on between wanting to run away from him, and wanting to run straight into him. Although, it wasn't like it mattered which option won out in the end. The pier was narrow, and Nolan was blocking my only way out.
He reached down and unbuckled his belt, sliding it out through the loops. Folding it in half, he snapped the leather together. The sound an echoing crack through the damp night air.
Our dance continued as he took another step toward me and I again retreated. "Since you don't seem to feel the same way, let me tell you what's going to happen right now," Nolan started.
"I'm going to make you come on my fingers." Step. "On my tongue." Step. "And around my c*ck." His last step closed the space between us. My back hit the railing, trapping me between the end of the pier and his hard wall of a chest. My breathing became even more labored, my chest rising and falling in quick succession against his. Pressing against my stomach I could feel the heat of his hard c*ck through the worn fabric of his jeans. My nipples hardened as the ache in my core grew into need. "I'm going to f*ck you. Hard. And I'm not going to stop f*cking you until you realize that this sh!t between us is all that matters."
That's when I realized there would be no escaping this time.
From him.
From this.
From us.
Want more? Check out these posts!