Thank you for the advanced copy of SURVIVING ICE by K.A. Tucker.  All opinions are my own.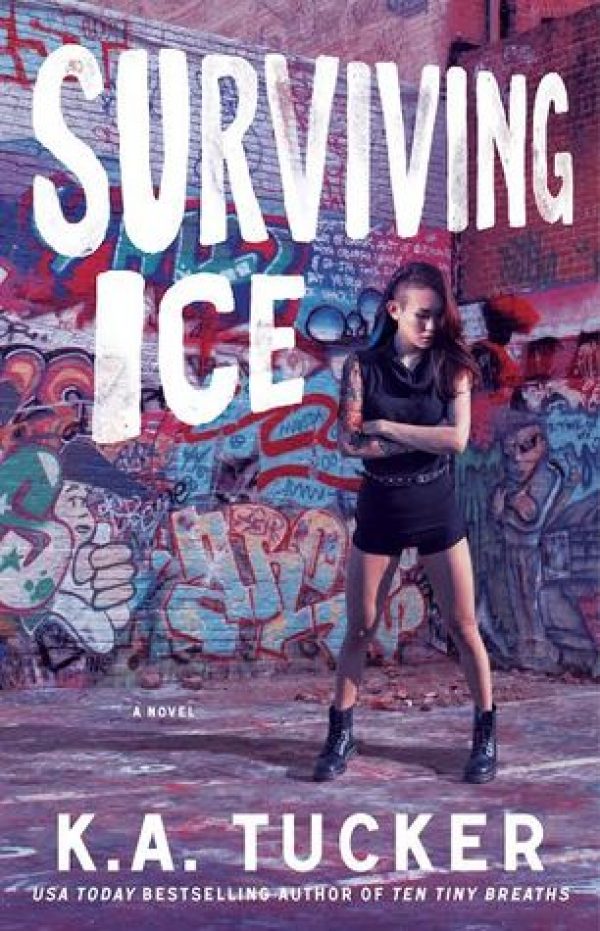 Ivy, a talented tattoo artist who spent the early part of her twenties on the move, is finally looking for a place to call home. She thinks she might have found it in San Francisco, but all that changes when she witnesses a terrible crime. She's ready to pack up her things yet again, when a random encounter with a stranger keeps her in the city, giving her reason to stay after all.

That is, until Ivy discovers that their encounter wasn't random. Not at all…
Note: Clicking links on this site will take you to the retailer's purchase page.
Totally Bex is a participant in the Amazon Services LLC Associates Program, an affiliate advertising program designed to provide a means for us to earn fees by linking to Amazon.com and affiliated sites.
Other books in this series:

Surviving Ice by KA Tucker is the fourth book in the Burying Water series, and in my opinion, the absolute best. I loved this story! It is suspenseful, captivating, and un-put-downable. It kept me on the edge of my seat and glued to my Kindle.
I first met Ivy in the third book of the series, Chasing River, and her character intrigued me. She was so cool, to the point of being unaffected and detached, but you knew there was more to her story. 
When I found out that the fourth book was about her, I knew that it would be a must-read. I'm happy to say that it exceeded any expectations I may have had.
Ivy is a totally kickass heroine. She's strong, feisty, sassy, and fiercely independent. She's also a free spirit who doesn't do attachments or commitments. Just when she is ready put down roots in San Francisco, tragedy strikes and Ivy is suddenly (and unknowingly) in grave danger.
That's where Sebastian comes in. He's is a highly trained soldier who has the 'lone wolf' vibe going on. Once he meets Ivy, though, all bets are off. 
Their connection is palpable and their razor-sharp banter is highly entertaining. It also makes for some great inner dialogue. I love that this story is told in alternating points of view, so we can see the inner workings of each of their minds.
Ivy has a prickly exterior and a tough-girl façade, but the challenge keeps Sebastian coming back for more. They each get under the other's skin, and the timing is less than ideal, but the dangerous situation makes everything more intense. I loved how protective he is of Ivy, even when she doesn't realize she needs protection.
As with all of KA Tucker's books, the writing is superb. I love how she weaves stories together, combining all of the elements of a great story. Surviving Ice is definitely one of my favorite reads of the year.
A soft meow catches my ear. The resident tabby cat—a whore who hops from one villa to the next, sharing her affections without discrimination—struts across the thick balcony wall to me, her tail curling in the air as she approaches. I stroke the soft patch of fur beneath her chin and listen to her purr while I begin to mentally prepare myself for my return to California.
It's been almost five years since I last stepped foot on American soil. Soil that once brought me purpose, love, and determination. Then pain, weakness.
Disgrace.
What will it bring me now?
My hand drops from the cat's chin, deciding I've given her more than enough. She leans forward, head-butts my arm— allowing me a chance to reconsider, to show her the kind of love that I am no longer capable of—before giving up and scuttling away.
With a sigh and one last glance over the peaceful blue waters, I flick the cigarette butt that sits mashed up on the railing and venture back inside to where an olive-skinned Grecian beauty is sprawled across my bed. She's the smoker, and an unexpected outcome of last night, while I enjoyed a quiet solo meal by the water. A curvy, sensual woman, much like the tabby cat, stalking in to impose herself on my life. Except her affections weren't as easily dismissed, wearing away at my defenses over the hours with throaty laughs and wandering fingertips.
Manipulating my loneliness.
I rarely succumb to it, but last night, I did.
I also must have had too many glasses of that pricey limnio, because I don't usually end up in my own bed with a prostitute.
I slide a hand back and forth over the smooth skin of her hip until she stirs with a small groan. Eyes as blue as the Aegean Sea below us flutter open to meet mine. Her plump natural lips—that were wrapped around my cock with such expertise last night—curl into a smile. "Good morning, American," she purrs in her thick accent, reaching for me. "You want more, don't you?"
Had I not just received that call from Bentley, I probably would have taken her again. But minutes within getting news of my next assignment, my mind is already shifting focus, shutting down my weak human urges, preparing the rest of me for what is to come.
I quash her efforts for a repeat by filling her groping fingers with her crimson dress. "You can let yourself out."
"But . . . last night was . . ." She stumbles over her own surprise. "Will I see you again?"
There's no use pretending that either of us is something we're not, that we will be more to each other than we were for a few paid hours last night. So I don't bother answering, leaving her on my bed to head to the bathroom, feeling her anger blazing into my back.
Want more? Check out these posts!