Thank you for the advanced copy of TEN by Ker Dukey.  All opinions are my own.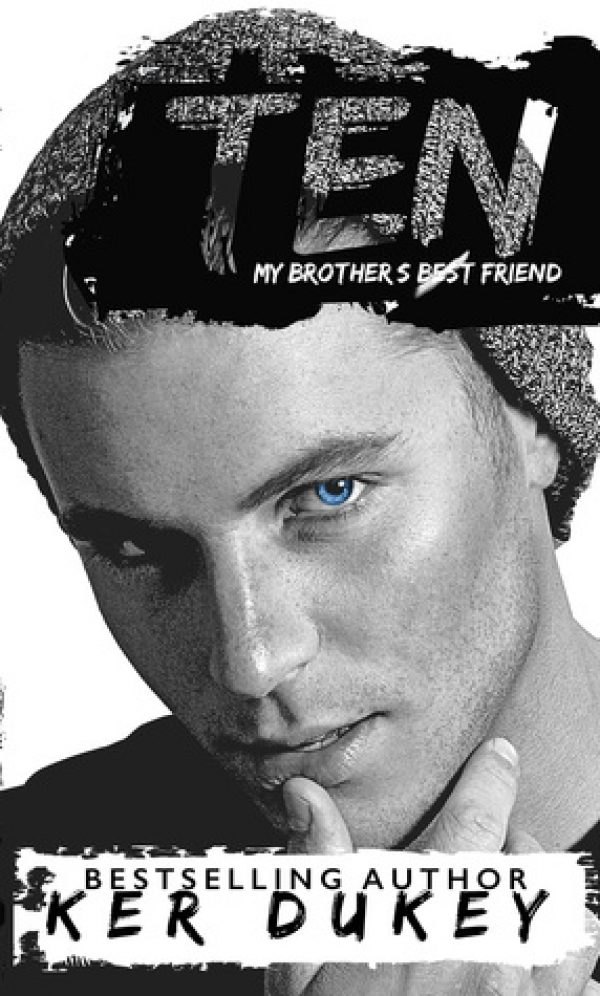 Ten years old I fell in love
Ten years was the price of that love
Ten years later our world's re-collide


Alexandria (alex)

My brother Jonah was possessive when it came to the things he owned; this unfortunately included the people in his life. The forbidden love between his best friend and me was just that… forbidden.
Our families were from different walks of life and as a sheriff's daughter being with a Moore's kid would never be tolerated. To my parents their son and Dalton Moore were on different paths and their friendship would end as soon as college began but it was my brother who had a craving for trouble. He was always looking for danger, committing petty crimes and getting away with it because Dalton would take the fall, blackening his already stained name. When Jonah found out we broke the rules by loving each other, his consequences impacted us all with immeasurable suffering.
Betrayal comes with a debt and it would be paid by all of us.
One with their heart,
one with their mind
and one would pay in blood. 
Note: Clicking links on this site will take you to the retailer's purchase page.
Totally Bex is a participant in the Amazon Services LLC Associates Program, an affiliate advertising program designed to provide a means for us to earn fees by linking to Amazon.com and affiliated sites.
Other books in this series:

Ten is the first book I have read by Ker Dukey. Other than the blurb, I went into it completely blind. I didn't have any expectations about the book other than it being a forbidden love/second chances kind of romance. What I ended up getting was way more than just a typical "Boy falls in love with his best friend's girl" story. It is darker and way more intricate than that.
Ten is a dark romance about family (both the DNA and the mobster type), loss, revenge, and eventually, murder. Because of the mistake of a friend, Dalton takes the fall, his life completely torn apart, and he loses the love of his life. Unfortunately, he isn't the only one hurt in the fall-out. Alexandria suffers the loss of her family, her home, and her soul mate because of her brother's bad decisions.
When Dalton (now Ten) is released from prison, he takes his place in his connected/mobster family. They are involved in drugs, women, and more illegal activities. He is right where he fought so hard to never be. Meanwhile, Alex has struggled to move on from Dalton, keeping the memory of their love alive and never truly living after he is sent to jail.
At first, I had a hard time connecting to the characters, but as the story picked up steam, I found myself unable to put it down. I didn't know which way the story was going to go, but after Chapter 3, I didn't care.
While some of the violence is jolting, it is often tempered by the sweet memories of the past. As the story weaves together and the actions of the respective families come to light, I found myself getting caught up in the intensity. There is so much miscommunication and tension, I couldn't help but feel tightness in my chest as I read.
While you may not feel comforted by parts of the book, I guarantee it will make you feel something.  And, really, isn't that the reason we read?
Alexandria (Alex)
Soul mates, not everyone believes they exist, but that's because they have never met theirs.
How can someone who has never felt a connection so fierce, that you feel the power of it in every molecule of your being, believe such a thing exists?
How can you explain to them that the jolt that ignites every nerve ending in your body is like the sky crackling and exploding with lightning before it joins with the earth for the briefest yet most magnificent of moments, displaying the true force of nature's power?
When that one person you were created with, comes into your life, you know without any doubt that they're yours and you are theirs. It's nature in its truest form. There is nothing more natural than falling in love with your soul mate.
True love is like an out of body experience, you transcend before crashing back into your body seeing life through new eyes.
You don't just find your soul mate; you reunite with them with intensity so powerful nothing can stop it. A love so potent you feel it in the atmosphere, and you see it in their aura.
Dalton Moore was my soul mate and I lived to love him.
He was in my every childhood memory.
Every dream I conjured.
He was every good decision I made…
But for him…
I was in his every childhood memory.
Every nightmare he slipped into.
I was the worst decision he ever made.
Want more? Check out these posts!