Thank you for the advanced copy of PERFECTLY IMPERFECT by Harper Sloan.  All opinions are my own.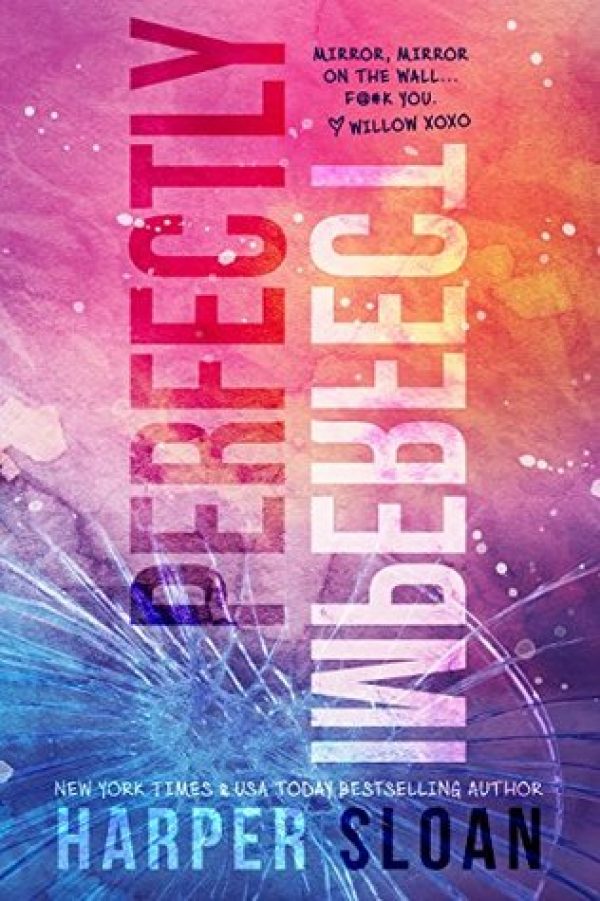 Mirror, mirror … who's the fairest of them all?

I still cringe when I hear that line. A fairy tale that had girls pretending they were the fairest, the most beautiful, and the most entitled. A fairy tale most couldn't grow out of turned my haunted childhood memories into a living nightmare. Girls who grew up believing that pile of garbage became the meanest of all 'mean girls.'

And those mean girls were right – it was a line meant for all the beautiful people in the world – and I knew the answer would never be me.

The women with long legs, flat stomachs, and perfect chests.

The type of women Kane Masters gravitated toward.

Well, that's definitely not Willow Tate.

No. That will never be me.

Because I'm completely imperfect.

And … I hate myself.

I have no idea what Kane could possibly see in someone like me when he could have them.
Note: Clicking links on this site will take you to the retailer's purchase page.
Totally Bex is a participant in the Amazon Services LLC Associates Program, an affiliate advertising program designed to provide a means for us to earn fees by linking to Amazon.com and affiliated sites.

Perfectly Imperfect by Harper Sloan is the emotional journey of a woman named Willow, whose self-esteem and self-worth have taken a beating almost every day since childhood—mostly from the ridicule of her 'family' (I use that term loosely).
We meet her when she is at her lowest point, so the only way to go from there is up. It's a long journey, but I liked seeing how Willow keeps fighting each step of the way.
It's refreshing to see a story written about a woman with the kind of internal issues most of us can relate to—the struggle of self-doubt and insecurities about our bodies and ourselves.
After such a painful past, I found it inspiring to see Willow begin to understand that she must love herself before she can truly love someone else. Her relationship with Kane is anything but smooth sailing, but I enjoyed watching Willow grow, and learn, and finally, accept herself just as she is.
The prologue is a wonderful example of art imitating life, and I thank Harper Sloan for sharing her personal struggles with readers.
The story is well written and the secondary characters are great. But (and you knew there was a but, right?), I feel like outside of Willow's journey to acceptance, the 'hot movie star who falls for an ordinary woman' trope was a little over the top. However, it's a heartwarming read and will make you feel good by the end.
"Are you nervous right now?"
I nod.
"Tell me why." His demand, steady and calm, gives me the courage I need to tell him. To open a vein and bleed my insecurities.
"I'm not perfect," I whisper.
"And neither am I, Willow. I don't want perfect. What so many see as perfect, to me, is fake. Perfect isn't achievable naturally. No one, and I mean no one, is perfect."
I'm shaking my head before he's even done speaking, but one long finger comes up and presses against my lips before I can speak.
"No, let me finish. There isn't beauty in perfection. It's as fake as the image the word projects. Beauty is found in imperfection, Willow, because to admit you're not perfect means you're admitting you're not whole and absolute. When I think of myself, I see someone willing to admit he's as far from complete as it gets because, in order to get to that perfection, I need to find the other part of me who will make my life better. To take all the faults I have and fill them, and only then will I be there. You see, the way I see it, the only way to become perfect is to find that perfectly imperfect person who brings it out of you."
When he stops, I swear I might have stopped breathing. How am I supposed to respond to that?
"Do you trust me?" he asks, his voice strong and sure.
"Yes, Kane. Nerves or not, I do."
"Then let me show you what I see when I look at you."
He brings his hands up, framing my face once again in a way I'm quickly becoming addicted to the feeling of. His warm eyes implore, begging me without words to let him continue. I do not intend to stop him, regardless of the butterflies currently taking over my system. I'm all in.
Want more? Check out these posts!