Thank you for the advanced copy of SWEET SOUL by Tillie Cole.  All opinions are my own.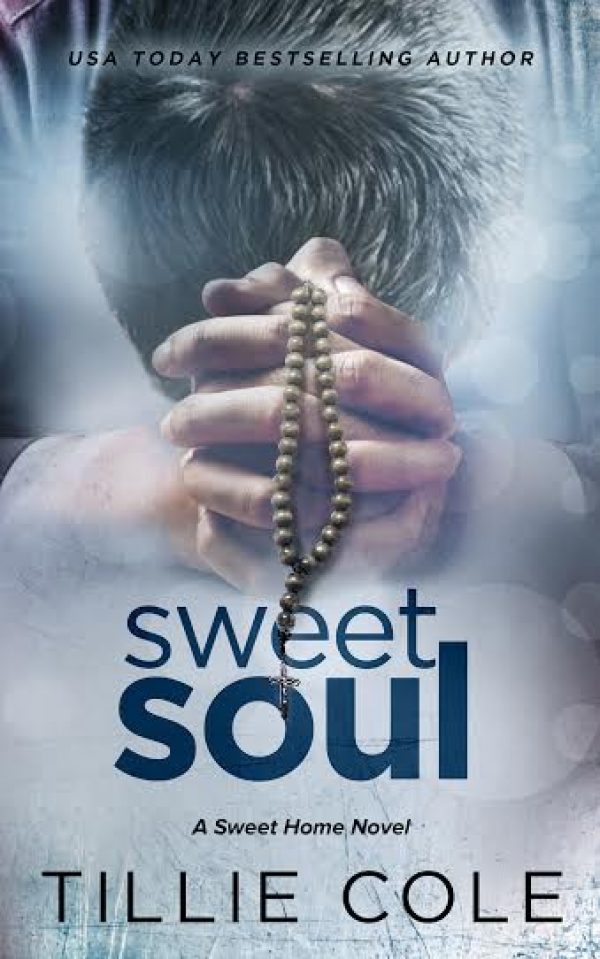 One shy lost soul. One silent lonely heart. One love to save them both.

Life has never been easy for twenty-year-old Levi Carillo. The youngest of the Carillo boys, Levi is nothing like his older brothers. He isn't dark in looks or intimidating to everyone he meets. In fact, he's quite the opposite. Haunted by a crippling shyness and the tragic events of his past, Levi spends his days with his head buried in his books or training hard for his college football team. Too timid to talk to girls, Levi stays as far away as possible and completely on his own… until he saves the life of a troubled pretty blonde, a troubled pretty blonde that might just be the exception to his rule.

Elsie Hall is homeless. Or at least that's all anyone ever sees. Every day is a fight for survival on the cold streets of Seattle, every day a struggle to find food and keep warm. Alone in life—a life that's dangerous and cruel—her will to keep going is an ever-losing battle. In her world of silence, Elsie has given up hope that her life will contain anything but constant struggle and pain… until the beautiful boy she has severely wronged comes to her rescue at precisely the right time.
Note: Clicking links on this site will take you to the retailer's purchase page.
Totally Bex is a participant in the Amazon Services LLC Associates Program, an affiliate advertising program designed to provide a means for us to earn fees by linking to Amazon.com and affiliated sites.
Other books in this series:

I think Tillie Cole manages to bring me to tears with almost every book I read. Sweet Soul had me reading through watery eyes by Chapter 2. It is a highly emotional and very sweet story, so I will suffer through the tears to experience all of the goodness she writes.
Levi is a shy introvert who loves his family and football. He isn't like most college students where parties and girls are their life. Levi tortures himself with memories of the past and it makes living in the present difficult. He is so sweet and so quiet; you can't help but love him.
Elsie is very much like Levi, but she is fighting to survive life on the streets. I immediately felt connected to her as she told her story through flashbacks.   Her history is very heavy and heartbreaking–almost overwhelmingly so.
Levi and Elsie don't meet under the best circumstances, but the situation makes the story that much more moving. I thought his protectiveness and care of Elsie was remarkable. Taking care of her gave Levi a purpose, something he needed in his life.
If any characters deserve a happy ending, it's Levi and Elsie. After the life they have lived, they certainly deserve some good memories and life experiences. I truly enjoyed watching them heal, forgive, and start living again. Despite their insecurities, they are able to form an unbreakable bond.
Fans of the series will be very happy to see that all of the previous characters are intertwined with the story of Levi and Elsie.  As the final book of the series, I thought ending was just perfect. I can't wait to see what Tillie Cole has for us next.
"Carillo. You got twenty more sprints, then you can hit the showers," Coach shouted, as I took my place back on the field. Putting my head down, drawing myself down to focus, I got it done.
Twenty sprints later, I threw a wave to Jake and Ashton who were still hitting their sprints. I made my way inside. I always finished first. Football was my life. It was what I did best. It was the only constant I'd ever had; I could trust football, I could trust the routine.
It never let me down.
It never left.
My cleats tapped on the tile floor of the locker room as I toweled off sweat from my face. I hit the showers, and in less than five minutes under the boiling spray, with only a towel around my waist, I headed into the locker room. I entered the change area, just as a movement caught my eye, right in front of my station.
A girl. A petite, thin girl—scraggly long blond hair sticking out of a pulled up hood; dressed in dirty black jeans, chucks riddled with holes, and a scuffed black leather jacket.
I froze, startled by what the hell a girl was doing in here, in the football locker room. Then my eyes widened when I realized exactly what she was doing. Her left side was to me, her rail thin body showing me most of her back.
Her hands were in my bag.
Instinct kicked in and I stepped forward. "Hey!" I shouted. But the girl didn't move. I shouted again, my heart beating fast. It seemed like it took her a minute to hear me. She froze, and flashing me a quick glimpse of her shocked dirty face hidden under her black hood, she pulled something to her chest and sprinted out of the locker room, then straight outside.
I stood rooted to the spot, completely shocked, until I remembered that my bag was wide open. I rushed forward and looked inside. At first I didn't think anything had been taken, then I noticed my wallet was missing from the inside pocket. I began throwing my clothes and sports crap out onto the floor, searching the entire bag. But as I reached inside the hidden compartment, there was nothing.
Nothing.
She'd taken my wallet.
Great!
Standing straight, I ran my hands through my wet hair. My eyes darted around the room. I questioned how the hell she'd gotten in here? In a secure room?
I breathed out through my nose, trying like hell to calm down, when shards of ice sliced, like spears, down my spine. Every part of me stilled as a further realization kicked in. My wallet. My wallet not only contained all my cards and ID, but also the one thing that mattered the most to me—in my whole life.
The rosary.
Want more? Check out these posts!