Thank you for the advanced copy of DATING IN THE DARK by Alexandria Bishop. All opinions are my own.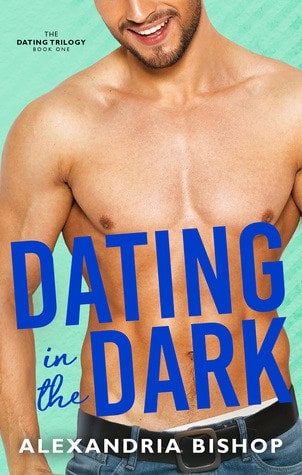 Speed dating. With a stranger. In the dark. As if dating isn't hard enough already, why not add in a whole new challenge. 

According to Tinley's very pregnant sister, and best friend, binging on Netflix, wine, and cupcakes won't lead to her happily ever after. What do they know? 

Four courses. Four dates. Four very unwelcome, and unwanted courses. An appetizer, salad, dinner, and dessert. Every last one ends in disaster. 
Except date number four. Dessert has always been Tinley's favorite. 

He's a complete mystery, and she can't seem to stop thinking about him. Whoever he is. 

Falling in love wasn't on her radar but that might be what's happening between her and mystery date number four. 
Note: Clicking links on this site will take you to the retailer's purchase page.
Totally Bex is a participant in the Amazon Services LLC Associates Program, an affiliate advertising program designed to provide a means for us to earn fees by linking to Amazon.com and affiliated sites.
Other books in this series:

Being that I'm always on the hunt for new and interesting angles in romance and Dating in the Dark had such a unique plot, it immediately piqued my interest.  Alexandria Bishop is a new-to-me-author and I'm glad I decided to take a chance on this book. 
Dating in the Dark is the story of Tinley, a call-center operator, and her search for love.  Tinley is an 'everyday' kind of woman; she's feeling stuck in her job, loves to stay at home making cupcakes and drinking wine, and having girls' night with her roommate and sister. 
After being roped into a blind date experience by her friends, Tinley finds out that love isn't always a big mystery.  What follows is a rollercoaster of emotions and learning to trust another person with her happiness.
The idea of eating and dating while blind was such an interesting concept and the men seated at Tinley's table certainly didn't disappoint.  I know they say every shoe has a mate, but Tinley is matched with some very "unique individuals" and it's the funniest part of the book. 
While I enjoyed the storyline, I have to be honest and say that I am not a big fan of third person perspective in romance novels.  In the past, I have found it difficult to connect with characters and I'm afraid to say that this happened again with Dating in the Dark. 
To me, the imagery of the scenes needs to become a part of the story, since we do not get to hear the internal monologue of the characters.  I guess I was missing that 'immersive' feeling here. 
All that being said, if you don't mind third person POV, definitely give Dating in the Dark a try. 
It is part of a trilogy, so be prepared for a cliffhanger ending to this first book. 
Tinley's ears perk up at the sound of his voice; it's super low and incredibly sexy. She feels along the table for her glass of wine and takes a large gulp of liquid courage before responding. "That's okay, I've always been a fan of rule-breakers. Some rules were just meant to be broken. For now, I'll just call you Mystery Date Number Four."
A husky chuckle floats across the table, and she can't help but be instantly attracted. She can't see his face, but with a voice like that, it doesn't even matter what he looks like. "Is that because I'm your fourth date or are you ranking us? What's my competition look like?"
All thoughts of being ladylike go out the window as Tinley lets out a full-blown belly laugh. If this guy only knew. "If by ranking, you mean which date was the worst, it's hard to tell at this point."
"Is that so? I had some pretty bad ones myself."
She laughs internally at the disastrous dates she's had so far. There's no way he can compete. "I don't know, my dates were pretty awful. I don't think you can top them."
"You want to bet?"
"Oh, we're making bets now? I guess our relationship just cranked up a notch. Instead of it just being a blind date, we're now at the blind acquaintance level."
She's not sure where this level of confidence came from, but she's liking how easily the conversation is flowing with this guy. It's completely effortless and she's just comfortable. It's never been this way with anyone before.
"Is that a thing?"
"It is now." She finds herself nodding along as she answers until she remembers he can't actually see her.
Want more? Check out these posts!