Trip by T Torrest — Scavenger Hunt Tour!
Welcome to Totally Bex for my stop on the TRIP by T Torrest Tour! I loved the original Remember When trilogy, so I'm pretty excited for a book from Trip's perspective.
This week my friends and I are kickin' it old school with a "Back to the 80s" Scavenger Hunt! Hop from stop to stop to read excerpts from the first three chapters of TRIP. You will have to visit each blog in order to get the whole story.
Also, if you get lost at any point during this scavenger hunt tour, you can always go here to find the links you may have missed.
About TRIP by T Torrest & The Series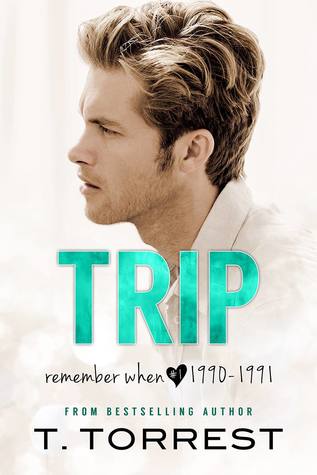 Trip
by
T. Torrest
March 14th, 2018

Kindle
|
Paperback
Layla Warren first introduced us to Trip Wilmington in REMEMBER WHEN...
Now read his side of the story!

Trip Wiley wasn't always a Hollywood movie star.
In fact, he wasn't always Trip Wiley.
Back in 1990, he was better known as Trip Wilmington, the new kid in town.
New place, new school... same old story.
No big deal. It's not like this is the first time he's been forced to start over.
But seventeen years of city living hasn't prepared him for life in the suburbs...
or for Layla Warren.
Layla is smart, funny, beautiful... the kind of girl every guy dreams about.
Trip should know.
He's been falling for her since the first minute he saw her.
And his life hasn't been the same since.

~

Prepare to travel back to your teen years... That time in your life before the real world kicked in, that limbo between adolescence and adulthood, that trial of hanging onto the past while figuring out where the future will lie.

With heart-shredding romance, steamy love scenes, and hilarious 80s references, readers of all ages will find themselves falling in love with TRIP all over again.
Scavenger Hunt Excerpt (#10)
Dad scratched his chin, saying, "Hmm. I've been meaning to talk to you about that."
Are you kidding me? Dad's main selling point of this town was that it had a state-of-the-art sports facility. It was the only thing I was looking forward to.
But before I could blow my top about being conned, he explained, "The sports complex is actually in Shermer Heights. It's only one town over, though, about ten minutes from here, door to door. I've already registered you for membership and picked up the forms to sign up for their hockey league."
Damn. Looked like the old man was really trying, here. "Hey, thanks, Dad."
My parents left me alone to finish unpacking, but I wasn't in the mood. Instead, I scanned my eyes over my new surroundings, taking in all the new stuff. Infinite riches in a little room.
Nothing seemed like mine yet. Not this stuff, not this house, not this life. I let out with a huge exhale as I flopped down onto my bed and stared at the ceiling.
I figured I'd better get used to the view.
Your Next Stop on the Tour!
Continue to the next excerpt here: T Torrest's Author Page