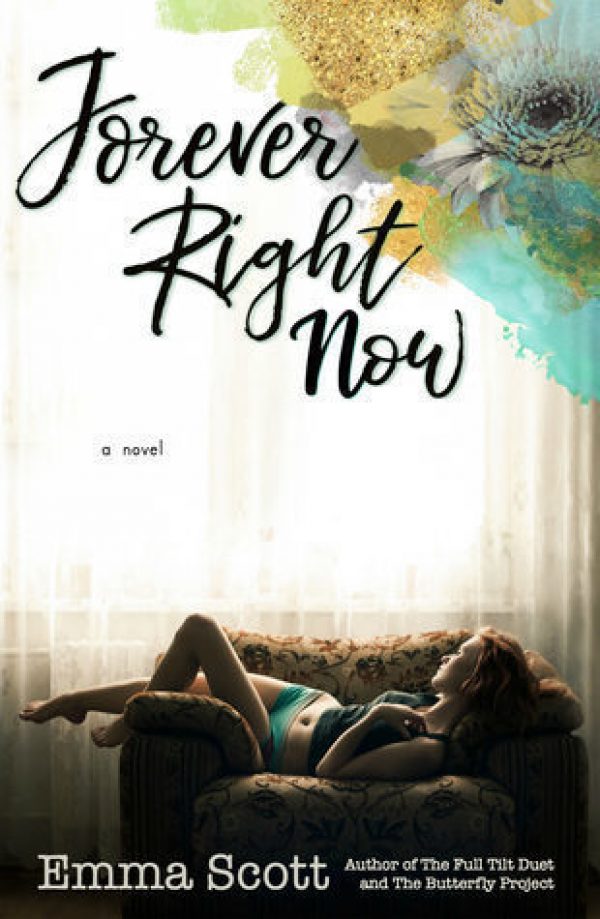 Darlene Montgomery has been to hell and back…more than once. After a stint in jail for drug possession, she is finally clean and ready to start over. Yet another failed relationship is just the motivation she needs to move from New York to San Francisco with the hopes of resurrecting her dance career and discovering that she is more than the sum of her rap sheet. As Darlene struggles in her new city, the last thing she wants is to become entangled with her handsome—but cranky—neighbor and his adorable little girl…

Sawyer Haas is weeks away from finishing law school, but exhaustion, dwindling finances, and the pressure to provide for himself and his daughter, Olivia, are wearing him down. A federal clerkship–a job he desperately needs–awaits him after graduation, but only if he passes the Bar Exam. Sawyer doesn't have the time or patience for the capricious—if beautiful—dancer who moves into the apartment above his. But Darlene's easy laugh and cheerful spirit seep into the cracks of his hardened heart, and slowly break down the walls he's resurrected to keep from being betrayed ever again.

When the parents of Olivia's absentee mother come to fight for custody, Sawyer could lose everything. To have any chance at happiness, he must trust Darlene, the woman who has somehow found her way past his brittle barbs, and Darlene must decide how much of her own bruised heart she is willing to give to Sawyer and Olivia, especially when the ghosts of her troubled past refuse to stay buried.
Note: Clicking links on this site will take you to the retailer's purchase page.
Totally Bex is a participant in the Amazon Services LLC Associates Program, an affiliate advertising program designed to provide a means for us to earn fees by linking to Amazon.com and affiliated sites.
Connected standalone book:

I'm not sure how I am supposed to write a review while I am still so raw and at a loss for words, but here goes.  I loved this book—from the beauty of the flawed characters to the gorgeously poetic words to the weightiness of the storyline, I loved it all.  If I thought Emma Scott brought her A-game with The Butterfly Project, she really hit it out of the park with Forever Right Now.
We first meet Darlene in The Butterfly Project, where she is the coworker and best friend of the hero, Beckett.  As a pair of ex-felons, they form a bond that others can't truly understand and they support each other through the struggle of adapting to a 'new normal'.  A cross-country move gives Darlene a fresh start at a new life, free of her old ghosts.  While she can't outrun her past, she does face her demons and moves forward in a positive direction. 
Sawyer is a law student with his whole life planned out: pass the bar, get the clerkship, put the bad guys away.  That plan goes awry when a woman he barely remembers shows up at his apartment with the surprise of his life.  His entire life changes in that instant, but it isn't until he meets Darlene that he realizes that love isn't a foregone conclusion in his life.  He also learns that life isn't always as black and white as he once thought.
While I liked Darlene in Butterfly, I loved her in Forever. I honestly didn't know what to think of Darlene at the end of Butterfly; she seemed so lost, filling her soul with meaningless relationships and highs.  She needed her happily ever after!  So, seeing her transform from a recovering addict into a strong, independent woman working toward her goals and dreams was amazing.
Then there's Sawyer. Hello.  He was everything I want in a single dad hero: hardworking, protective, and gruff, but with a gooey center and a heart of gold.  His relationship with his daughter is downright swoon-worthy, his work ethic is so high he's driven almost to the point of madness, and the way he lets Darlene in and finally falls in love with her is total perfection. 
Forever Right Now was an emotional rollercoaster for me, but it's a ride I would gladly take again and again.  My heart was in my throat the entire second half of the story, and I teared up more than once; first with heartbreak, then with tears of happiness. If you haven't read either of these standalones, The Butterfly Project or Forever Right Now, stop what you're doing and read them.  I promise, you will fall in love with Ms. Scott's phenomenal writing and the range of emotion you will feel.
"Who are you?" he demanded rudely, shifting the diaper bag higher on his shoulder while hoisting his little girl in his other arm. He was six feet of hotness in a rumpled suit, glaring at me with suspicion in his dark eyes. 

"I…I'm your new neighbor?" It sounded more like a question; as if I needed this guy's permission to live. I straightened to my full height. "I just moved in upstairs. I'm a dancer. Well, I was. Had to take some time off but I'm going to get back into it soon…ish." I put on my friendliest smile. "I'm a massage therapist now. Just got my license and…"

My words died under Sawyer's withering stare. 

"A dancer. Fantastic," he said bitterly. "Just what I always wanted. Someone leaping and thumping above me, waking my kid up and disturbing my studies at all hours of the night."

I planted my hands on my hips. "I can't dance in a dinky apartment, and besides…"

Words failed me again as the sharp planes and hard angles of Sawyer's face melted when his daughter–I guessed her to be about a year old–suddenly clapped her small hand over his chin. Sawyer's hard gaze softened, and his broad mouth turned up in a smile–a beautiful smile I was sure only his little girl ever got to see, and so full of love that for a moment I could hardly breathe. 
Want more? Check out these posts!