Thank you to Social Butterfly PR for the advanced copy of HARD WOOD by Lauren Blakely.  All opinions are my own.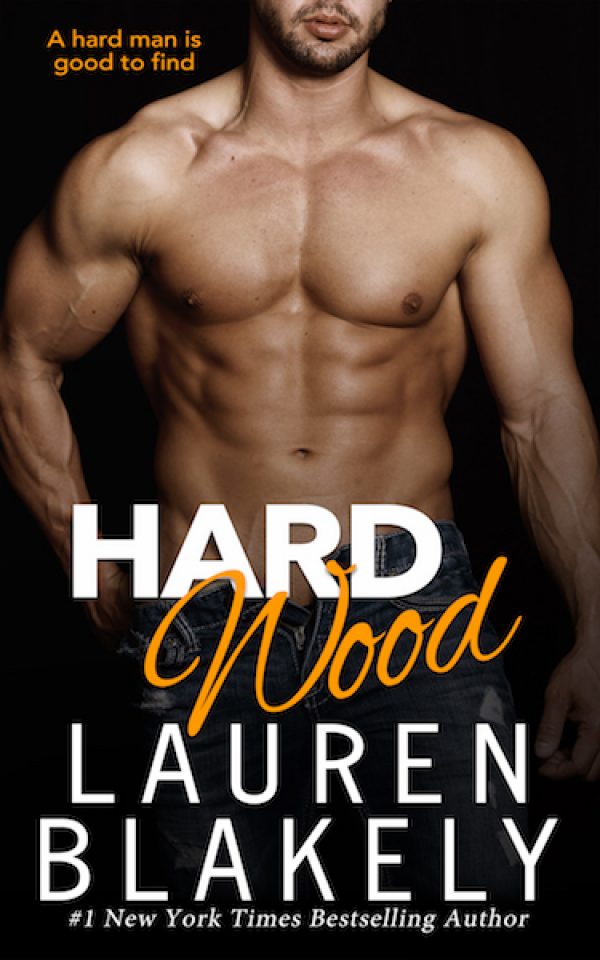 Women often say a good man is hard to find. And a hard man is even better.

That's why I'm quite a catch— good, hard, loaded, and wait for it…I'm ready to settle down too. But the woman I want to pitch my tent with lives clear across the country. Neither of us wants to get lost in those woods. All I have to do is resist her for the week she's in town.

I try. I swear I try. But yeah, that doesn't work out. 

And after one fantastic night with my good friend Mia, I'm ready to give her years of nights under the stars. What's a few thousand miles when love's involved? But there's a hitch in my plans — she just hired my adventure tour company. If there's one thing I'm committed to, it's running a squeaky clean business. Number one on my list of iron-clad rules?

Don't screw your customers.

But what's a guy to do when she's so hard to resist? How hard can it be to keep our hands off each other for a quick group tour down the hills and over the trails? I'm about to find out, and I have a feeling I'm going to need a new badge of honor because things are about to get very hard in the woods. 
Note: Clicking links on this site will take you to the retailer's purchase page.
Totally Bex is a participant in the Amazon Services LLC Associates Program, an affiliate advertising program designed to provide a means for us to earn fees by linking to Amazon.com and affiliated sites.
Other books in this series:

*wah wah waaaaaah* Cue the sad trombones…
I'm so sad that we will be saying goodbye to the Big Rock world, but what a way to out in a blaze of glory!  Hard Wood is a fantastic ending to one of my very favorite rom-com series ever.  Each and every book has made my heart squishy and grin until my cheeks hurt.  The humor, the characters, and the storylines have been fantastic and entertaining and I am going to miss them. 
Mia is Max's sister from Joy Ride, the book that gave us a sneak peek into the flirtation and attraction between Patrick and Mia.  She develops beauty products and is based out of San Francisco.  Patrick is an adventure guide based in New York City with the biggest zest for life I've ever seen in a character.  He's played the field, sowed his wild oats, and now he's ready to find 'the one'.  Mia fits the bill in every way, except for the fact that she's located on the opposite coast.  What's a guy to do?  Roll the dice and let the chips fall where they may, of course. 
Any lady would be lucky to have a Patrick in their life.  He's kind and caring, and has a wicked sense of humor.  Mia is no slouch in the kindness department, either.  These two are perfect for each other and I loved all of their banter and flirtations.  I couldn't wait to get my hands on their story and I was not disappointed in the least.  It was everything I could have asked for and more.
For the love of Zeus, I love Patrick's cat!  He's adventurous, so he's the perfect hiking companion for Patrick.  Also, the chapters from his point of view are so unique and hilarious, I couldn't wait for more from Zeus' perspective.
I also love how we see peeks of past characters and intertwined storylines in each of these books.  For instance, Patrick's sister is a matchmaker and Mia's friend plays laser tag.  If you've read any of Blakely's other recent releases, you will know exactly who they are!
There's a reason Lauren Blakely is the 'queen of comedy' and Hard Wood is the perfect example.  Her characters are ambitious, the drama is low, and the banter is the best out there.  Whether it's friends-to-lovers, enemies-to-lovers, or another slow burn, I am looking forward to the next adventure!
I let go of her hand and thread my fingers through her hair. "Get on me."
Then I grab her hips and move her so she's straddling my lap. She gasps, a sexy noise that turns into a moan as she sinks down on my hard-on.
I hiss because it feels so f*cking good.
"I wanted to come over the other night. After dinner. After the elevator," she blurts out.
"Yeah?"
She nods. "Dinner ran late, but I couldn't stop thinking about you."
"What were you thinking?"
"That we didn't get to kiss, and I wanted to so badly."
"I can fix that problem right now."
I take her face in my hands and bring her to me. Then the world spirals away as I kiss Mia Summers for the very first time.
It's extraordinary. Her lips brush against mine, and she wastes no time. She slides closer, rubbing on my dick as she presses her chest to me. It's as if she's climbing me, and God, how I want this. How I want her like this.
I thread my fingers through her hair, pulling her closer, kissing her deeper. Tasting her. Her mouth is soft and sweet, and she makes these little sounds—whimpers, sighs, gasps—that make me nearly lose my mind.
I'm kissing Mia. I've been crazy for her for so damn long, and she's on my lap, rubbing against my erection, kissing me as if her every last breath depends on it. Her tongue tangles with mine, and in a hot second, the kiss become furious. Greedy. Like two people who are mad about each other. I curl my hands around her head, wanting to get as close as I can, but she bats them away.
I break contact for a moment and raise a questioning eyebrow.
"My turn." She lifts her hands, cups my cheeks, and then she strokes my jaw. Reverently. Hungrily. And I know what she's doing. She's feeling my beard. She's touching my stubbled jaw with eager fingers, as if she's wanted to get her hands on me for as long as I've wanted to touch her.
I don't stop her. I drop my hands to her hips, and I guide her along, moving her so she grinds against my cock, and she's gasping and murmuring as she kisses me.
We consume each other. We are ravenous. My brain turns to static, firing pleasure signal after pleasure signal to every nerve in my body. I want to live in this moment for the rest of the night. I don't ever want to forget how good it feels not only to kiss her, but to be kissed by her.
She rocks harder, goes faster, murmurs louder, then she separates and looks at me with desperate eyes. "You have no idea."
I shake my head. "I do. I have every idea."
Want more? Check out these posts!