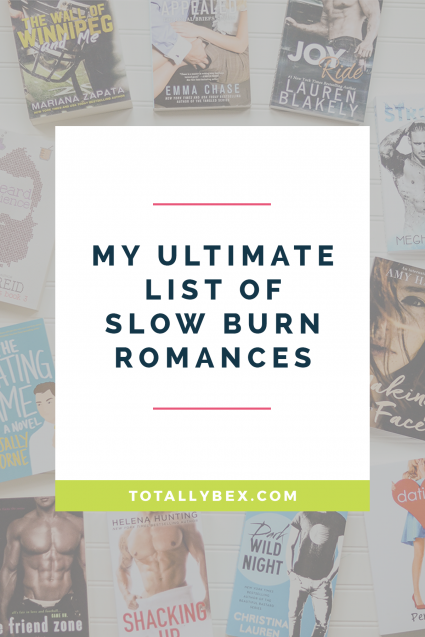 Hello and thanks for stopping by!  So, after reading hundreds and hundreds of books over the years, I have finally determined that my absolute favorite book trope/style is the slow burn romance.
Give me all of the tension, the longing, the loaded glances, the intense feelings, the emotions that make my stomach flip… it is my catnip and I can't get enough!
This page is divided into five sections:
What is Slow Burn Romance?
My Top 3 Slow Burn Recommendations
Books I have read and reviewed
A list of books that I have read and highly recommend, but do not have reviews yet
And lastly, a selection of books I am planning to read but are still on my TBR. 
I hope you find this helpful and be sure to check back or bookmark this page, as this list will continually be updated!
What Is Slow Burn Romance (and why do I love it so)?
 Slow burn romances are character-driven, and I love getting to know the characters through their internal dialogue, seeing their daily life, and the interactions with each other.
 Slow burn romances follow the characters as they fall in love gradually, giving us a realistic and genuine romantic experience. It allows us to watch the progression and transformation of their relationship over time.
 Since the storyline is slower-paced than insta-love, we have time to become invested in the characters and their relationship. It makes the payoff that much more rewarding!
 I find the ending of a slow burn is much more satisfying since we've been along for every step of the couple's journey from beginning to end. It's almost like a personal victory after all of the time and effort it took to get them to the point of a happily ever after!
My Top 3 Favorite Slow Burn Romance Books
It's so hard to narrow down my list of personal favorites, but if I had to pick just three slow burns to recommend to readers, it would be these books.  I wholeheartedly suggest you give them a try — especially if you are new to the slow burn trope.
I loved The Hating Game SO MUCH.  Sally Thorne may have been a debut author with this book, but she has written a quintessential enemies-to-lovers story that is incredibly smart and sassy.  So well written, so entertaining, and so enjoyable–I couldn't stop reading it and I didn't want it to end.  Ever.  
The Wall of Winnipeg and Me
Mariana Zapata has earned her reputation as "The Queen of Slow Burn".  Her books are long, the characters are fleshed out thoroughly, and the relationships between the hero and heroine are allowed to steep until almost the last chapter.  I can't recommend The Wall of Winnipeg and Me more!
R.S. Grey is no slacker when it comes to slow-burning romances.  She has several that I adore, but none as much as Arrogant Devil.  The ranch-life storyline, the hardworking heroine, the grumpy hero, and the hilarious side-characters make this one a must-read!
Slow-Burning Books I Have Read and Reviewed
Click on the image to be taken to the spoiler-free review of the book and to get more information, including the synopsis and purchase links.
Slow Burns I Have Read and Highly Recommend
Slow Burn Novels I Can't Wait to Read
Please Note: Clicking on the images below will take you to Amazon for more information!