Thank you for the advanced copy of LOVE ME BACK TO LIFE by Elle Mraz.  All opinions are my own.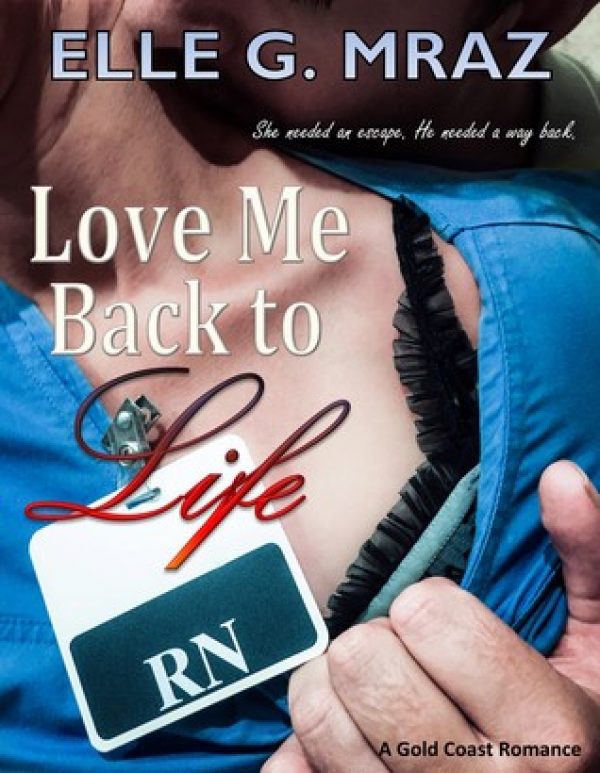 Kendall Matthews is intelligent, quick on her feet, and compassionate – everything you'd want in an ICU nurse. When a fatal accident turns her world upside down, she struggles to pick up the pieces, uncertain that she'll ever regain control or rediscover her sense of self.

Dr. Anson Allaway is a renowned neurosurgeon … and an unapologetic playboy. Kendall's colleague at South Florida's Gold Coast General, he would never consider dipping his pen in the company ink (despite rumors to the contrary).

But everything changes when Kendall brazenly looks to Anson for an escape from her grief – and he unexpectedly finds his way back from the burdens of his own past.
Note: Clicking links on this site will take you to the retailer's purchase page.
Totally Bex is a participant in the Amazon Services LLC Associates Program, an affiliate advertising program designed to provide a means for us to earn fees by linking to Amazon.com and affiliated sites.
Other books in this series:

Life Me Back to Life by Elle Mraz is the story of Kendall and Anson. It is a sharp, witty romance set in a hospital, where Kendall is a nurse and Anson is a neurosurgeon. (Think Merideth and Derek, a la Grey's Anatomy.)
Kendall is ready to move on after grieving for six months following the loss of the love of her life, her husband, Dan. Anson is the flirty doctor who has a reputation for sleeping around. He is the perfect person to help her 'get back on the horse', so to speak. Kendall is ready for sex, but definitely not a relationship.
The wounds of losing her husband are still too raw to be serious with someone new. However, Anson isn't satisfied with just one night with Kendall. Their relationship becomes complicated, to say the least. Especially since Anson is hiding a secret from his past.
I really liked Kendall as a heroine. She is smart, strong, knows what she wants, and isn't afraid to go after it. She also has a great support system helping her navigate her new status as widow-who-wants-to-date. Her mom, brother, and friend, Ariel, are all on her side and make great secondary characters.
Anson is a little trickier to describe. He and Kendall have great chemistry, hot and steamy sex, and flirty behavior at work. However, his secret past is not something he wants to share with Kendall, and that makes it hard to want them to be together.
The writing is crisp, the characters are well developed, and the story is intriguing. However, there are a couple of times during scenes at the hospital that I was overwhelmed with medical terminology. I think that could be streamlined a little, for the non-medically trained layman. I also need to point out that this is a cliffhanger ending. I wasn't aware of this before reading, so fair warning!
Overall, I enjoyed the first book in the Gold Coast Romance series, and I will definitely read book two to find out what happens between Kendall and Anson!
"Hey," Kendall said, pulling at Dr. Allaway before letting go of his hand. He turned to face her. "Just to reassure you: I'm not looking for a way into your heart."
Relieved to hear this, and somewhat embarrassed he was so easy to read, Dr. Allaway relaxed and confessed, "Matthews, or Kendall rather, it's… it's not that getting to know you outside of work would be bad. In fact, we'd probably get along great. It's just that… I
just don't want you to be expecting that. The last thing I want to do is cause any further hurt for you. You know what I mean?"
"Doctor… uh, Anson? Double A? See?! I don't even know what the hell to call you!"
Kendall said, laughing through her embarrassment, lightening the entire mood on the doorstep.
"Anson," he clarified with a smile that reached his eyes. "I've heard about the Double A nickname."
"Anson it is then," she stated matter-of-factly. "The problem is my late husband. I know! He's everywhere I go right now! And yes, I'm grieving. But tonight – if not just for tonight – I've left it all behind. I. Just. Want. To have. Some f*cking. Sex." She drew in a breath and apologetically cringed. "And, no offense, but I figured you'd be a safe bet and probably a wiser choice than someone random. At this point, I was willing to see what Bryan could do for me, but turns out he's in a committed relationship." Kendall rolled her eyes in jest, Bryan being a flamboyantly gay respiratory therapist.
Anson's smile broadened again. "No offense taken. And just for the record, I'm not usually this predictable, but I hear what you're saying. And honestly…" He paused, his expression softening. "I'm so sorry for your loss and I apologize for not saying that earlier." A doleful look spread across his face as he reflected on his behavior. "I guess I am more of an ass than I'd like to admit. But with regard to tonight, rest assured, I do get tested regularly. Which begs the question: Are you on the pill?"
"I've got condoms. A nurse always comes prepared," she said with a wink. "And you're not an ass, just a player. No need to apologize."
"I'm not a player," Anson contested.
"You just f*ck a lot?"
He laughed, impressed with her wit, raising his eyebrows suggestively as a wolfish grin returned to his face.
Surprised she would just address the elephant in the room like that, Anson respected
Kendall's approach. Strangely, he imagined what Dan would look like: a respectable firefighter, surely a good guy who must have played a role in shaping his wife to be so secure and confident in her ways. And now, seeing this whole other side of Kendall, he oddly admired Dan as well.
Anson could tell they must have had one of those rare marriages exemplifying love. She was definitely not on a mission to replace him tonight.
No one would compare.
Reeling his thoughts back in once again, Anson snapped his fingers and pointed at
Kendall. "Okay, great. Now that we've gotten all that out in the open." He turned back to the door to unlock it.
"So, do you have kids?" he asked. "Nevermind. Ignore that. I don't know why the hell I just asked that. We're clearly spending way too much time talking out here."
"Nope, no kids. And I agree, less talk."
Before he had a chance to fully turn the key in the keyhole, Kendall grabbed his hand, bringing it to her lower back, and pulled his head down toward hers, taking control once again. And Anson was right there with her. He pressed his hips close against hers, rapaciously sucking her waiting lips, the abandoned keys dangling from the lock.
They both inhaled sharply as he repositioned her up against the solid wood door, driving his tongue deep into her mouth, then softly gliding it along the edge of her top lip. With his hands firmly grasping the inside of her back pockets, squeezing and grabbing her, Anson rocked his pelvis into hers, effectively pinning her to the wood.
At first, his drive was purely primal in nature – his goal, like always, to check out mentally and fulfill that selfish gratification often accompanying meaningless sex. But the more deeply he kissed her, inhaling the pheromones radiating from her pores mixing with the sultry air, the more his focus shifted to Kendall.
And Kendall noticed.
The intensity of their exchange was far more exhilarating than she'd anticipated. Considering she'd been kissing only one man for the last decade, she'd expected an awkward vibe to override this new sexually charged contact.
But with Anson? It felt familiar, safe, and right, so very right – yet wildly exotic and intoxicating all in the same breath. The alluring dichotomy seduced her, exceeding even the expectations of her active imagination.
Anson tugged gently at her hair before letting his hand glide along her neck and over her covered breast, where he paused to fondle her. Carefully, he lifted the hem of her loosely designed chiffon top, still feeding off her fiery kisses, and slid his hand on to her bare skin, up her back, and to her bra clasp. Her skin submissively hummed under his commanding touch. From her panting mouth, he moved to taste her earlobe and the salty skin of her sleek neckline.
With one snap of his fingers, he undid the clasp, freeing her. His left hand danced lightly along the side of her ribcage to her breast, eliciting an airy giggle from Kendall. He returned to her mouth, relishing in her response, and sealed his grin against hers. His fingertips salaciously outlined the supple bottom curve of her breast, teasing her in hope of that same delightful response, then seductively caressing and squeezing her entire breast.
Powerless against his skilled hand, Kendall moaned into his mouth, arching her back, pressing her breast into his palm, and hardening him with excitement. He massaged her nipple between his thumb and forefinger while sucking at her bottom lip, leaving her breathless. Their tongues met again, the cool saliva coating her swollen lips – lips that burned lasciviously from the rough friction of his stubbly facial hair.
Just as he began to lift her blouse, exposing her breasts to the humid South Florida night, Kendall pushed his chest away, taking Anson aback. He searched her eyes for assurance, respectfully bringing both hands to rest on her hips. A cooling sensation rushed down both of them as he created a gap between his bulging jeans and her pelvis.
"Everything okay?" Concerned, he instinctively stroked her hip bones with his thumbs in a soothing manner.
Noticing the wistful look in his eyes, Kendall smiled reassuringly, enunciating her somewhat erratic breathing with the softest giggle.
"More than okay," she exhaled. "I just thought we might want to pause for a second, so we can remember how to unlock a door and enter a house. Otherwise, I see us unzipping and finding a place amongst your sea grapes."
Anson laughed. "Nah, no need to roll around in the dirt. I'll just hold you up against the door. Then, if you can handle more, I'll take you inside for round two."
"Aren't you the confident one? Last I checked, I had some pretty outstanding skills myself. And I'm guaranteeing you'll be plain worn out when I'm through with you. Don't get too attached. I'll be gone before you know what hit you." With that, Kendall turned, twisted the forgotten key in the lock and pushed down on the handle of the door.
As he held open the door, she looked back at him suggestively and playfully bit her bottom lip. Without warning, Kendall lecherously cupped his confined erection, then skipped over the threshold into his home.
Her playful teasing in this arena was so unexpected, so alluring, so f*cking cute. Anson was far from the besotted type. Yet here he was, rapt. Kendall was someone he knew for her keen nursing intelligence and professional skills within the hospital walls. And now she was captivating him with a whole new area of expertise, one with which he was far more interested in becoming familiar. He shook his head in amusement and followed her inside.
Want more? Check out these posts!