Thank you for the advanced copy of ROYALLY MATCHED by Emma Chase. All opinions are my own.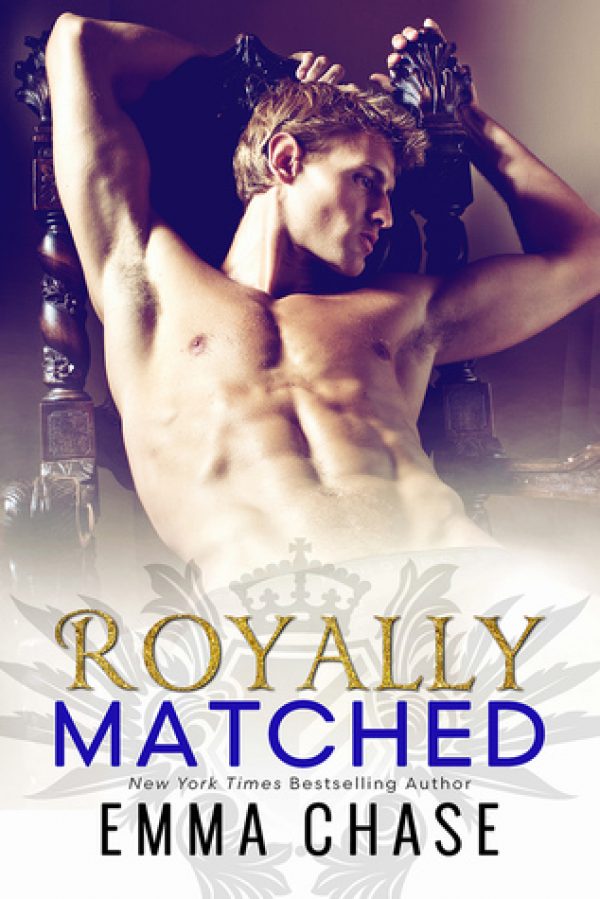 Some men are born responsible, some men have responsibility thrust upon them. Henry John Edgar Thomas Pembrook, Prince of Wessco, just got the motherlode of all responsibility dumped in his regal lap.

He's not handling it well.

Hoping to help her grandson to rise to the occasion, Queen Lenora agrees to give him "space"—but while the Queen's away, the Prince will play. After a chance meeting with an American television producer, Henry finally makes a decision all on his own:

Welcome to Matched: Royal Edition.

A reality TV dating game show featuring twenty of the world's most beautiful blue bloods gathered in the same castle. Only one will win the diamond tiara, only one will capture the handsome prince's heart.

While Henry revels in the sexy, raunchy antics of the contestants as they fight, literally, for his affection, it's the quiet, bespectacled girl in the corner—with the voice of an angel and a body that would tempt a saint—who catches his eye.

The more Henry gets to know Sarah Mirabelle Zinnia Von Titebottum, the more enamored he becomes of her simple beauty, her strength, her kind spirit… and her naughty sense of humor.

But Rome wasn't built in a day—and irresponsible royals aren't reformed overnight.

As he endeavors to right his wrongs, old words take on whole new meanings for the dashing Prince. Words like, Duty, Honor and most of all—Love.
Note: Clicking links on this site will take you to the retailer's purchase page.
Totally Bex is a participant in the Amazon Services LLC Associates Program, an affiliate advertising program designed to provide a means for us to earn fees by linking to Amazon.com and affiliated sites.
Other books in this series:

"It's a tale as old as time: the inexperienced bluestocking and the bed-hopping rogue."
This quote sums up Henry and Sarah's story perfectly.  He's the devilishly handsome, not-to-be-tied-down prince and she's the shy, quiet bookworm.  Their match is a perfect combination of opposites attract meets a mashup of book boyfriends from the classics.  
From their very first scene together, I was drawn into the witty banter and undeniable attraction.  Their story unfolded in true classic novel fashion and I enjoyed every single word of literary perfection.
Henry has been thrust into a role he never wanted and is now in line to be King of Wessco.  He's not ready to settle down and definitely not ready for the responsibility.  When the offer of a reality show is presented to him, he can't resist the idea of having twenty beautiful ladies at his beck-and-call.  That is until he meets Sarah.
Sarah is the shy and quiet sister of Penelope, a contestant on the dating show.  She is given the task of accompanying her sister to the castle, but finds that there are more important things to do than babysit her sister.  Namely, a handsome prince who seems smitten with the girl whose only 'experience' comes from her romance novels.
I absolutely loved Sarah and Henry, both as individuals and as lovers.  Sarah has a hidden sassiness that comes out around Henry and she's quite clever.  Henry is a playboy who thinks he can never be tamed, but Sarah is the perfect heroine to give him the calm and sweetness he deserves.  They couldn't have been more perfect together, and I still have a smile on my face just thinking about them now.
If you've never read a novel by Emma Chase, please let this be your first.  Trust me, you won't regret it.  In fact, you will probably want to binge her entire backlist.  
If you're already a fan, you're in for a real treat with Royally Matched.  In fact, you might have to make room on your book boyfriend list for Henry—he's at the top of mine for sure.
"Are you a virgin?" I ask.
"Well . . . yes."
"Then why are you complaining? You qualify."
Sarah's eyes flash with annoyance. "Because I'm more than my hymen, Henry! To base the value of an accomplished, intelligent woman on a flimsy piece of skin is degrading. How would you feel if your worth rested on your foreskin?"
I think it over. And then I grin. "I'd be all right with that, actually. I've heard it was an impressive foreskin—all the nurses were fawning over it. It's probably being showcased in a museum right now."
She stares at me for a beat, then she laughs out loud—a rich, throaty, sensual sound.
"You're a terrible human being."
"I know." I shake my head at the calamity of it all.
"And you're an even worse feminist."
"Agreed. That's something I need to work on. You'll help me, won't you? We should spend as much time together as possible—every minute of the day and night. I'm hoping you'll rub off on me."
Sarah pushes my shoulder. "You're just hoping I'll rub you off."
Now it's my turn to laugh. Because she's not even a little bit wrong.
"But there's never been anyone? Really?"
Sarah shrugs. "Penny and I were tutored at home when we were young . . . but in year ten, there was this one boy."
I rub my hands together. "Here we go—tell me everything. I want all the sick, lurid details. Was he a footballer? Captain of the team, the most popular boy in school?"
"He was captain of the chess team."
I cover my eyes with my hand.
"His name was Davey. He wore these adorable tweed jackets and bow ties, he had blond hair and was a bit pale because of the asthma. He had the same glasses as me and he had a different pair of argyle socks for every day of the year."
"I am so disappointed in you right now."
"He was nice," she chides. "You leave my Davey alone."
I shake my head. "So what happened to old Davey boy?"
"I was alone in the library one day and he came up and started to ask me to the spring social. And I was so excited and nervous I could barely breathe. And then before he could finish the question, I . . ."
I don't realize I'm leaning toward her until she stops talking and I almost fall over.
"You . . . what?"
Sarah hides behind her hands.
"I threw up on him."
And I try not to laugh. I swear I try . . . but I'm only human. So I end up laughing so hard the car shakes and I can't speak for several minutes.
"Christ almighty."
"And I'd had fish and chips for lunch." Sarah's laughing too. "It was awful."
"Oh you poor thing." I shake my head, still chuckling. "And poor Davey."
"Yes." She wipes under her eyes with her finger. "Poor Davey. He never came near me again after that."
"Coward—he didn't deserve you. I would've swam through a whole lake of puke to take a girl like you to the social."
She smiles so brightly at me, her cheeks maroon and round like two shiny apples.
"I think that's the nicest thing anyone's ever said to me."
I wiggle my eyebrows. "I'm all about the compliments."
Want more? Check out these posts!